Recently, one of our followers notified us about a perilous situation he was in. Jasveer was contacted for a freelance data entry work from home job. He was given 12 days to complete the full task. but upon submitting his work, the employer told him that his work had a lot of errors. He was going to be sued for Rs 2+ lakhs and had to pay Rs 30,000 to withdraw the case. This situation opened our eyes to the current scam of fake data entry jobs. Read on to know more about this scam.
How does this fake data entry jobs racket operate?
Two companies, Oval Solution and Unitec Solution, get details of candidates from their online job websites profiles, such as Quikr. They offer the candidates to work from home opportunity. In Jasveer's case, he was asked to write 120 pages by Unitec and type 10,000 captchas by Oval. Some employers even ask candidates to watch videos on YouTube. This work includes increasing video views. Jasveer was promised a remuneration of Rs 30,000 by Oval and Rs 25,200 by Unitec. Upon condition that he would complete his task within 12 days and with a 90% accuracy.
The scammers seem to be a full team of engineers, business developers and lawyers. They target people who have their resumes uploaded on job portals and are looking for work. They also lure people in by sending out mass messages. These messages often sound too good to be true. The content is usually to earn a big amount within a few days by working from home.
The scamming techniques
But the problem begins when firstly the task load seems difficult to complete within the allotted time period. Secondly, employers always take out maximum errors in the candidate's work. Thus, making it extremely difficult to complete one's task successfully. Which also happened in the case of Jasveer. Thirdly, the employers charge Rs 10,000 for utility and maintenance from the candidate. Though they promise to refund this amount in the succeeding month. Fourthly, the employers ask the candidate for their photo and digital signature. They then illegally use it on a contract of work between the employer and the candidate. Although, everything written on the contract was never communicated to the candidate in the first place. So candidates are left in the dark for what they are agreeing to.
For instance, in Jasveer's case, the contract included that he would have to pay the utility charges monthly. It also said that if he was unable to complete his task within the given period, then he would be subjected to a penalty of Rs 10,000 by the employer for their loss. Inability to pay the penalty would result in a court case. Furthermore, withdrawing the court case would need a separate payment.
To scare the candidate further, they put a breach of contact on them under Section 73, 74 and 75 of the Indian Contract Act. The fake data entry jobs also call the candidates from pretending lawyers who ask them for money to withdraw their court case. The candidates would receive a no-objection certificate upon the payment. Then they will be free to go.
Later, the employers reveal that the contract was actually for 11 months. So the candidate either has to work for the full term or pay the utility charges for the full term. In short, they do not let the candidate escape and keep harassing him for more money, as was the case with Jasveer.
The loopholes in the ongoing fake data entry jobs scam
Upon consulting with Advocate Naman Mohnot on this situation, we got a clear idea of how the employers were trying to scam naive candidates. The two companies, Oval Solutions and Unitec Solutions, were harassing people with an Intent to Cheat. This means that the employer always wanted the candidate to fail and loot money from them maliciously. Thus, it could lead to a case of 420 on the employer. Intent to cheat was can verified due to the following reasons:
The employer never asks the candidate for his ITR or bank records to check their paying capacity in the case of a penalty.
An employer would never hire any candidate without interviewing them or any proof of their working capability. In Jasveer's case, he was never interviewed. He was just given the job and promised a fixed amount.
Online freelance websites never ask for money from candidates for incomplete tasks.
A company is eligible to ask for a refund from the candidate only when they invest in his training. Plus the candidate needs to have a signed bond with the company. But claiming for compensation without any investment on the candidate is a fraud.
A valid agreement or contract has to have the written signature of both parties. In Jasveer's case, it was just an image of his signature. Additionally, two witnesses signatures are also compulsory on the agreement. This was lacking in Jasveer's case too.
There is also no notarization of the agreement or contract.
It is also illegal to put multiple one-sided clauses in an agreement. Even if the other party signs the agreement, they are not held to fulfilling so many one-sided clauses.
The employers also did not allow Jasveer additional days to check his work, even when his submission was before the due date. Thus the time duration given was invalid.
There are also multiple and irrelevant calls from the company to scare candidates. There is no continuity in what they say either.
The actual terms of the agreement are hidden on call before the candidate signs it, that too without his consent.
History of these fake data entry jobs companies
A quick Google search for Oval Solutions and Unitec Solutions leads one to the Consumer Complaints Forum. Here, multiple sources claim the scam they are facing from these fake data entry jobs. These fake data entry jobs firms are eligible to be sued under Sections 406 and 420 of the IPC. Filing an FIR against these companies is the ultimate answer.
Watch our eye-opening story on this fake data entry jobs scam below.
What are the sources of trapping?
These fake data entry jobs scammers have multiple ways of reaching and trapping people. Some of the common ones are as follows:
Newspaper ads or posters around the city. Usually placed in crowded places near schools and colleges, since trapping the young and vulnerable is an easy task.
Facebook and Instagram ads and groups. Many Facebook groups have publications of such fake data entry jobs, luring innocent people to join them for easy money.
Google ads. These fake data entry jobs websites are very basic. Hence, they pay on Google ads to rank their website higher on searches. This makes them easily visible for people searching for data entry jobs.
How do the scammers extort money from people?
These scammers have some specific ways by which they obtain money from innocent people. Some of the basic ways are:
They ask for money from employees as a refundable security deposit.
Registration fees is another way of asking for money from entrants.
Software fees can also be a reason for taking money from new employees.
Penalty for breach of agreement is the most common method of extracting money from employees.
In some cases, after the person agrees to a data entry job, he may receive calls from another source asking him to outsource the job to him for half the commission. The new person takes the commission in advance but never delivers on the final project. Meanwhile, the fake data entry jobs company harasses the person for bad work quality and threatens to sue them. Generally, both these scammers are in this together.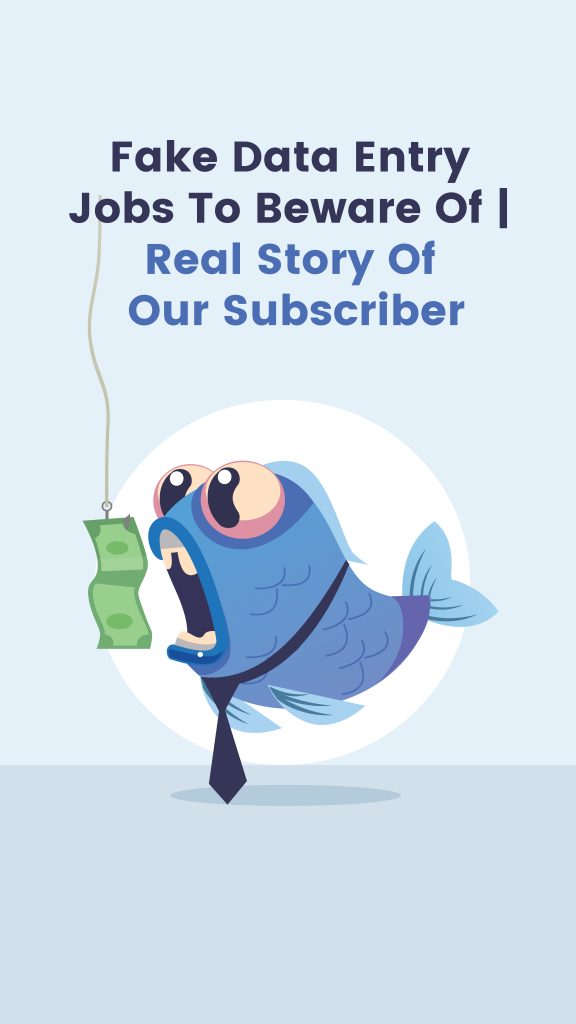 How to detect scammers?
If the job promises you "thousands of earnings per day", it most probably is a scam. As a general work scenario, a data entry fresher receives anywhere between Rs 6000-10,000 per month. Hence, it is quite impossible for these firms to offer such large salaries for freshers, that too for work from home jobs.
Promotion of data entry job websites via Google ads or Facebook ads are mostly frauds. It is quite uncommon for ordinary companies to explicitly advertise for hiring on social media.
Promises of being "100% genuine" on website or posters are usually done by such fake data entry jobs firm. Real companies do not advertise whether they are fake or real. Only scammers feel the need to advertise so.
If the company is asking for any money from the freshers in advance, as registration/software fees, they are fake.
Also, if the company is asking for the fresher's photo and/or signature for an agreement, they are frauds.
How to take action against these scams?
Since the police, cyber cell and banks do not seem to be helping the grievances of people in such cases, we suggest undertaking the following actions yourself.
Search on Google for "data entry jobs", "online data entry", "data entry jobs from home" and other such keywords. This will display several websites wherein the ones with "ad" are mostly fake. You need to click and open these ads websites. When one clicks on such Google ads, Google deducts some amount for every click from these businesses. Hence, when thousands of people click on these websites with no result, it will cause a major loss for these scam companies.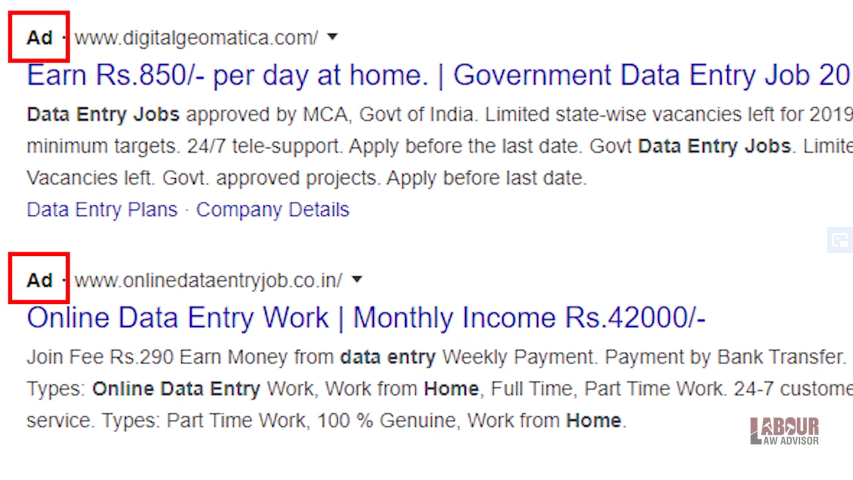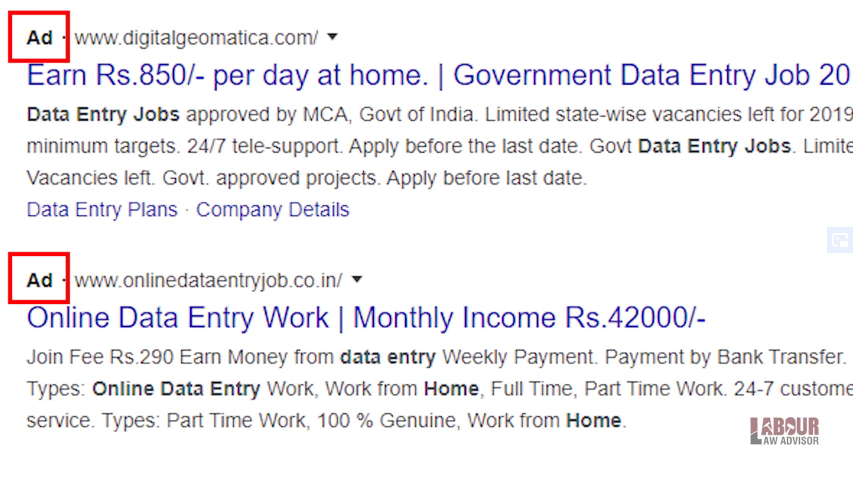 If you are aware of any such fake data entry jobs websites already then share their URL in the comments section of this blog and the video below. Also, share any contact details given on these fake websites. This will help us in creating a record of all the scam websites which we will then publish for everyone to be aware of.
Fill the query forms on these fake websites and ask them to drop a message on your WhatsApp. Show them that you are very interested in their proposal and waste their time. In the end, their conversion rate will be nil and the scammers will suffer.
Lastly, make sure to share the below video with all your friends and family to make more people aware of this big scam.
Also read, Apprenticeship Act, 1961 Benefits For Businesses.
Data entry scam run by Resumebizz.com
After going through our previous posts in fake data entry jobs, another follower named Rudrika Sharma cam forward with her story. In this scam, Rudrika was provided with data entry job by a website called a Resumebizz.com. The work included making a profile on the website. This would give the user access to a dashboard with many resumes. All these resumes had to be typed out as data entry into that website. Each completely filled in resume would be counted as one. Each completely typed in resume would earn the user Rs 60.
Rudrika was offered an assignment consisting of typing out 250 resumes with 7 days to earn Rs 15,000. A couple of days after accepting the job, Rudrika received a call from an unknown number. This new person acknowledged that they had a tie-up with Resumebizz.com. They were willing to do Rudrika's assignment of 250 resumes entries on the website for her, for 50% of what Resumebizz was paying her. The person insisted that his team of typists could get the work done in no time with optimum accuracy.
The catch in the situation happened when the person asked for an advance of Rs 2000 from Rudrika. He insisted that he needed an advance to pay his team of typists. But Rudrika did not give in to the situation insisting that since she was not getting any advance from Resumebizz, handing an advance to this person would just be a loss for her. Also, she could not ensure the accuracy from their work which Resumebizz had put as a condition for payment. Hence, Rudrika refused to take on this offer and saved herself from a lot of pain!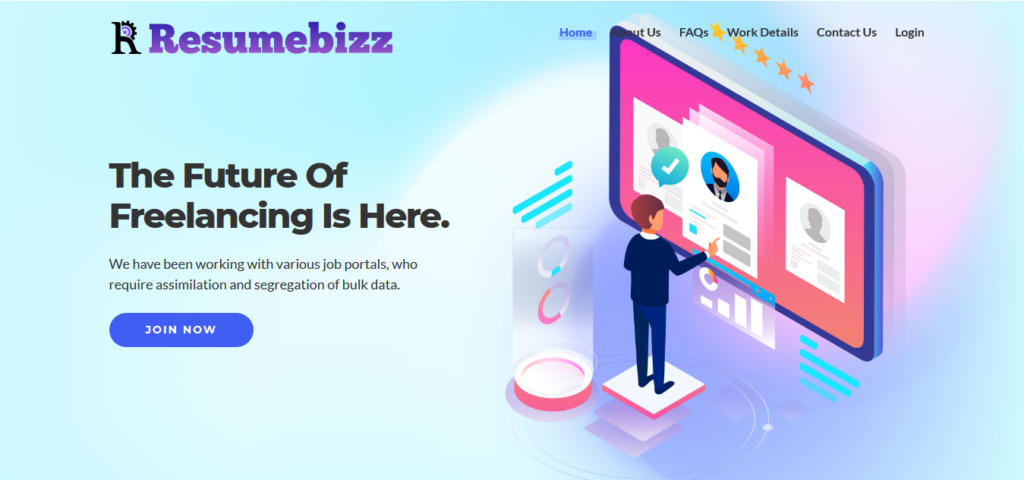 Red flags to note on Resumebizz.com website
All the social media links on the website for Facebook, Instagram, Twitter and YouTube do not open to any actual social media accounts. Rather they link back to the same Resumebizz.com website.
When he analysed the website on Amazon's website ranking tool, Alexa, we noticed that the website had a great ranking of 15,501 in India. Its keyword ranking had also improved significantly over the last 3 months. This was because the trend of work from home and part-time jobs has been increasing.
When you search for the related websites under Audience Overlap section, such as Resumework.com, ConnectingIndia.com, Resumebott.com, etc, they all have the exact same website as Resumebizz.com. Only the logo changes from website to website, but all images and content remains the same.
The video tutorial on Resumebizz.com is made on a free app with its trademark still on the video. If Resumebizz.com is so successful then they should be capable of making a proper paid tutorial video.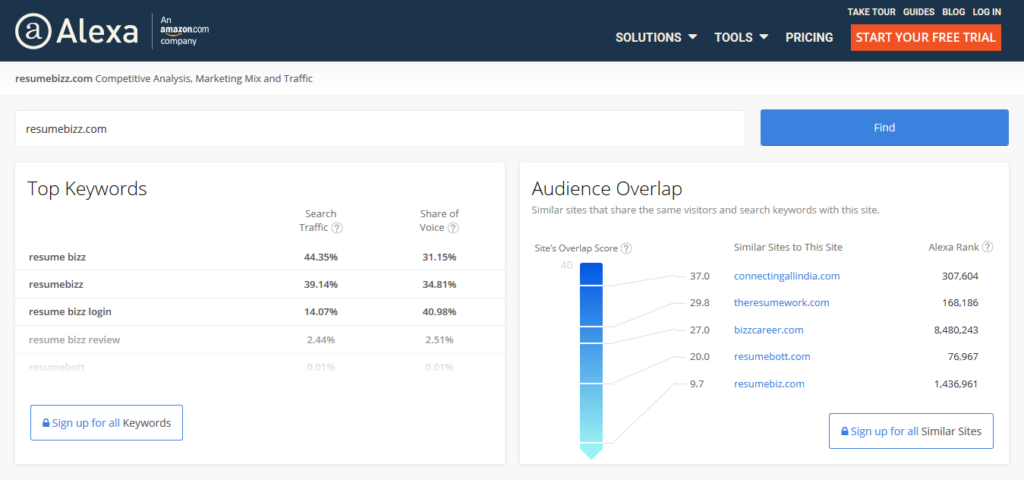 Since we were so intrigued with this fake new data entry jobs scam, we too made a profile on it to see the whole scamming process firsthand. We even recorded the telephone calls between both the parties as proof. Watch the video below for the full recording.
Share the video and this blog to as many people as possible to generate more awareness of such fake data entry jobs.
How do people fall into scam traps?
1. SEO and fake websites
A common thing among all working-class citizens of the country is finding an extra source of income. With the high costs of living, people often look for a side hustle to make extra income along with their main day jobs. Hence, they often search for "work from home jobs", "data entry jobs", "part-time jobs" and the likes on Google. Knowing this, scammers often get their fake websites ranked high on search engines to catch people's eye. These websites often have ads runnings on them to rank high as well. These websites are so well made that the common man is unable to identify them as fake, hence falling into the trap.
2. Fake listings and job portals
The scammers often retrieve personal details of people using job listings websites. They then use these details to target people from smaller cities or towns and freshers from mostly unknown institutions. Since such people may find it hard to land good jobs on their own and maybe on the lookout for one. They fall easily into the trap of fake data entry jobs.
3. Sharing flyers
Another pretty simple way to garner attention is by sharing flyers to passersby on the streets. When people look at these flyers or pamphlets with headlines like "earn xxxxx within 5 days" it obviously entices them to know more.
4. Fake emails with malicious links
It is way easy to get data from many sources nowadays. There are literal companies selling personal data of people to third parties. Scammers often get such data and target people by sending them emails of winning money or a prize. These emails contain malicious links which when clicked upon transfer all of one's personal data on their laptop or mobile to the scammers. Primarily, any message with comes with a fishy looking link should not be clicked upon.
How to detect a fraud?
1. Business model
Instead of thinking about how the business will help you earn money, think about how the business is itself making money. Understanding the business model is the first step in detecting fake data entry jobs fraud. If you are unable to understand how the company works or the company management is unable to answer your questions on this matter, then you should stay away from said company!
2. Too good to be true income
The scammers are well aware that people are looking for easy money. So they entice you with great deals like 5 figure earnings per week and minimal work which can be done from the phone. When such deals look too good to be true, then they actually are. Hence, it is also important to know current market rates of such jobs. Knowing actual market rates will help you not get fooled by fake deals.
3. Third party approaches
Often with such scammers, once you take the job and start working on it you get contacted by a third party who promises to do the same work for you at half the price. These third parties are also involved with the scammers, hence attacking you from two sides at the same time. If such parties were actually doing the same work at half rate, then the company would be contacting them themselves.
4. Upfront fee or payment
The scammers will make several reasons to get you to pay money upfront. They may say that it is for shortlisting you for the next round, or for a training program or even software to use for the work. Anytime an employer asks you for money for the work should be an alert for you that this is a scam.
5. Personal details
To make themself look authentic, scam companies will ask for your personal details such as Aadhaar, PAN, etc. This may seem legit to you, but it is just one of the scams to get your personal details.
6. No qualification check
In the case of real jobs, the employer would be interested in knowing the candidate's skills. But in case of scams, the employer does not even check your qualifications or skills. Instead, you are directly given bulk work to get you interested in the payout.
7. Fake contracts and no income check
Scammers often make fake contracts by downloading and pasting stamp images on regular paper. Another illegal thing is using the person's digital signature and photo on the contract. This in no way legalizes the contract. Contracts need to be notarized with a witness and actual physical signatures of both parties in person to be considered legal.
8. Fake attempt at building authencity
To build their reputation and authenticity, fraud companies purposely advertise everything that makes them seem legal. So such companies advertise how legal they are by talking about their corporation certificate, CIN number payment proof, and other registrations to make them seem more authentic. The idea is to divert your mind but registered companies also do fraud.
9. Accuracy check fraud
In case of fake data entry jobs, the scammers put an accuracy check clause. They ask for 90% accuracy check for the work and if failed, they put a penalty. However, there is no such software that could detect actual percentage of error in data entry work else there would be no need for manual data entry job itself.
10. Breach of contract
Stating inaccuracy as a breach of contract, the fake data entry jobs scammers put a penalty on people. They scare them with legal notices and messages by fake lawyers for court appearances. In return, they ask for penalty money to dissolve the court case. All of this is fake and it is just to scare people into submitting money.
11. Check email id and websites
It is important to check the email id from where you receive these fake data entry jobs. If they don't end with the company's domain name or have incorrect spelling of the company name, they are probably fake. Similarly, the website name should be spelled correctly and the website should have its own domain.
12. Search the website on Google
If the website is from a fake data entry jobs company then upon searching for it on Google, you are more likely to find the name on Consumer Complaints Forum website first rather than the official company website. If any company's name is on this Consumer Complaints Forum then it is not a trusted company at all. Other people who have had similar experiences with fake data entry jobs share their stories on this forum which is helpful.
13. Vet the website
As pointed above under the section of Resumebizz, it is important to investigate the website for pointers of fraud.
What to do if you're already scammed?
1. Stop doing the scam work
Instead of wasting your time in further doing this scam work, you should stop doing the work at once. As discussed earlier, the scammers are not interested in your work at all. Their scheme is to get money out of you as penalty payment somehow. Hence, do not waste your energy on their work anymore.
2. You won't get the money back
If you have paid them any money for any reason, then be prepared to not receive it back. There is probably no way of getting money back once paid willingly to anyone even if you register cybercrime against it.
3. Fake threats
The fake data entry jobs scammers will try their best to harass and scare you with repeated threats. But you must not give in to them.
4. Block them and file FIR
Firstly, you can block them completely on calls and WhatsApp. Next, you can take the four steps – complaining in the cyber crime cell, submitting a customer dispute resolution form in your bank and the scammer's bank, and lastly filing a complaint under the IT Act. You can further expect a resolution to your dispute in one month.
5. What about your Aadhaar and PAN details?
The scammers may have your personal details such as Aadhaar or PAN, which they might misuse. But that is unlikely as just having those details is a dead-end for them unless you transfer themyour money willingly.
6. Talk to your family
It is important to talk to your family and be honest with them instead of being scared of the repercussions. Talking to family members will help you get to the solution faster.
Watch the video below for more information.
Join the LLA telegram group for frequent updates and documents.
Download the telegram group and search 'Labour Law Advisor' or follow the link – t.me/JoinLLA
It's FREE!