There are several benefits to the Apprenticeship Act 1961. Read on to learn more.
Apprenticeship Act 1961 benefits for companies
A few reasons why the Apprenticeship Act 1961 benefits companies are as follows:
The Industrial Dispute Act, 1957 is not applicable to an apprentice.
The Workmen Compensation Act, 1923 is also not applicable to an apprentice.
An apprentice is not a full-time employee and hence not eligible for any kind of statutory profit-sharing bonus or incentive, under Section 2(13) of the Payment of Bonus Act.
Employers do not need to contribute towards the Provident Fund of an apprentice. Apprentice or trainees which companies hire under the standing order also are ineligible for PF as per the Employees Provident Fund and Miscellaneous Provisions Act, 1952.
Employers also do not need to contribute towards the ESI of apprentice, since they are not full-time employees. However, apprentices who employers hire through standing orders of the establishment are seen as full-time employees. Hence their ESI contribution has to be covered as per the Amendment of Section 2(9) of the ESI Act (w.e.f June 1, 2010).
Who is an Apprentice?
As per the dictionary's definition, an Apprentice is "a person who is learning a trade from a skilled employer, having agreed to work for a fixed period at low wages.
Synonyms: trainee, learner, probationer.
Example: an apprentice electrician
Thus, in the case of companies, the "apprentice" is the part-time employee and the "trainer" is the employer. An apprenticeship gives freshers the chance to get hands-on experience of a real job. It helps them put their theoretical knowledge to use in a practical scenario. Thus, making them ready for full-time employment.
What is the Apprenticeship Act 1961?
Section 2, clause B of the Apprenticeship Act of 1961 defines an apprentice as " a person who is undergoing apprenticeship training in a designated trade in pursuance of a contract of apprenticeship."
Here, Designated Trade means a company or industry which the Central Government recognizes. Companies have to register themself on the official Apprenticeship India government website. Only then can they generate vacancies for an apprenticeship in their firm. These pre-defined trades can be either optional or designated in nature. Designated trade means where the apprentice has already undergone some official training by ITI or any other training centre. If the company hires an apprentice under Designated trade then they need to provide them official training from ITI or any other institute. On the other hand, Optional trade stands for non-technical jobs. These do not require any technical training. Just in-house training is sufficient.
Different Annexures cater to different designated trades on the basis of one's educational qualification as follows:
Annexure 1 – hosts a total of 259 Designated.

Minimum Class 8 – Lineman, Plumber Mechanic, Painter
Class 10 – Barber, Tyre Repair, Power Electrician
Class 12 – Operate Advanced Machine and Topps, Brew Master, Call centre assistant
B.Sc. – Advanced Attendant Operator
Computer Operator Course certified by the National Council of Vocation Training – Sisad –

Annexure 2 – Subject in Eng. & Technology Designated for Graduate Technician Apprentice – engineering fields, biotech, interior design, herbal, health etc. Total of 163 designated subjects for an apprentice.
Annexure 3 – Subject and trade designated for Vocational Apprentice – Diploma / ITI holder – accounts, agriculture, office assistant to chef. A total of 137 trades, providing skills and education that prepare you for a job.
Qualification & Eligibility
Eligibility of the apprentice depends on the following factors:
he is 14 years old or above.
incase of hazardous industries, he is 18 years old or above.
he is of sound mental and physical health.
Eligibility of the employer depends on the following factors:
Employers having less than four employees cannot hire an apprentice.
Employers having over 30 employees have to hire apprentices mandatorily.
The total number of apprentices cannot exceed 15% of the total number of full-time employees. Earlier this was 10%.
The total number or strength of workers shall be calculated on the basis of average strength in the preceding financial year.
Contract of Apprenticeship
A contract of apprenticeship has to be signed between the employer and the apprentice. This is similar to a contract between an employer and a permanent employee. If the apprentice is minor then his guardian can sign the contract on his behalf. Furthermore, the signed contract has to be submitted in the apprentice office within 7 days. Then the apprentice office has to certify the signed contract. The apprentice office is most likely to be located in the ITI office of the city.
Stipend for Apprenticeship
Apprentices working under the Apprenticeship Act 1961 receive a stipend instead of a salary. As per the 2019 amendment to the Act, the minimum stipends for different groups are given. This is as per the image given below.
In some cases, apprentices can be hired for up to 3 years. Hence, they will get a 10% increase in the second year on the minimum stipend amount. Furthermore, they will get a 15% increase in the third year.
Working Hours of Apprentice
The total number of working hours can range from 42 to 48 hours a week. If a trade apprentice enters the third year of apprenticeship then he has to work equivalent to the working hours of full-time employees of the company. The minimum and maximum tenure for apprenticeship depend on their qualification as follows: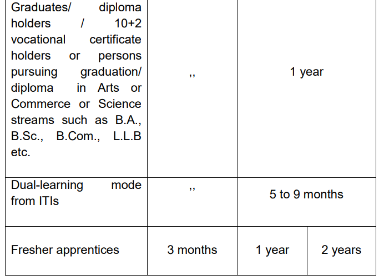 Government Support
As per the National Apprenticeship Promotion Scheme, the government refunds 25% of stipend, up to a maximum of Rs 1,500 per month. This is applicable for all apprentices with an employer. The government also helps in sharing the cost of basic training with Basic Training Providers (BTP). The government website www.apprenticeship.gov.in also provides a platform for all employers and apprentices. The hiring of the apprentice, as well as departmental audit and return, can be done via with website.
Obligations of an Employer
The employer has to send the Apprenticeship Advisor the contract of apprenticeship for registration within three months from the date of its signature.
He has to also provide the apprentice with the training in his trade in accordance with the provisions of the Apprentices Act.
The employer has to provide adequate instructional staff, possessing such qualifications as may be prescribed for imparting practical and theoretical training and facilities for trade test of apprentices.
Provide health, welfare and safety of apprentice as per the Factories Act, 1948.
Provide compensation for injury as per the Workmen Compensation Act.
Watch the video for more details on the ApprenticeshipAct 1961 benefits below.
Also read, The most liquid mutual fund with a FREE DEBIT-cum-ATM CARD.
Join the LLA telegram group for frequent updates and documents. Download the telegram group and search 'Labour Law Advisor' or follow the link – t.me/JoinLLA
It's FREE!