Right To Information or RTI is an Act of the Constitution of India. This unique act helps in questioning the working methods of government agencies and bringing about some transparency to institutions long burdened with corruption problems. The act brings power to the hands of the layman, as he can demand any information from any government organization. All firms have an obligation to reply to a Right to Information Act 2005 within 30 days of the filing. Else the concerned officer has to pay a penalty fine.
The Parliament passed this law on June 15, 2005. The law came into force on October 12, 2005. Each day more than 4800 RTIs are filed. During the first decade of the launch of this act, more than 17,500,000 Right to Information Act 2005 applications got filed.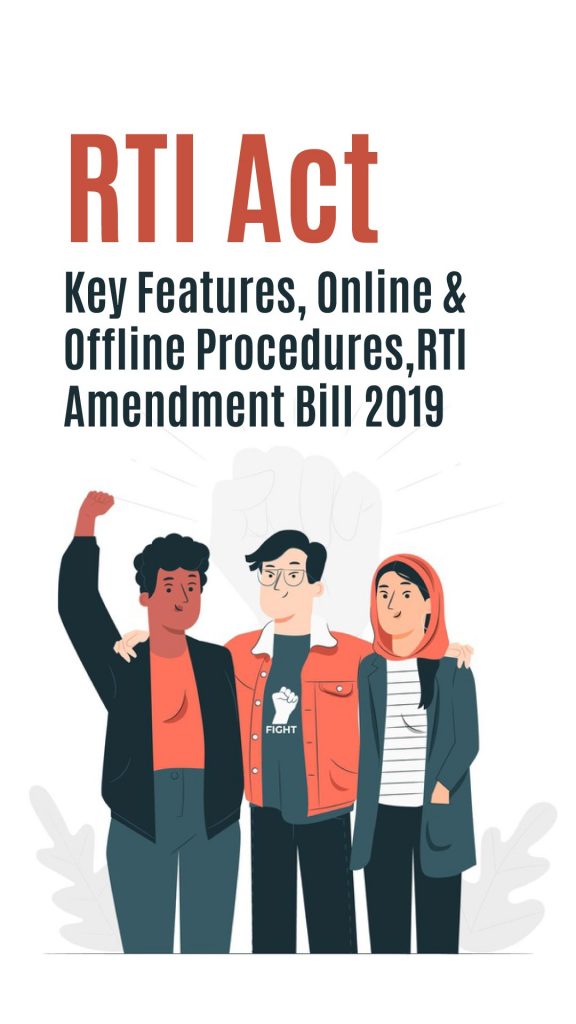 Successful Right To Information Act 2005 Application Stories
1. Our Editor's Grandfather's Pension
Out Editor's grandfather is a retired employee of the Indian Railways. His pension was not getting revised according to the 7th Pay Commission for 3 years. So after filing a Right To Information Act 2005, they got a call from the Railways within 3 days. They located the data on the pensioner portal and revised it, and within a period of 30 days of Right To Information Act 2005 filing, the case was resolved and the revised PPO received.
2. PF Refund of a Friend
After submitting an offline PF claim form, there was no revert or withdrawal for 6 months. Even the EPFO did not respond to the calls and enquiries. Hence, after filing an RTI, the reason for the PF claim rejection was to receive within 30 days.
3. Ambhegaon Village
Suvarna Bhagyawant, a resident of Ambhegaon village, needed her grandfather's death certificate to apply for her grandmother's widow pension scheme. But she had to make several rounds of their Panchayat office to receive this since the officials there were asking her for a bribe of Rs 500 which she refused to give. Ultimately, Suvarna filed a Right to Information Act 2005 against this office and she finally got the death certificate within 8 days.
Another villager, Archana Bhagwant, was asked for a bribe of Rs 150 for getting a new ration card issued. After a year of harassment she filed an RTI act query and the Sarpanch himself came to deliver her ration card personally to her house. Now, all villagers feel free to ask officials for getting their problems solved, as they have the RTI act to use.
4. Rajasthan Villagers Get Ration Shop Back
Revat Ram along with his friends filed an RTI act against their local Himmatsar village ration shop owner. This was because the shop owner was selling the ration illegally in the black market instead of giving them to the needy. Not only did the shop owner lose his ration dealership but he also had to pay Rs 4 lakh, which was equal to the amount of the ration he sold illegally, to the poor families of the village.
5. A Penalty of Rs 75000 Imposed on the CPIO & RPFC-1 of EPFO
Famous PF pension activist, Mr Praveen Kohli, was not satisfied with the reply he received for the increased pension case by Mukesh Kumar, CPIO & Regional Provident Fund Commissioner (RPFC-1), EPFO New Delhi. So the Information Commissioner, Prof. M. Sridhar Acharyulu, imposed a "maximum penalty of Rs 25000" on each of the 3 RTI act petitions filed by Mr Kohli, against Mukesh Kumar, on grounds of his failure to supply proper details. Learn more details of Mr Praveen Kohli's case in, In Conversation With Praveen Kohli | Higher Pension Case Details.
The following PDF has many such success stories of RTI act petitions. Read them here.
The Scope of a Right To Information Act 2005
The scope of an RTI act allows a citizen to ask the government, about the amount of money spent on renovating it's minister's bungalows, or their telephone bills or their fuel expenditures or even their overseas trip expenditures. The citizen can inquire about the funds allocated to their elected officials for their constituency's improvement; even the nitty-gritty of every penny spent. This approves as it is all utilizing the taxpayer's money. A citizen can even ask for copies of any government documents like reports, records, file notings, electronic data, etc. Under the RTI act, a citizen even has the right to visit a department and view their documents.
Government Organizations Required to Reply under the RTI Act
All State and Central Government agencies are mandated to reply to an RTI Act. Example, PSUs, State and Central Ministries, Government-owned companies, Government schools and universities, Road authorities, EPFO, Works department, Judiciaries, Municipal corporations, etc.
Government Departments Exempted from RTI Act
About 20-odd organizations who are involved in the country's intelligence. Defense is exempt from the RTI act. Such as BSF, CISF, National Security Guard, Intelligence Bureau, CRPF, RAW, etc.
There are also a few very notable cases where RTI information cannot reveal. These cases may relate to the following matters which:
could have an adverse effect on national security, strategic, sovereignty, scientific and/or economic interests.
have banned by the higher courts to reveal.
could relate to either trade secrets or intellectual property, and are details which could potentially harm the competitive status of the concerned individual.
could relate to a foreign government's information.
The safety of a person could be affected.
could affect an investigation procedure.
could relate to Cabinet papers.
Any personal details which are of no public concern.
Even though, the RTI law states that any information which is not deniable to a Member of Parliament or state legislature, it cannot be denied to any citizen of the country.
How to use RTI to solve problems?
The following personal problems can be solved by filing a Right To Information Act 2005:
Pending Income Tax return
Delayed PF withdrawal
Delayed PF Transfer
Passport Delay
Delayed Aadhar card
Delayed IRCTC Refund
Copies of answer sheets
Property Documents like Occupancy Certificate/Completion Certificate
Status of FIR
Status of a complaint
EPF of Status
Delay in Scholarship
Example: you apply for a passport but did not get it delivered. Thus, you can file for an RTI with the following questions:
1. Please provide daily progress done on my passport application.
2. Please provide names of officers with whom my application has been lying during this period.
3. Please inform as per your citizen's charter in how many days I should have got my passport.
The following Social Problems can be solved by filing an RTI:
The fixture of potholed roads
Conduct a social audit of government projects
Details of how your elected MP/MLA spent the funds allocated to him
Details on how a particular government project or scheme was implement
Example: there is a road nearby which is in a terrible state. Then you can file an RTI with the following questions:
1. How much money has been spent on the development of road in the past 3 years?
2. How was the money spend?
3. Please provide a copy of the orders.
Governance and Process
To ensure that an RTI act is approached properly there are multiple levels of officials assigned. The RTI act applies a 'perform or perish' strategy, apart from setting up a tool to release information.
Each government body has to appoint one employee who performs the role of a Public Information Officer (PIO). Whenever a government department receives an RTI request, it falls upon the PIO to provide the required details to the applicant within 30 days. If the PIO fails to do that, then he can be fined a penalty for it. The longer the period of time that the PIO takes to reply to an applicant, the larger the fine levied on him. In some instances, PIOs have had to pay thousands of rupees as fine.
Each state of the country has an Information Commission, which includes a Chief Information Commissioner and a few Information Commissioners. The government only appoints former judges, IAS and IPS officers with impeccable records to these positions. Their superior is the Central Information Commission and below them are the first and second appellate authorities to make sure that an applicant surely gets the RTI information that he/she has requested.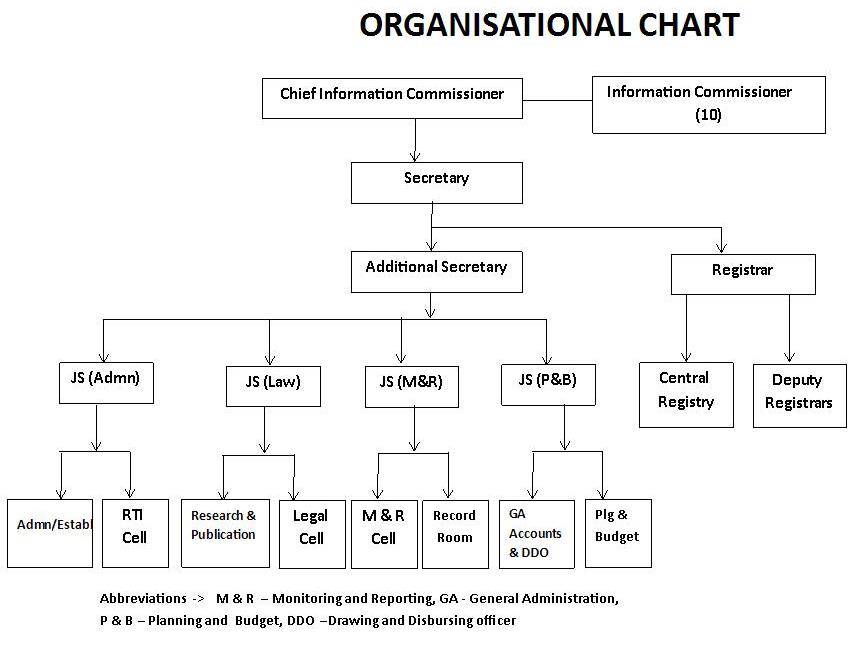 Cost and Time to File an RTI
The law states that information for an RTI should give within 30 days of filing. For central government department, a payment of Rs 10 has to be made for every RTI filing. This can be done vis cash/ NEFT/ court fee stamp/ Indian postal, depending on the state one is in. If you ask the government office to provide copies of some records then you need to pay Rs 2 per page.
Following is a detailed video on this topic:
Tips for Writing a Good RTI
Keep it simple: A well written RTI should be as boring as a grocery list. An RTI filing must only have the absolute necessary points. It should not reveal the overall nature of the problem in your mind. It should also not reveal what future plans you have with the information received via the RTI, like registering a police complaint or filing a PIL, etc. Your RTI filing should not reveal how seriously you need the information, so refrain from mentioning things like, "I am a senior citizen dependent on my pension cheques, and I have been pushed from pillar-to-post in search of this information."
Keep it short: The PIO is also a person like us, who would try to delay replying to an RTI which was very verbose and lengthy. So keep your RTI as short and uncomplicated as possible.
Divide and rule: Instead of writing one RTI with 20 questions, file 5 RTIs with 4 questions each. This is because one single lengthy RTI might be overwhelming and difficult to get a response from the PIO. Hence, a small RTI with 3-4 queries seems more manageable and easy to get a response. As and when you keep getting the response for one RTI, you can go ahead and file the next RTI. Another advantage of this strategy is that the PIO may get fined a larger penalty if he does not reply to the multiple RTIs instead of getting fined just Rs 250 for the failure of replying to one big RTI (Rs 250 x days of delay x no. of unanswered RTI applications).
Don't be too ambitious: Don't go overboard with the amount of information you request. Example, don't ask for "copies of all gun licenses issued from January 1981 till date" because that would require the PIO to search 30 years worth of files and records.
RTI Filing Process
Most central and state departments, ministries, etc., provide the options of RTI filing online but nonetheless we will have a look at both online and offline procedures.
Offline RTI Filing Process
Identify which department you want to file an RTI for: The information you need might come from the state government, central government or local municipality.
Preparing the RTI: Draft your RTI on a plain white paper. The RTI can be handwritten or typed in English, Hindi or your regional language. If it is handwritten then ensure that the text is clear. Some states have specific forms for RTI filing. Get state-wise RTI filing and fees details here.
Addressing the RTI: Your RTI should address the state or central PIO. You need to write the name of the department from which you wish to get information. You must clearly mention that you seek this information "under the RTI Act, 2005".
Framing the RTI application: Your queries must be simple and clear. Keep your questions simple to understand and related to a single subject.
Payment of fees: A payment of Rs 10 has to be made via Court Fee stamp or Indian postal order.
Contact details: Since the RTI act asks for a response to a query, you need to mention your contact details such as your full name, address, phone number and email id. Place your signature, date and place at the bottom.
Handing it over: It is highly recommended that you keep a photocopy of your RTI for future references. Once your RTI is ready and a copy is kept safely, you can post your RTI via mail or hand it over personally to the concerned department.
Response to your RTI: The law states that a reply to any RTI has to be given within 30 days or 48 hours if it concerns a person's freedom or life.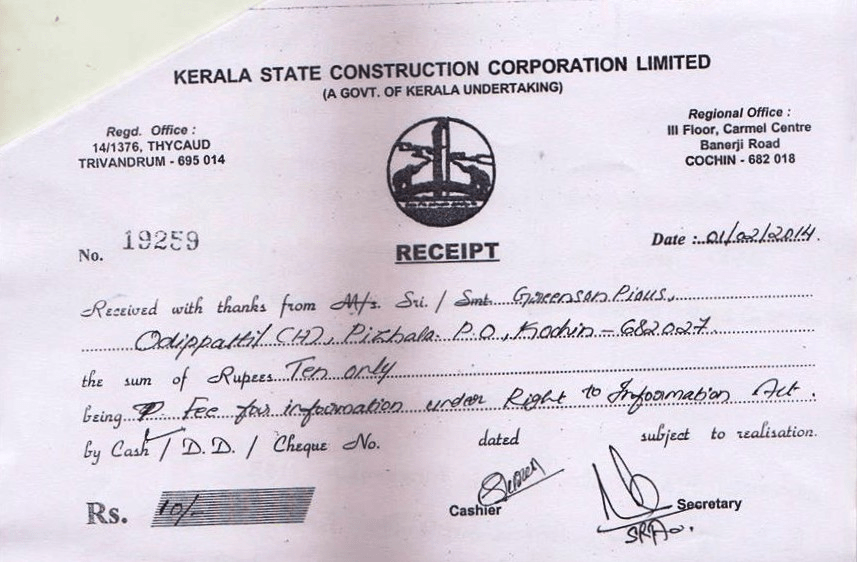 Sample RTIs:
Online RTI Filing Process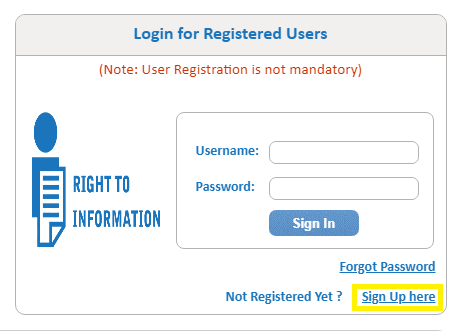 Fill in all the details on the User Registration Form.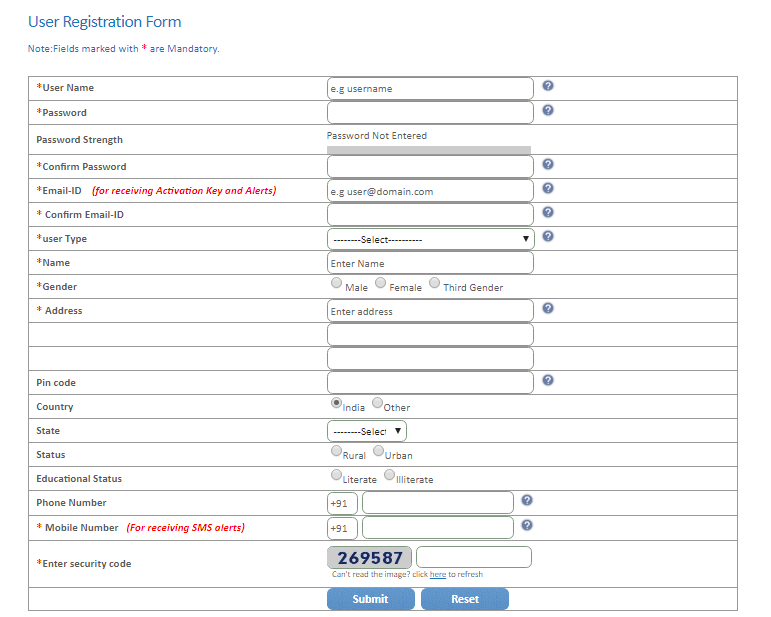 After clicking on Submit, you will receive a verification link on your email id and your login id will be created.
Use these details to Sign In on the previous page with your Username and Password.
A new page will open. Continue to click on Submit Request on the top left corner of the page. This will open a new page with the guidelines for using the RTI online portal. Please go through all of them carefully, and click on the checkbox and then Submit.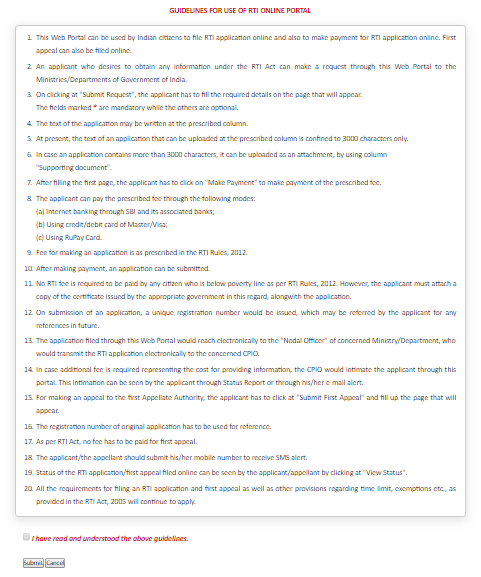 The Online RTI Request Form will open. Continue to fill up this form by choosing your relevant choices from the options.
Continue by clicking on Submit to further reveal a page for payment. Go on to complete your Rs 10 payment of fees.
Once the RTI is filed, you can return to your homepage to view the status of your RTI.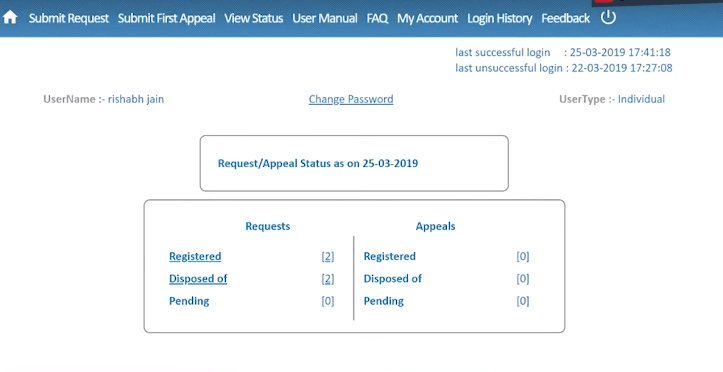 You can further click on the number to view individual RTI statuses.
If you are not happy with the response received or if you have not received any response at all, then you can go to Submit First Appeal on the top left corner of the page.
This has a separate set of guidelines. Go through them.
You can further input your RTI request registration no., email id and security code. Then is to submit an appeal for your filed RTI.
Many State Governments have their own RTI websites, for example in Rajasthan it is: http://rti.rajasthan.gov.in
Many departments/ PSUs / Universities have RTI sections on their websites. Most of them are below here.
Find our detailed video on this topic below:
Liberties of the CIC, IC and other State Commissioners
The CIC, ICs and all State Commissioners enjoy certain privileges in their position. These are as follows:
They have a fixed tenure. Thus, they cannot be removed from their position until either they complete 5 years or reach the retirement age of 65 years.
Their salary was the same as the salary of a Supreme Court Judge in India. Thus, their salary did not come from the government so they were not answerable to them.
Their status was synonymous to the status of the Election Commission of the country.
They were independent to function and did not have to report to any government office.
What is the RTI Amendment Bill?
The powers and liberties of the CIC and other commissioners seem to make life difficult for the government. Which is why the RTI amendment bill 2019 was brought out. This RTI amendment bill aims to bring about major changes in the RTI commissioner arrangement.
The tenure of the commissioners will now be the central government's decision. It will no longer be a fixed tenure. The government can hire and fire the commissioners at will.
Salary given to the commissioners will also be the central government's decision. It will not be the same as the salary of the Supreme Court Judge.
The status of the commissioners will no longer be equivalent to the Election Commission's status. This will also be the central government's decision.
Is the RTI Amendment Bill rigged?
Usually, whenever such an amendment bill is in the works, it is firstly released to the public 30 days before for an opinion. This gives the citizens a chance to share their opinion on the amendment bill. But this was not done in the case of the RTI amendment bill. The RTI amendment bill was done in complete secrecy, without anyone's knowledge. This behaviour kind of hints at the government's motives behind this amendment bill.
The RTI amendment bill was easily passed in the Lok Sabha, given the ruling party's majority in the house. Many thought, the bill would get blocked in the Rajya Sabha at least. But that did not happen either. Both BJD and TRS sided with the ruling government and helped them pass the amendment bill in the Rajya Sabha as well.
Implications of the RTI Amendment Bill
This RTI amendment bill will make the CIC and other commissioners a subservient of the ruling government. This will thus kill the essence of the RTI Act.
The TRI was the only body which could stand up against the government without any hesitance. But now they will have to watch their step as everything for them will be decided by the central government. Thus, mining the rights of Indian citizens.
Previous attempts to pass this bill were a fail in 2018 and the Supreme Court had to intervene.
Justification given by the central government that the amendment bill was brought about in a hurry; and the Election Commission is a constitutional body while the RTI is a statutory body, seems unfair.
Expert opinion
Prof Sridhar Acharyulu, an ex-IC from 2013 to 2018, feels that the amendment bill will make the ICs subordinate to the ruling government. "This has dangerous implications. The whole edifice of the RTI's implementation stands on the way the Information Commission deals with it. The independent interpretation of the RTI Act is possible only with its independence from the executive," he says. He further adds that this amendment could kill the RTI Act and is an "affront to federalism, good governance and ultimately, democracy". He also warns that it would render freedom of speech meaningless.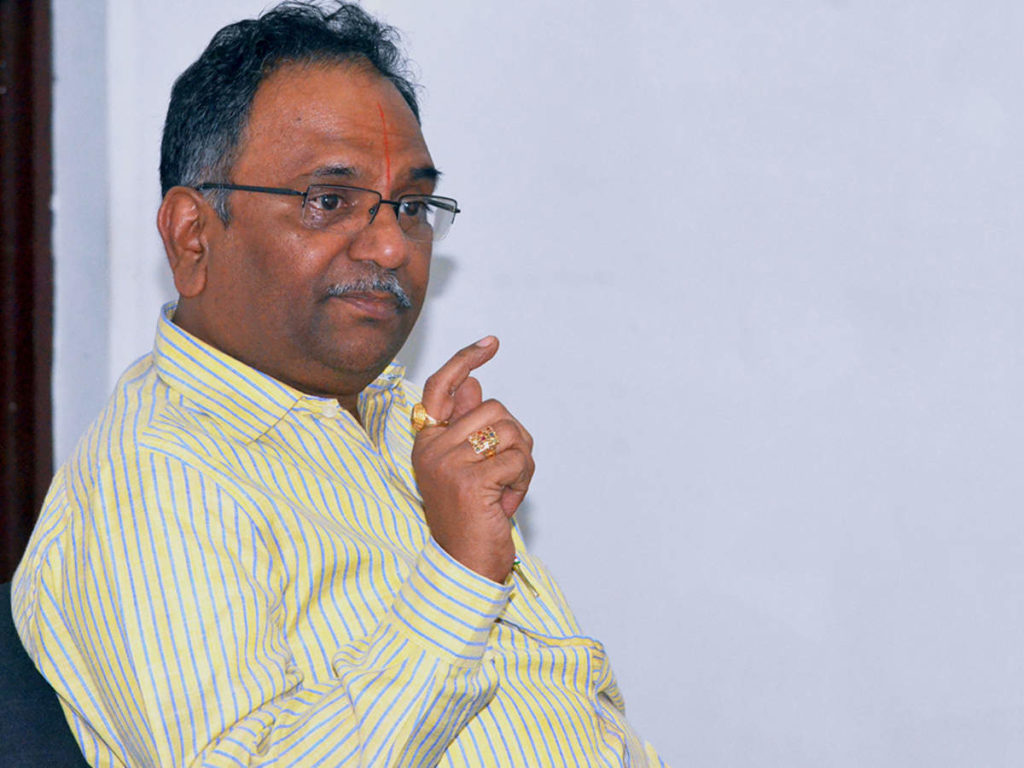 Mr Shailesh Gandhi, who also served as an IC from 2009 to 2012, calls the proposed amendment "very unfortunate" as it shows that the central government wants to control the independence of Information Commissions. He says that no strong reason has been given for the amendment either.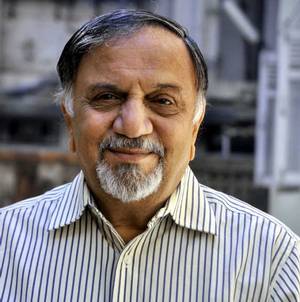 What can we do?
We as responsible citizens of the nation should oppose this amendment bill. We need to research more on this bill and its propaganda. Furthermore, we need to discuss this amendment more. Hence, we can share this video/blog/other articles on this subject with the #NoRTINoModi. The opposing voice needs to be heard in order to protect the voice of the citizens.
Additionally, you can sign this petition started by Ex-Information Commissioner Mr Shailesh Gandi to protect the RTI Act
Watch and share our video below:
Join the LLA telegram group for frequent updates and documents.
Download the telegram group and search 'Labour Law Advisor' or follow the link – t.me/JoinLLA
It's FREE!