The PF website recently brought about four new features. These will be extremely helpful for many PF subscribers. Especially to the ones who travel for work and find it difficult to visit the PF department for PF related work. The first feature is a PF monthly pension application online procedure. Second, is some PF advance feature. Third, is allocating UAN by employees. Last, is the procedure to apply for death claims.
PF Monthly Pension Application Online:
If you have completed a service period of over 10 years and your age is above 58 years, then you are eligible for a monthly pension. Up till now, to apply for this monthly pension, one had to fill out Form 10D. Additionally, one had to submit proof of their service history, family details and bank account details and send all these documents to the PF department. But now this PF monthly pension application is available online on the PF website.
To avail the monthly pension application online you must have a service period of over 10 years as well as your age must be above 58 years. The whole process of pension application online is as follows:
Pension Application Online Procedure:
Login to the EPF member portal with your username and password.
Make sure that your Aadhaar details and Bank Account details are linked with your EPF account.
Go to View on the menu and click on Profile from the drop-down list. Here you have to update your profile picture to enable the E-Nomination option.
From the Manage tab, go to E-Nomination from the drop-down list.
Here you need to fill in your nomination details. This can have any of your family members as nominees for your PF funds. Unless your nomination is complete, you will be unavailable to complete your pension application online procedure.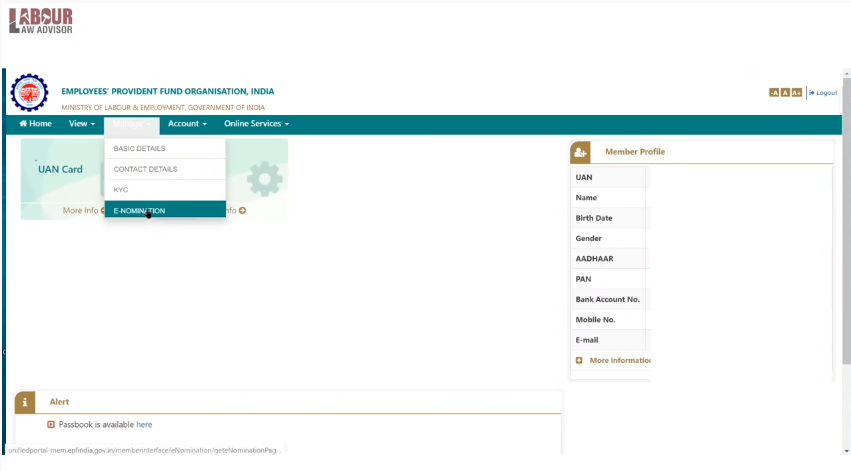 For each nominee, you need to fill out their Aadhaar Number, Name, Date of Birth, Gender, Relation, Address, Bank Account details, Guardian and Profile Picture.
Ensure to fill out all the nominee details correctly.
Along with these details, you can also mention the percentage of your pension funds which you want to allocate to each nominee. If you have only one nominee, then allocate the full 100% to them.
You can also download this nomination form and keep it as proof for later.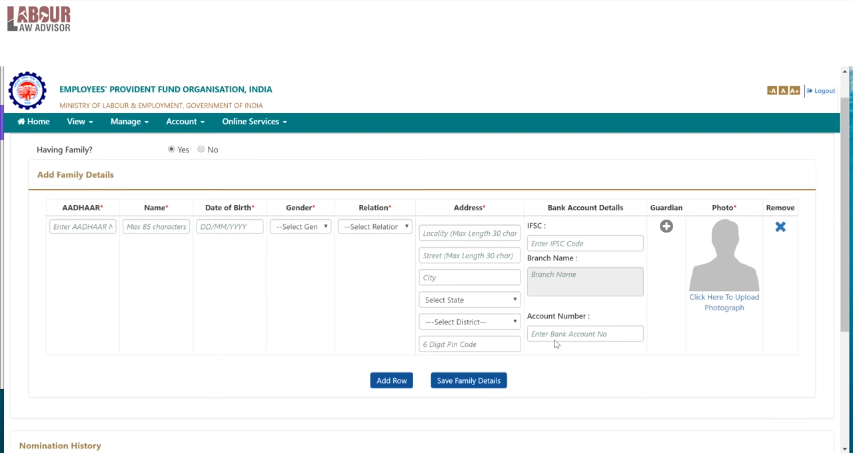 Now go to Online Services tab and click on Claim (Form-31, 19, 10C & 10D).
On the next page, for the option "I want to apply for", click on Monthly Pension Form-10D.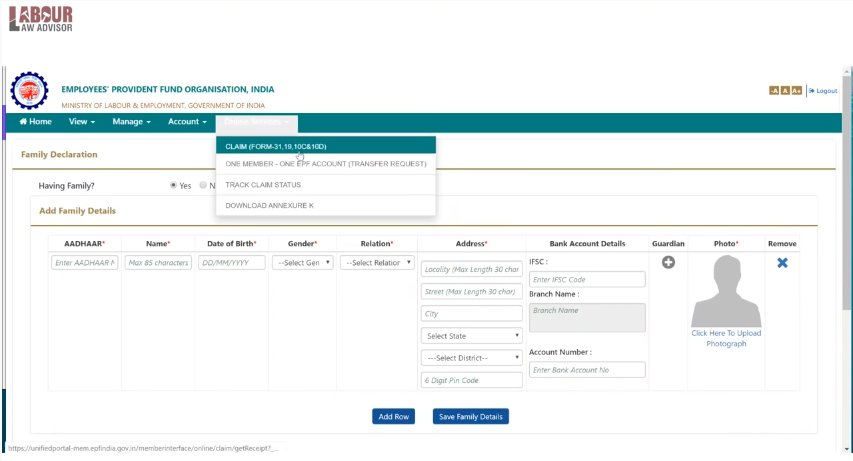 Check that your Date of Joining and Date of Leaving the company are correct.
For Details of Scheme Certificate (if any), enter the Office State, City and Scheme Certificate Number for your service.
The Family Details section will reflect your nomination details. Confirm that they are correct.
For Deferred Pension section, you can select Yes or No, as applicable to you. Deferred Pension means that you personally delay your pension by or two years. If you delay receiving your pension by one year then you get an additional 4% funds and for two years you get 8% extra funds.
Furthermore, if you opt for Deferred Pension and Claim it, then your pension calculation will include your annual salary appraisals. Your pensionable service duration will also increase by two more years.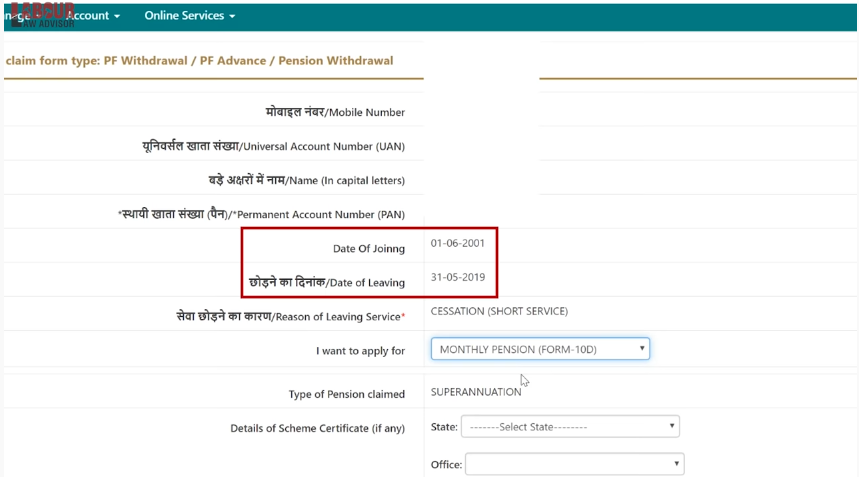 Your pension fund is transferrable to one of the following banks only –

Government Banks – SBI, Canara Bank, Punjab National Bank or Bank of Baroda.
Private Banks – Axis Bank, ICICI Bank Limited or HDFC Bank.

All your family members who are your pension nominees must also have their individual bank accounts in the same bank branch as you.
Upload a scanned copy of your Cancelled Cheque or Passbook.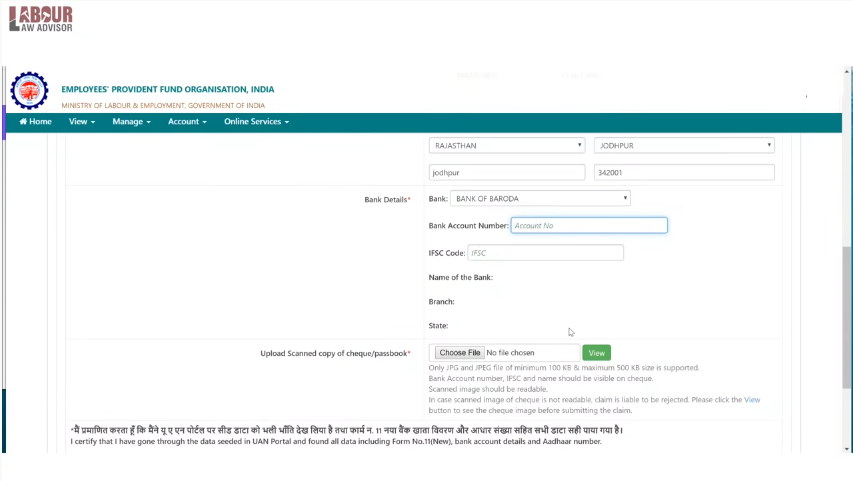 Now, click on Get Aadhaar OTP to successfully submit your pension application online form.
After seven to ten days of submission, your pension application online form processing will be complete, as per the government.
PF Advance Feature:
Go to Online Services tab and click on Claim (Form-31, 19, 10C & 10D).
On the next page, for the option "I want to apply for", click on PF Advance Form-31.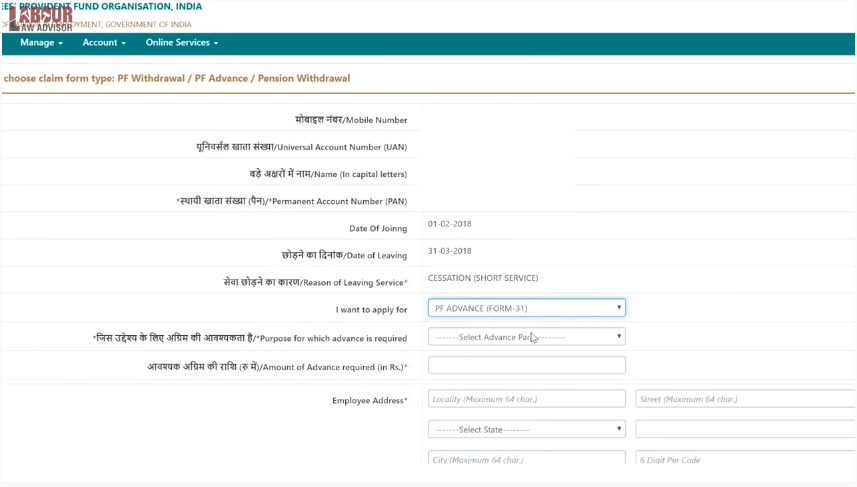 For "Purpose for which advance is required" section, a drop-down list appears. This list will only have the options which are available according to your service period.
The options in red are disabled if your service history is below 5 years.
The options which are available only once in the full-service period also turn red after being exhausted.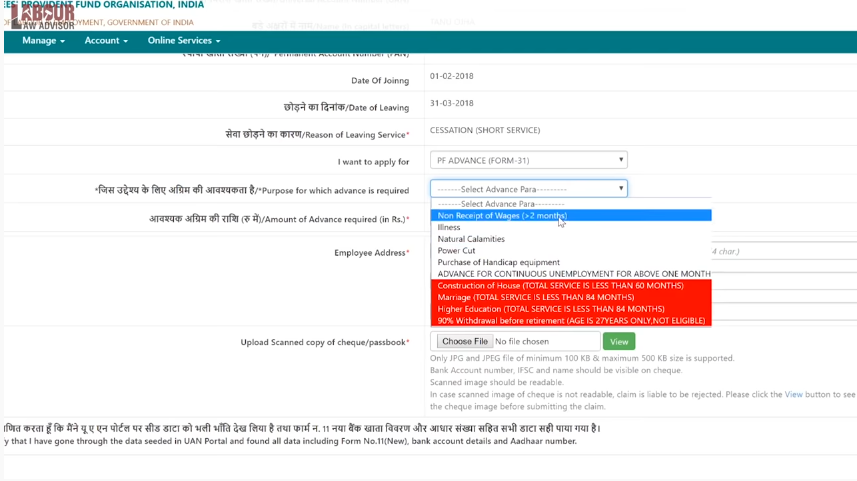 Direct UAN Allotment by Employee:
This feature was reintroduced after being removed a while ago.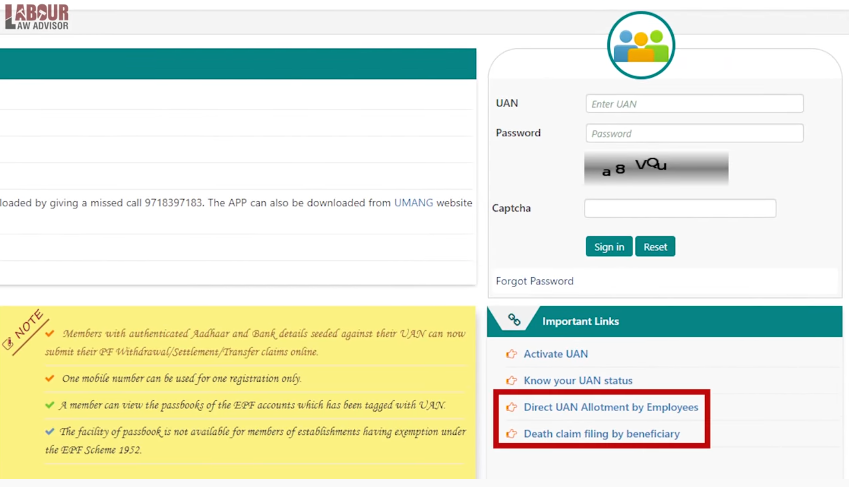 Death Claim Filing by Beneficiary:
If the PF member passes away then his nominee can fill out this form to claim the pension funds.
The beneficiary has to fill out his UAN, Aadhaar, Name, Date of Birth, captcha and get Authorization Pin.
But this option is only available if the E-Nomination is complete.
Learn this full PF monthly pension application online procedure in the video below.
Also read, EPF Interest Rate 2018-19 To Be Credited Soon.
Join the LLA telegram group for frequent updates and documents.
Download the telegram group and search 'Labour Law Advisor' or follow the link – t.me/JoinLLA
It's FREE!