IRCTC stands for Indian Railway Catering and Tourism Corporation. It is a part of the Indian Railways which takes care of the catering, tourism and online ticket reservations. The IRCTC Rail Connect is a new IRCTC app, which was launched in 2017, to promote easy ticketing. In this article, we discuss some of the amazing feature you must know of the IRCTC app.
Amazing IRCTC App Features
1. Favourite PNR
The PNR icon on the dashboard of the IRCTC app can be used to check your PNR status. If you search with your 10 digit PNR on this page, it will tell you if your train seat if confirmed or not. If you click on the "Heart" icon next to this PNR then it will be saved on your Favourite PNR list. Hence, your PNR will be pre-saved and you need to simply click on it to know your train ticket status, without the hassle of retyping the whole PNR again. Additionally, you can click on the "Bin" icon to delete this PNR after your journey is over.
2. Master Passenger List
You can click on the menu icon on the top-left corner of the IRCTC app and scroll down to My Account. Click on it to reveal the option of My Master List. Here you can save all details of the people for whom you use the app to book tickets frequently. For this, you need to click on Click Here To Add New Passenger. Then fill in the passenger's name, date of birth, gender, ID card, berth preference and food choice. Click on Done to save. While booking tickets next time, simply click on the add person icon. This will reveal all the added passengers on the master list. Select the ones you need directly from this list.
3. Colour Coding of Trains
When you input your Source and Destination of a journey to search for available trains, a list appears with details of all trains travelling between those two given points. All trains have a colour coding on the left. This unique colour coding helps is efficiently finding the train you are looking for.
4. Connecting Journey Booking
While booking your ticket you get the option of Connecting Journey Booking checkbox. For instance, you are travelling from point A to B and then from B to C. But your train from point A to B gets delayed. Hence, you miss your train from point B to C. In this case, this feature of the IRCTC app is super helpful. So if you use this feature to book your connecting train journey tickets and you happen to miss your subsequent train, then you can get a full refund for that ticket.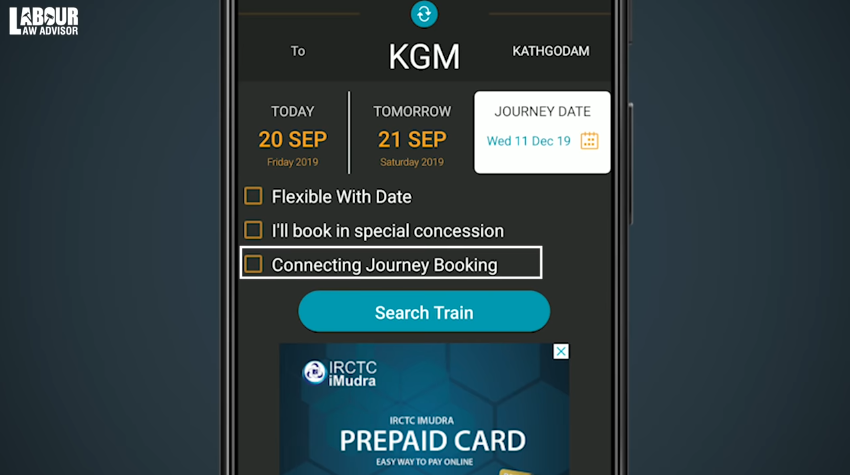 5. Coach Selection
This IRCTC app feature helps you to input your preference for a coach when you book a ticket. For this, you need to go to App Preferences menu when adding passengers and input the coach number under Enter Preferred Coach Number. Although, this feature only works when there are seats available in the said coach. If you are on the waiting list, then this feature will not work.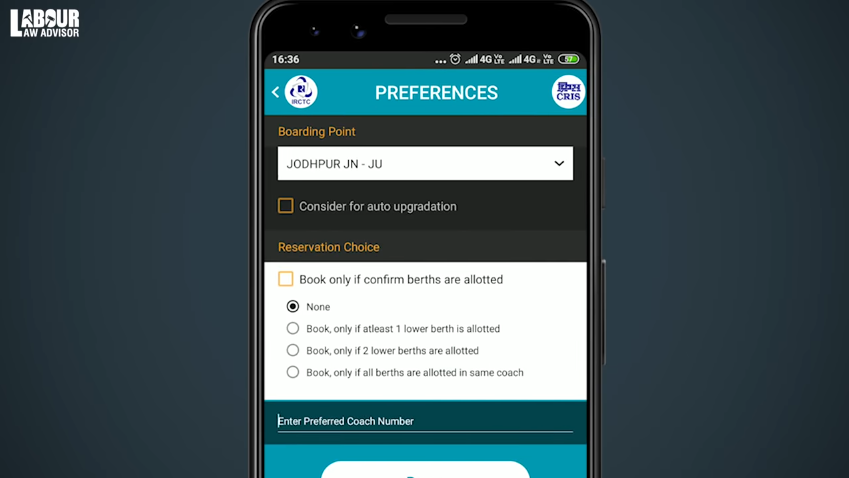 6. Charts and Vacancy
If you click on the Charts/Vacancy icon on the menu you will be directed to the webpage for Reservation Chart. Upon filling the Train Number and Date on this page, you will get a list of seats which are vacant on the said train after the chart has been made. This IRCTC app feature will show the exact seats vacant in the exact coach. Find the tutorial on this here.
7. Aadhaar Linking
On the IRCTC app dashboard, go to the top left menu. Under My Account, you will find the option of Link Your Aadhaar. You can go here to input your Aadhaar number and link it with your IRCTC app account. Having the Aadhaar linked gives you access to book twelve tickets via IRCTC app in a month. While not having the Aadhaar linked gives you access to just six tickets.
8. Book a Meal
If you click on the Book A Meal icon on the dashboard you can book your meal for the journey in advance. Just input your PNR number and click on the location of platforms to reveal a whole list of food caterers available at that stop.
9. Digital Magazine
Click on the Digital Magazine icon on the dashboard to reveal a big list of available online magazines. You can get the options of various subscriptions which are quite inexpensive and flexible. New users can also avail a free 7 day trail period.
10. Ask Disha
Click on the AskDisha icon on the dashboard to start chatting with the IRCTC chat bot. You can ask any of your travel-related queries here, for quick and easy solutions.
Watch our in-depth video on this topic below!
Also read, Latest Updates From The 178th ESIC Meeting.
Join the LLA telegram group for frequent updates and documents.
Download the telegram group and search 'Labour Law Advisor' or follow the link – t.me/JoinLLA
It's FREE!