The latest mobile network in the market is 5G. However, there is also a prevalence of cyber criminals who may call you or send you messages with links/phone numbers asking you to click or call them for instant free 5G SIM upgrade! If you pride yourself in being an early adopter and are gullible enough, you are the ideal target for this type of scam.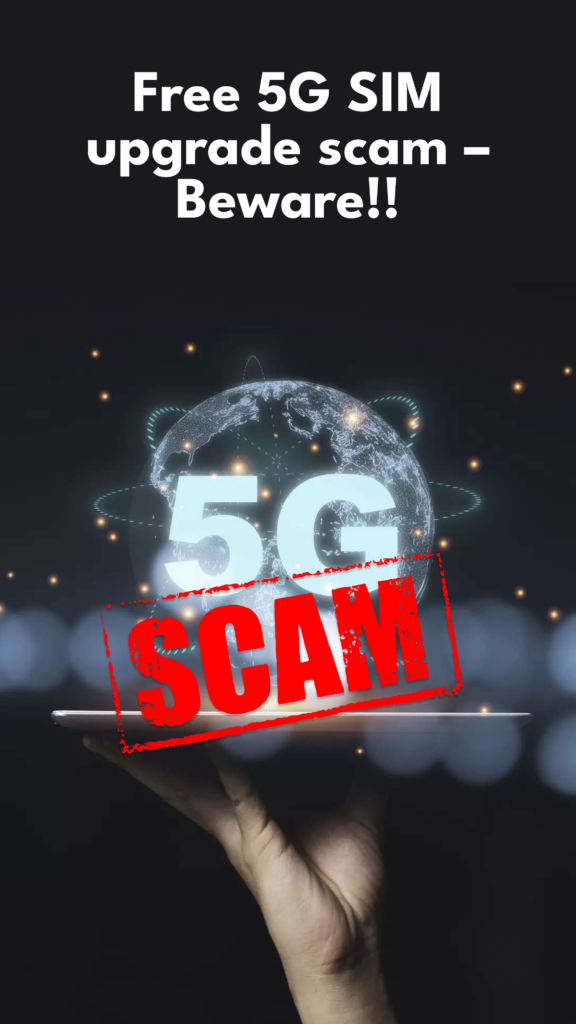 How does the Free 5G SIM Upgrade Scam work?
Once you fall into the trap of cyber criminals by clicking on the link sent by them or calling on the number provided, you might become susceptible to any kind of financial fraud, impersonation, and even SIM swap. This is because the people behind this are not your real telecom providers. They are just impersonating them. The impersonators might ask you to make a small payment for the SIM upgrade as a Government fee. This will only lead to your downfall!
What to do if you received 5G SIM upgrade scam updates?
If you receive such SMS or WhatsApp messages or fall prey to such cyber criminals, immediately get in touch with your telecom provider, or bank and report such frauds on the cyber crime helpline no. 1930. You will receive an acknowledgment number as an SMS & you will need to submit additional details within a reasonable time on www.cybercrime.gov.in for the Police to investigate further. Lastly, be sure to attach all call logs, screenshots, and bank statements so it becomes easy for the Police to investigate and apprehend the criminal.
Another, highly rampant network scam is the Jio & Airtel Mobile Tower Installation that you should be aware of. In case you ever were to fall a victim to such scams, here's how to protect and recover yourself.