Charge memo is not proper in the absence of reference to subsistence allowance.
Packiyalakshmi vs. Joint Registrar/Managing Director, The Central co-operative Bank Limited and Anr., 2021 (Mad. HC)
An employee empowered to select/ appoint persons, not a 'workman'.
Ircon International Ltd. vs. Union of India and Ors., 2016 (Del. HC)
Excess amount paid towards last drawn wages can't be adjusted against payable amount.
Central Bank of India, Narsinghpur vs. Dinesh Kumar Kahar, 2016 (MP HC)
Denial of opportunity to employer to cross-examine Enforcement Officer will vitiate the order of EPF authority.
Prem Motors Pvt. Ltd. vs. Employees' Provident Fund Organisation and others, 2016

The Evolution of Human Resource Management in India
Origin of HR
The world's first management book, titled "Arthashastra" written by Kautilya, during Chaldeans in 400 B.C., codified many aspects of human resource practices in Ancient India.
HRM in India could be traced back to the period after 1920, when emphasis was on worker welfare.
In 1931, the royal commission on labour suggested the appointment of labour officer to protect workers interests
Post Independence
Immediately after independence the focus was on four reasons: Maintain discipline, prevent their information of and break-up the leadership of trade unionism Handle recruitment and termination Keep some form of attendance and personnel records.
1960's
In the 1960s, Indian industrialization got a fillip with the rise of the public sector. Hence 3 more functions were added
Labour welfare
Participative management
Industrial harmony
In this period, the human relations movement of the west also had its impact on Indian organizations
1970-1985
In 1970, the people management function was neatly divided into two: Personnel officers and Establishment office.
In India, Larsen and Toubro limited was the first company to design and implement the HRD concept in 1975 among the private sector companies with an objective of facilitating growth of employees, especially people at the lower levels.
In a public sector government company, it was BHEL which introduced this concept in 1980.
In 1976, birth of worker training institute and attitudinal development.
In 1985, the organisation shifted towards making a separate HR department. HRD and personnel functions were clubbed together.
1990's
In the early 1990's HRM was seen as a strategy. Motivation and stress were considered to bring change in HRM Focus on organisation objectives.
In the mid 1990s, sub specifications like: Industrial relations Training and development Information system.
By 1999, HRM was not a selective management anymore. It became part of the corporate strategy formulation and strategy implementation team.
Difference between the other countries and India
The development of human resources in the UK and USA was largely voluntary. However, in India, it emerged because of governmental interventions and compulsions and it focuses on the developmental aspects of human resources with a pragmatic and a flexible approach.
2021
The world of work has changed dramatically in the past decade, shaped by factors that include a brutal recession, technological advances and a new generation of workers with very different ideas of what employment should look like.
Today HRM has evolved to a point where employee experience is at the centre of every strategy. It has to navigate new operational norms and continue to transform in the digital age.
Now more emphasis is laid on employee mental health and the reliance on data-driven insights has increased to define the employee experience and company culture unique to each organization. HR Analytics is the buzzword now!
Employee experience is about getting things right for the employee by giving priority to what's best for them versus focusing on what's best for the company. It creates engaged employees who then become ambassadors on behalf of the company.
They do that by sharing their positive experiences with the company with their friends and family on social media, as is most popular today.
That means, when you go the extra mile for your employees, you delight them so much that you can leverage them to get the word out there about your products, services, and most importantly it shows that you are more of a human brand. Employee advocacy and loyalty is a company's reward for delivering a top-notch employee experience.
Here's the data of a study conducted in 2017 which clearly shows that the profit per employee is far greater (almost four times) in companies which invest in Employee Experience than the ones who don't.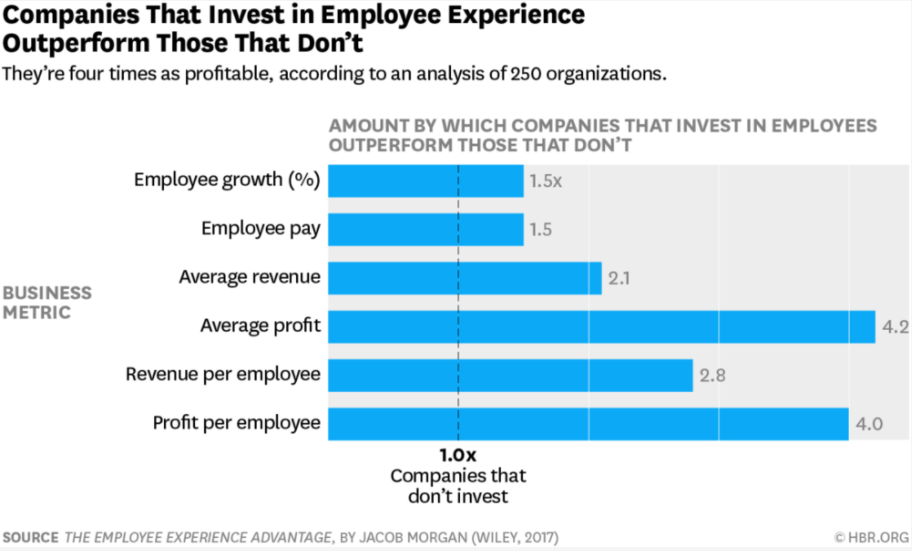 Free Tool of the month
Trello is a popular, simple, and easy-to-use collaboration tool that enables you to organize projects and everything related to them into boards. It is probably one of the most well-known project management apps out there which is used by companies big and small the world over. It's both free and easy to use, which explains much of its popularity.
With Trello, you can keep projects organized from start to finish, track progress, and ensure that nothing slips through the cracks. Whether it's a simple to-do list or a complex workflow, it is customizable to the demands of any project. 
Please take a moment to fill out the survey below. Your input will help us understand design and marketing needs for businesses and entrepreneurs.
Click here to take the survey