All people with a salary job are entitled to a certain number of leaves. When employees take fewer leaves than what they are eligible for, they get the option to encash the remaining leaves. In this article, we talk in detail on the different types of leaves employees are eligible for, like earned leaves, casual leaves, etc., and the leave encashment process.
What holidays are employees eligible for?
Salaried employees are eligible for three types of holidays. The first is National Holidays such as Independence Day, Republic Day and Gandhi Jayanti. Holidays on these three events are compulsory by law. If some industries like F&B do make their employees work then they have to give them compensatory leaves later on. Second is Weekly Holidays. By law, every worker is eligible for 1 day of rest after 6 days of work. Furthermore, Central Government employees get 2 days of rest, i.e., Saturdays and Sundays. In some cases, factories may give out weekly holidays on a rotational basis to avoid any curb in work.
Lastly, there are Festival Holidays which vary according to the region. So, West Bengal may give a festival holiday for Durga Puja while Maharashtra may give it for Ganesh Chaturthi. Thus, this totally depends on the festivals celebrated in one's state of residence. Generally, there is a combination of 8 national plus festival holidays. Some companies can even give more.
What are earned leaves?
Earned leaves, as the name suggests, have to be earned.
They are also called Privilege Leave (PL).
These depend on the number of days the employee works in his company.
Earned leaves accumulate. Hence, if the employee is unable to use all of his earned leaves in a given year, then they carry forward to the next one.
They are be encashed, i.e., converted to cash equal to the employee's one day's salary. This is possible when the earned leaves reach a capped limit.
Government employees can get 100% tax benefit on earned leaves. Meanwhile, private employees get limited tax benefits. This happens when employees take leave encashment post-retirement.
The number of days which conclude to one earned leave depends on two government acts – the Shop & Establishment Act and the Factories Act. Furthermore, this is different for different states.
An employee has to work for a minimum of 240 days in a year to be eligible for an earned leave. But in case an employee joins mid-year then his total working days should be two-thirds of the total number of office days.
One year is taken as 1st January to 31st December for earned leave calculation. Hence, it is according to a calendar year and not a financial year. Eligible earned leaves can be carried forward to the next calendar year.
What are casual leaves?
As the name states, casual leaves are unplanned and uncertain. They are taken without prior notice.
Generally, all companies offer seven casual leaves in a given calendar year.
Without the employer's prior permission, the employee cannot take more than three casual leaves at a time.
Casual leaves are not eligible for carrying forward or encashing post leaving the job.
To deter employees from taking all pending casual leaves at one go, companies offer them the chance to convert casual leaves to privilege leaves. Hence, they are also available for encashment.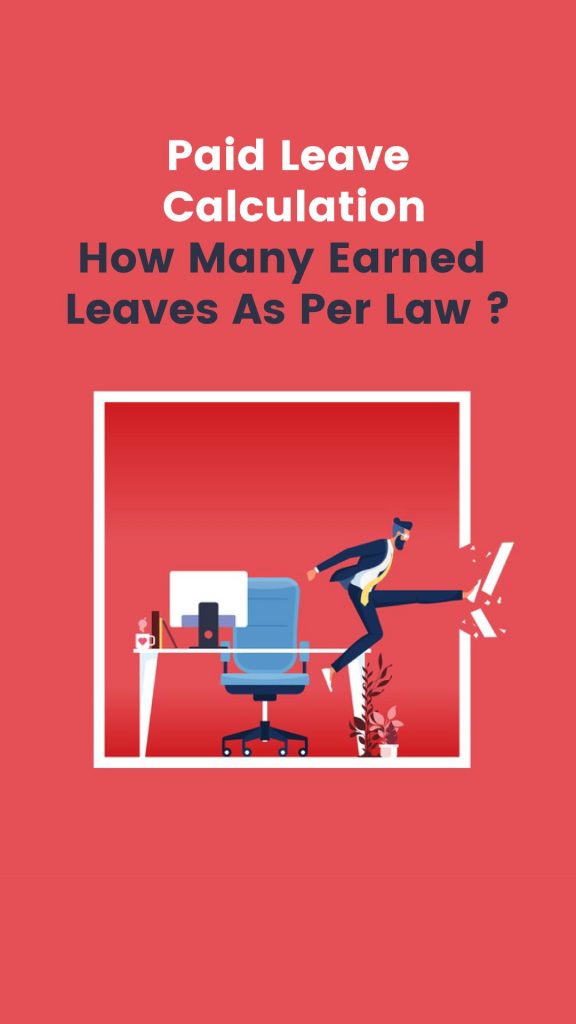 What are sick leaves?
Employees can take sick leaves for medical reasons.
Generally, employees can take 14 sick leaves in a year.
Employees can take 2 to 3 sick leaves at a stretch without a medical certificate.
For more than 3 days of sick leaves, the employer can ask the employee to present a medical certificate by a practising doctor.
What are maternity leaves?
Pregnant women are eligible for maternity leaves.
With the recent amendment, maternity leaves are not 26 weeks long in duration.
Employees covered under ESI receive maternity benefits from ESI on their employer's behalf. Other companies which do not have ESI have to give maternity benefits separately. Learn more about ESI maternity benefits.
The eligible amount for maternity leave varies from state to state.
Employees are eligible for maternity leave after six months of employment along with an attendance of 80 working days.
There are also some other types of leaves depending on the industry. Such as sabbatical, study leave, etc. These are usually prevalent in government rather than private employment. Watch our video below for further information.
Join the LLA telegram group for frequent updates and documents.
Download the telegram group and search 'Labour Law Advisor' or follow the link – t.me/JoinLLA
It's FREE!