Labour Codes Update
The 21st-century crusade for labour reform started with the report submitted by the Second National Commission for Labour in 2002. It stated that the labour laws were very old and outdated and they need to be reformed.The publication of the India Labour Report followed this in 2005.
Finally the central government proposed to replace 29 existing labour laws with four Codes to simplify and modernise labour regulation. The first to be passed was the Code on Wages in 2019 while the other three – the Occupational Safety, Health and Working Conditions Code, the Industrial Relations Code and The Code on Social Security were passed in 2020.
These three bills have faced severe Opposition from worker unions, Opposition parties and several activists – terming it anti-labour.
All these codes have been through a parliamentary standing committee before being revised as per recommendations, introducing new versions.
The major challenge in labour reforms was to facilitate employment growth while protecting workers' rights. Key debates relate to the coverage of small firms, deciding thresholds for prior permission for retrenchment, strengthening labour enforcement, allowing flexible forms of labour, and promoting collective bargaining.
Further, with the passage of time, labour laws needed an overhaul to ensure simplification and updation, along with provisions which can capture the needs of emerging forms of labour (e.g., gig work).
The original plan of the government was to implement the reforms from 1st April 2021 but the implementation had to be deferred to October 2021, as several state governments had not finalised the relevant rules due to the Covid-19 situation and also due to a conflict between the respective representatives of employers and employees over some provisions in the draft rules.
One of the contentious provisions is the definition of wages, which proposes to cap allowances at 50% of the wages. This means if allowances exceed 50%, the employer will have to pay social security, including gratuity, on the excess amount. This will lead to an increased social security burden and hence, the financial burden on employers through an increase in the salary cost.
Since labour is a concurrent subject under the Constitution, both the centre and the states are required to notify the rules under the codes to enforce the law in their states. These conflicts have further delayed the implementation of rules under the four labour codes beyond the October 1 deadline.
As many as 15 states have prepared draft rules under the four labour codes passed by Parliament between between 2019 and 2020, but it is still uncertain if the long-awaited labour market reforms will become a reality in the current fiscal year.
Status on the framing of rules under the four codes by states as on August 20, 2021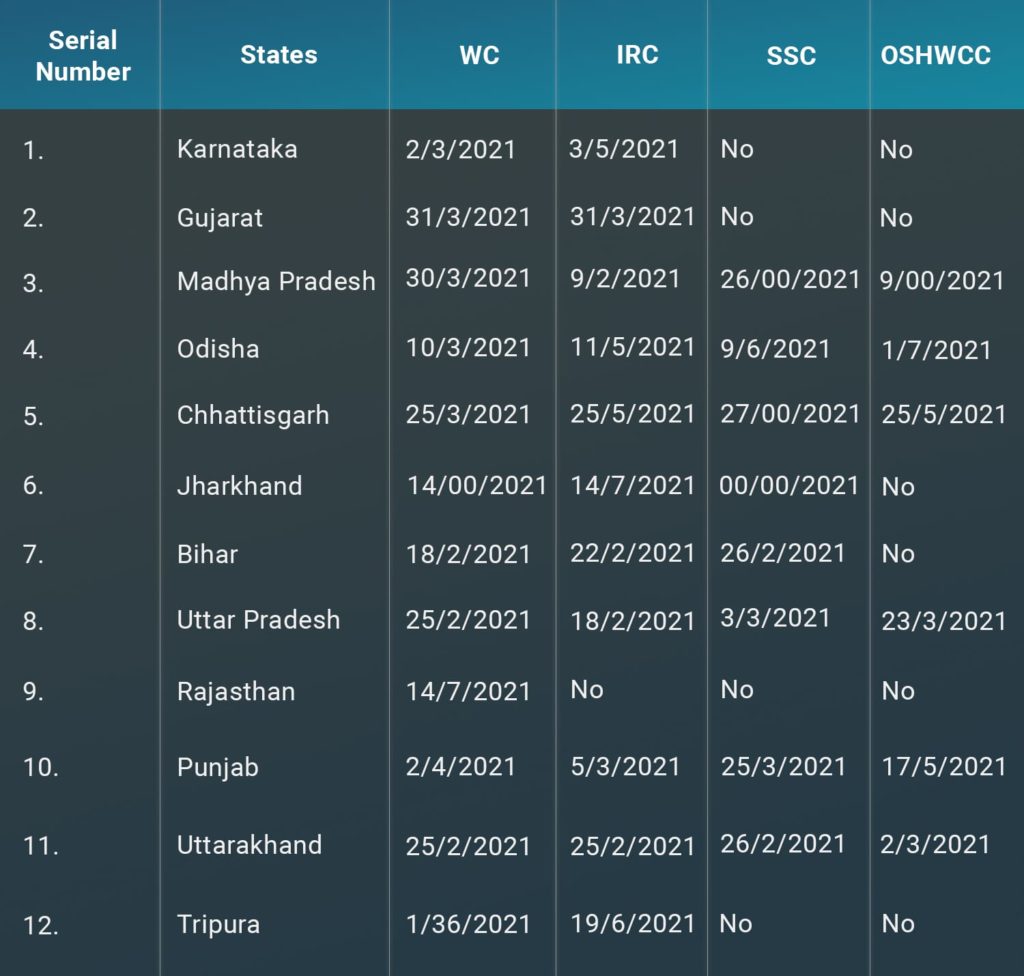 Data Digest
The OSHWC Code 2020 promises to protect and expand coverage of workers' health and safety both in organised and unorganised sector by amalgamating 13 central labour laws. However, it changes the very definition of "factory".
The new code defines "factory" as a manufacturing unit where 20 or more workers are working with the aid of power and 40 or more without the aid of power. Earlier, these thresholds were 10 or more and 20 or more, respectively.
Thus, this rule will lead to exclusion of more workers than inclusion because as per the Sixth Economic Census, 97.9% of total workers in manufacturing units employ up to 1-9 workers (less than 10), 99% of workers in units employing 1-19 workers and 99.3% workers in units employing 1-29 workers.
How many workers will be excluded?
This code will provide health and safety protection to muchless than 0.7% of workers in manufacturing units (factories) as against 1.1% earlier.
Labour Law News
Old/New Cases of Importance
Accident compensation will be payable on death due to snake bite while on duty. (Bombay HC)
Termination of services for non compliance of transfer, without enquiry, is not sustainable. (Madras HC)
Dismissal for unauthorised absence unjustified when a workman was in severe family problems. (Allahabad HC)
Probationer has no right to be regularised against the wishes of the Management. (Delhi HC)
Good Reads
Free Tool of the month
Jagruk HR Kit
1000+ Editable Documents for HRs
Ever wondered why documents are so important for any business?
HR Documents are vital to record all the transactions, activities, and events related to the organization. You need to have all the Important HR Documents to make sure that your business administration is smooth and the Internal Control System is strong.
Let's face it, though important, the documentation process is not the most amazing experience of the job.
To overcome this monotonous problem, we have created a Jagruk HR Kit which includes HR Documents that has 1000+ important forms, templates and documents which will make HR / Business owners work a lot easier. All forms and templates are ready to edit, just download the template and edit according to your needs. 
Key Features
200+ Ready to edit HR Forms
50+ HR editable letters
60+Editable Employee Policies
Recruitment related templates
Employee Performance Management Templates
Employee Compensation Templates
Appraisal Certificates
Intern Related Templates
15+ ready to edit NOC's (No Objection Certificates)
Experience or Relieving Letters
Editable Warning Notice
Employee Settlement Templates
Resignation Related Templates
Employee Onboarding Templates
And many more ready to use templates
Click here to get your HR & Business Essentials Kit today!