We're Sorry!
Our deepest apologies. The News Digest was not delivered and this one is a bit delayed too due to unavoidable circumstances. However, we are back on track and you can now enjoy reading the latest newsletters seamlessly.
Thank you for your incessant support always.
Gone are the days when the sarkari babu's could sit on a file for years and harass the public. The Right to Information Act came into existence in 2005, after sustained efforts of anti-corruption activists and is by far the most revolutionary act that has opened the doors of government organisations up for scrutiny and set a culture of transparency in government institutions in India.
Equipped with knowledge about RTI, a common man can demand any government agency to furnish information. The organisation is bound to provide the information, that too within 30 days, failing which the officer concerned is slapped with a monetary fine.
How does the act empower common people?
Solve personal problems
Pending Income Tax return
Delayed PF withdrawal, PF Transfer, Passport, Aadhar card, Refund from Government Departments,Scholarship
Copies of answer sheets
Property Documents like Occupancy Certificate/Completion Certificate
Status of FIR or a complaint in an office
Status of EPF
Using the RTI tool in any of these scenarios—or other cases involving a government agency—will guarantee you an official response, based on which you can take things further if your issue is not solved.
A citizen can ask government officials reasons for delay in government service requested for. submit an RTI application asking pointed questions. Chances are that this will be the beginning of the end of such problems.
Solve problems in the community
If in your community, you think the facilities are not as expected or you observe some government maintained property in bad condition, you can use RTI to get the government working on it.
For instance, if there is a road in very bad condition you can ask the following questions:
How much money has been spent on the development of roads in the past 3 years?
How was the money spent?
Please provide a copy of the orders
How is RTI any different from other anti-corruption laws?
When it comes to RTI, there are watchdogs on multiple levels to ensure the Act is followed in letter and spirit. The Act has employed a 'perform or perish' approach, besides setting up a mechanism to dispense information.

How to File RTI?
Write the application (or get it typed, your choice) on a paper in English/Hindi/the official language of the state. Some states have prescribed a format for RTI applications. Address it to the PIO (Public Information Officer) of the department concerned.
Ask specific questions. See to it that they are clear and complete, and not confusing whatsoever.
Write your full name, contact details and address, where you want the information/response to your RTI be sent.
Take a photocopy of the application for your record. If you're sending the application by post, it's advisable to send it via registered post, as then you will have an acknowledgement of your request's delivery. If you're submitting the application to the PIO in person, remember to take an acknowledgement from him/her.
What is the fee for seeking information under the RTI?
For central government departments one needs to pay Rs. 10 with every RTI application. Mode of payment may vary from government to government. While submitting applications in person, some organisations accept cash while some do not. Some ask for Court Fee Stamp, some ask for Indian Postal Order (IPO).
When sending an RTI application by post, we can use an IPO/ court fee stamp of Rs. 10.
Those below poverty line (BPL) do not have to pay Rs. 10 as fee for filing an RTI.
If you've asked the government office to furnish copies of some records, you will need to pay Rs. 2 per page. Once the office receives your request and ascertains the amount you will need to pay towards making copies, you will get intimation via post. You can make the payment by sending a postal order/court fee stamp/demand draft of the said amount.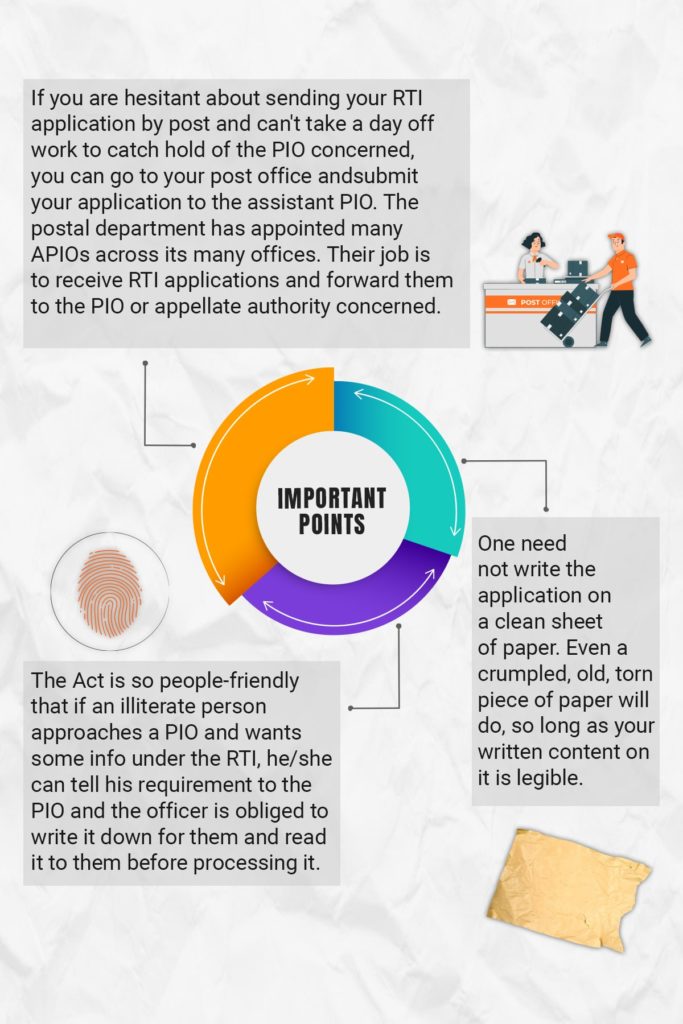 How to File Online RTI?
Currently, Central and a few State government departments have facilities for filing Online RTI.
However, there are multiple independent websites that let you file your application online. T
hey charge you a nominal amount, for which they draft your application and send it to the relevant department. This is as good as sending an RTI application without having to worry about the particulars.
Which Government Organisations are required to give RTI information under RTI Act?
All government agencies, whether they are under a state government or the Centre, come under the purview of the Act. For example, Municipal Corporations, PSUs (Public Sector Units), Government departments, Ministries at the State as well as Central level, Judiciary, Government owned Companies, Government Universities, Government Schools, Works Departments, Road Authorities, Provident Fund department etc. The list is quite an exhaustive one.
What can you ask?
You can ask a government how much money is being spent on renovation of its ministers' bungalows, what their telephone bill or fuel expenditure is. Or you can ask what amount was spent on MLAs'/MPs' foreign trips.
You can ask how much of allocated money your elected representatives have utilised on improving their constituency; you are entitled to ask for even a break-up of the amount spent, project-wise. This RTI information is available because it is the taxpayers' money that is being spent here. Few ministries and departments make online rti replies available to the public. You can see them on the respective websites.
Not only governments and their departments, but also smaller units such as your city corporation or gram panchayat fall under the ambit of RTI. Be it the police, passport office, your electricity/water supply company or even the IRCTC, all are required to furnish RTI information.
Seek information pertaining to records, documents, memos, mails, opinions, advice, press releases, circulars, images or any computer generated matter, orders, log books, contracts, reports, papers, samples models or electronic data.
Under Section 4 of the RTI Act, you are empowered to visit, by prior appointment, the office concerned to inspect records and official documents and obtain xerox copies on payment of copying charges at actuals. To enable you to do so, you are to be provided suitable table and sitting space within the office premises to carry out your verification/inspection exercise to flag the documents that need to be copied.
For instance, authorities like the Brihan Mumbai Municipal Corporation (BMC) prefer Section 4 approach for the simple reason that it is you, who will flag only the documents/information required and that relieves them of the burden of hunting through a mass of bureaucratic red tape files and also the task of drafting a reply that has to be approved and finally signed, sealed to be sent to you within the mandated 30 days of receipt of your application.
The Act also provides for inspection of government works and to take samples from sites.
Section 6 of the Act has laid down a simple form that can be copied on plain paper and signed by the applicant who has to be an individual and not any organisation.
Which Government Departments are exempted from the Act?
RTI law says that any information which cannot be denied to a Member of Parliament or state legislature cannot be denied to any citizen. However, twenty-odd organisations are exempted from RTI. But all these entities are related to the country's defence and intelligence, such as RAW, BSF, CRPF, CISF, Intelligence Bureau, National Security Guard etc.
Further, there are some specific instances whereby RTI information cannot be furnished. These instances relate to matters which:
Would affect national security, sovereignty, strategic, economic and/or scientific interest.
Have been disallowed by the court to be released.
Have been disallowed by the court to be released.
Relates to trade secrets or intellectual property, information which might affect/harm the competitive position of a third party.
Relates to information under fiduciary relationship.
Relates to foreign government information.
Would affect the life/physical safety of any person.
Would affect the process of an investigation.
Relates to cabinet papers.
Relates to personal information without any public interest.
Bonus: We have made a detailed video about how get work done at government offices using RTI. Click here to watch the video.