Just imagine you wanted to remember a moment from 10 years ago & not be able to remember it even after a lot of struggle then it will hurt, right!
Similarly, we all come across such situations but are not able to do anything.
Then, think of a diary, a journal, or something like that which has everything inside related to your life, good or bad, useful or useless, but most importantly memories.
How soothing to imagine that? Right!
That's why we researched a lot for hitting the right spot that can solve these problems & finally came up after months of working with a beautiful designed JOURNAL – a guided form of a diary where one can not only write down your thoughts, daily moments but also keep a track of your life goals, fitness goals, monthly financials, bucket list & many more.
Then finally named our journal – JAGRUK JOURNAL. 
Thoughts behind creating a beautiful Journal:
To write down those moments of your life which can't be captured like some family discussions, small fights, feelings of first love, arguments, etc.
To make you remember each & every day of your life for any specific reason.
An effort to make your life more disciplined by creating a habit of taking out 10-15 mins to write about your day.
Let's move through the sparking features/pages of the JOURNAL:
Daily Page: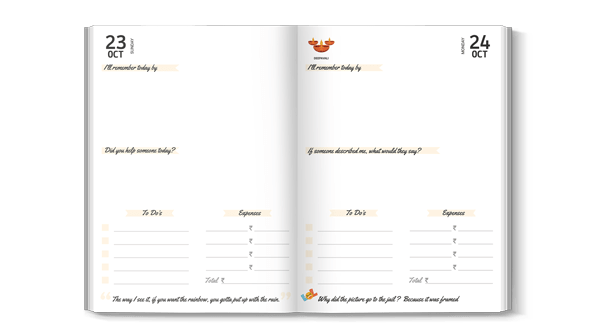 It gives you space to write down about your day, to-do tasks & daily expenses.
It consists of one question fixed for every page: "I'll remember today, why?"
As each day consists of its own memorable moments.
In the end, you'll get a beautiful or funny quote written down the page.
Month Planner Page:
It consists of 4 types of pages:
Calendar: It will look more like a google calendar to you with having a different theme for every month.
Fitness tracker page: A page to track your fitness goals & as soon as you start following to fill it daily, you will see better results.
Habit tracker: A simple page designed to write those habits you want to see in yourself at the end of the month.
Finance Tracker: It is the most vital page of "Journal" as generally, we forget to manage our expenses, but this page will help you in managing your everyday expenses, credit card bills, and monthly debts.
Openers:
"Every single book, journal, diary, or even life is nothing without a beautiful introduction."
But usually, introductions are to define themselves, but our "journal" is to introduce the one who will use it so that they will find it very personal & close to them.
It will be followed by a simple guide to make you understand the use of this Guided Journal.
Fun time:
It will be the last but not least section of the JOURNAL.
Let us explain it with an example:
Have you ever found it difficult to tell your weird thoughts or fantasies to your family or friends?
We usually did! So, for that, there is a word called "Bucket List" which will help you to write your "ajeeb o-ghareeb" fantasies.
And, here we're at the end of the JOURNAL where you'll find some beautiful 3-4 pages for your bucket list, movies/web series/tv-series/ that you want to keep with yourself for life.
("Aapne jo har din kiya vo aapka mahina banayega, aur jo aapne har mahine kiya vo aapka saal banayega.")