Debt mutual funds is not the only method of investing in bonds. One can even invest directly into bonds. In fact, there are some bonds that have low to no credit risk involved. This article details how to invest in bonds directly to get a fixed income while also minimizing credit risk.
Why should one invest in bonds directly?
The primary reason to invest in bonds directly would be to diversify one's portfolio. Diversifying the portfolio means investing across multiple assets so that all your investing is not in one place. Having all investment in just one resource can make it volatile since a drop in it would lead one to lose all their investment. Thus, spreading the investments around helps in balancing and lowering risk of it.
So while one can also diversify their portfolio by investing in debt mutual funds, that option also incurs an additional expense ratio. Expense ratio is paid to the fund manager for managing the mutual fund account. However, investing in bonds directly does not incur an expense ratio.
Lastly, investing in bonds directly is a great option when one wants to invest a sum of amount altogether to generate a fixed income but take low risk. This can happen when one suddenly comes into money and does not know what to do with it. Then bonds are a good option.
How to invest in bonds directly?
There are two methods of investing in bonds directly.
Primary market
Just like IPOs are launched in the market, same way bonds are also issued for subscription in the primary market. One can apply for bonds directly via a broker or the website of the company issuing the bond or through their bank. But it is important to own a demat account for buying a bond. Since no physical bond certificates are issued and all bonds are saved on one's demat account digitally.
Secondary market
Just as after the initial issue, mutual funds are listed on the stock market and available anytime to purchase, bonds too get listed and are available for purchase. So if the bond is listed in the stock market then one needs to search for its code on their demat account and purchase it. However, this process is difficult because firstly one needs to know the exact code of the bond. Secondly, apart from price of the bond no other detail is mentioned on the demat app. One cannot find out the face value, accrued interest, YTM or any other detail of the bond. Lastly, liquidity of bonds is not easy. Since buying and selling of bonds on secondary market is not an easy process.
The Fixed Income – best way to purchase bonds
TheFixedIncome.com solves many of the problems related to purchasing bonds. The company is promoted by Tip Sons Group which is a SEBI registered company. The Fixed Income is a debt broker but not an exchange platform. They do not maintain one's brokerage account or match orders. Rather one's transactions get stored in their demat account directly. The coupon rate of the bond, paid by the bond issuer to the bond holder, also goes directly to one's account holder instead of any brokerage or demat account. The Fixed Income takes no transaction charges, maintenance charges and account opening charges.
The company maintains a stock of bonds in its inventory. This also explains how they are able to immediately allocate bonds upon purchase. They charge a profit margin of 5 paise – 10 paise on every Rs 100. This profit margin determines the cost price of the bond finally.
Type of bonds
Government bonds
This is zero credit risk bonds since it comes directly from the Central Government and it never defaults. Whenever the Central Government is in need of funds, it issues new bonds to the RBI and raises funds. Government bonds are also called G-Sec or Government Securities.
Corporate bonds
This has credit highest risk involved. companies may default on payment even after having the best ratings.
PSU bonds
These companies are again under the governance of the Central Government and hence have low credit risk involved. Under PSU bonds there are again three kinds of bonds. Firstly, PSU taxable bond wherein one pays tax on the interest received on the bond. Secondly, PSU tax-free bond wherein no tax is paid on the interest earned. Thirdly, PSU bonds under Section 54EC where if one invests under Rs 50 lakh earned from sale of land, within 6 months of sale, in a PSU bond under Section 54EC, then no tax is charged on the profit of sale of land. However, the interest earned from this bond investment will be taxable.
What is Yield To Maturity (YTM)?
If a certain coupon rate is mentioned on a bond, that does not mandate that it will also be the interest rate one earns on the bond. The interest earned on a bond actually calculated on its cost price and selling price. To understand the concept of YTM, we take a look at the examples below.
Example 1
In example 1, suppose person A purchases a bond at Rs 1 lakh and holds it for the full maturity period of 12 months. After 12 months, company returns full amount of Rs 1 lakh to A. The coupon rate was 10%.
Since A held onto the bond and did not sell it in the secondary market, he did not get any capital gain. But A earns an interest of Rs 10,000 at 10% coupon rate. Hence, his annual return, i.e. YTM, comes to 10%.
Example 2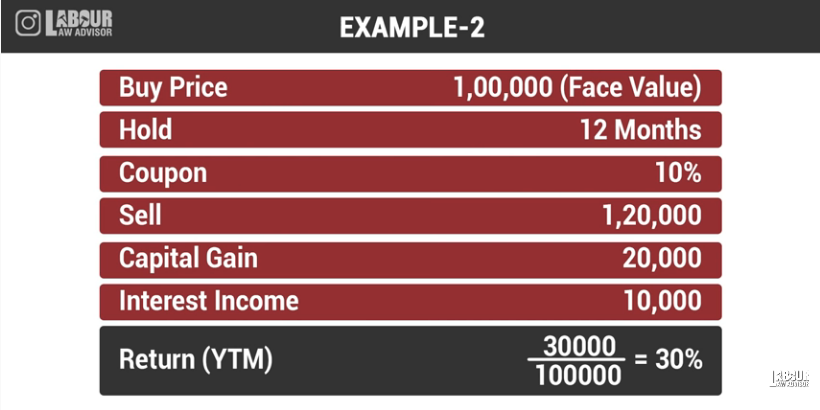 In example 2, suppose B purchases a bond at Rs 1 lakh for 5 years. But B sells it after 1 year itself at Rs 1.2 lakh because the bond value has risen. Hence, here B earns a capital gain of Rs 20,000, which is the difference between the buy price and sell price of the bond. Additionally, B also earns an interest of Rs 10,000 at 10% coupon rate by holding th bond for 1 year.
Hence, the annual return or YTM for B comes to 30%.
Example 3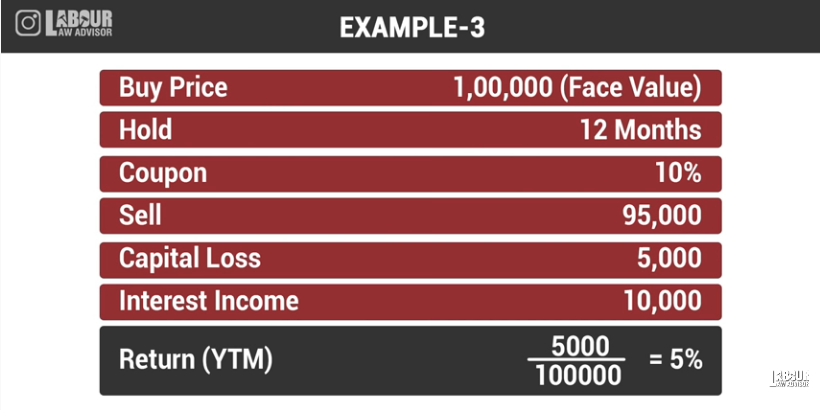 In example 3, suppose C buys a bond at Rs 1 lakh for 12 months. He then sells at Rs 95,000 because the bond value has fallen. Hence, C has a capital loss of Rs 5000. But he also earns an interest of Rs 10,000 at 10% coupon rate for holding the bond for 1 year.
Hence, the YTM for C is only 5%.
Thus, YTM as a number is taken into consideration when it is assumed that one will hold the bond to maturity. It is also an important factor to check before purchasing any bond.
What is accrued interest?
Another factor that affects the price of bonds is accrued interest. Accrued interest is simply the amount of interest earned on the bond but not yet collected. The interest keeps adding up from the date of issue of the bond to the time it's held.
For example, person A buys a bond where the company will pay the interest once annually on 31st December. A holds the bond from January until September. He then sells it to B in October. Now when the company gives the interest, it will go altogether to B's account. Hence, A asks B to pay him the interest for 9 months of holding the bond at the time of purchase itself. This concept is known as accrued interest.
The Fixed Income lists the accrued interest on the website with clear breakdown as well.
How to select bonds to invest?
After signing up, one can view different categories of bonds available on the website such as High Return Bonds, Sovereign (or Government) Bonds, Tax-free Bonds, etc. Click on the category that one is interested in investing.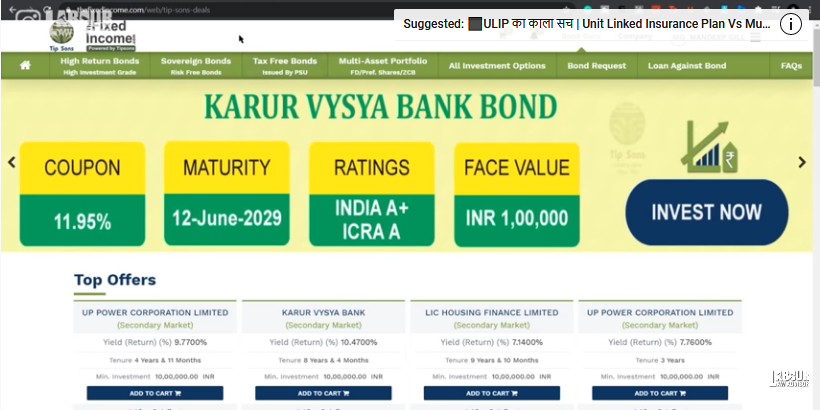 Each category will list multiple bonds so it is advisable to put filter as per one's requirements to shortlist the bonds further.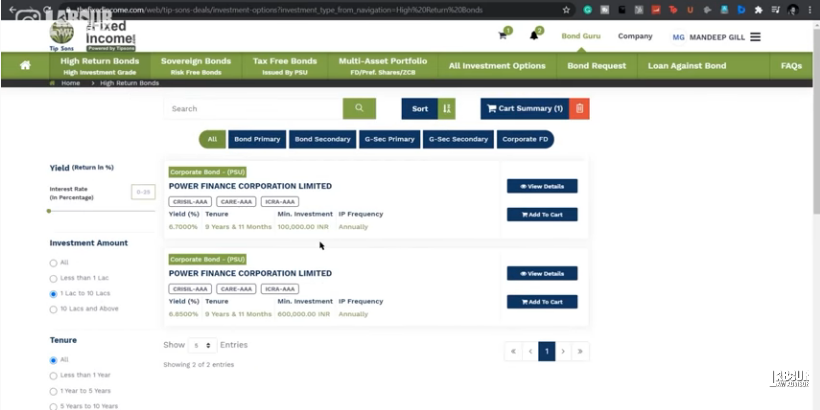 Once bonds have been shortlisted, click on the View Details option. /now one can see bond details such as Issuer Name, Security Name, Coupon Rate, Issue Date, Maturity Date and Coupon Frequency.
One can also click on the arrow icon next to Issuer Name and view further advanced details of the bond such as the Bond Ratings, Issue Size, Face Value, Security (whether there are any assets can be sold to recover the investors bond value), etc.
One should also check the IM PDF under Download Files. IM stands for Information Memorandum and it is an official document provided by the bond issuer with all details relating to the bond. Since these documents are usually very long, we just find the information pertaining to Seniority to check if it is affirmative. If Seniority says Yes or Senior then it means that if the company goes under, then the investor has primary hold on the money from the company.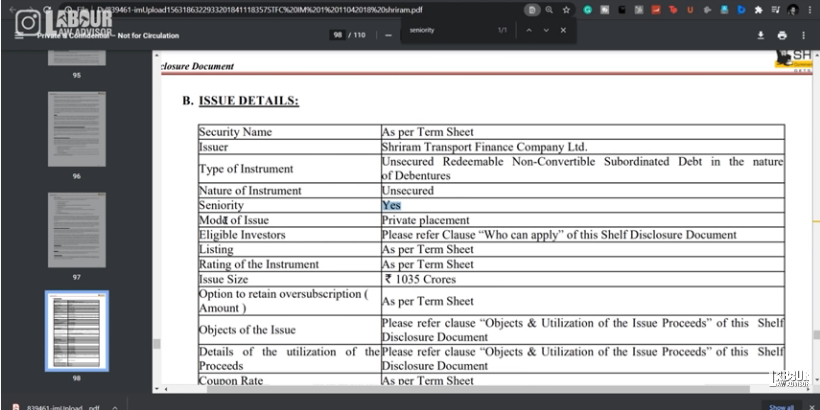 Next one needs to check the Yield (Return), Price (per 100) and Accrued Interest values to know the actual Payable Amount for the bond.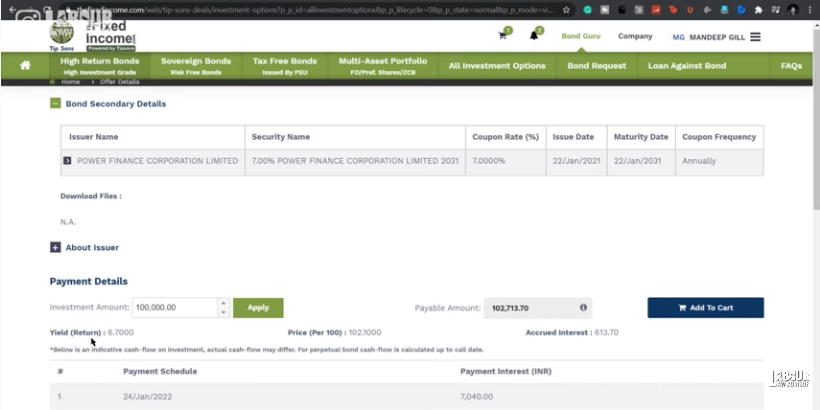 If one scrolls down a little, they will be able to also see the Interest Payment Schedule. It will list the dates for interest payment and the interest amount to be paid.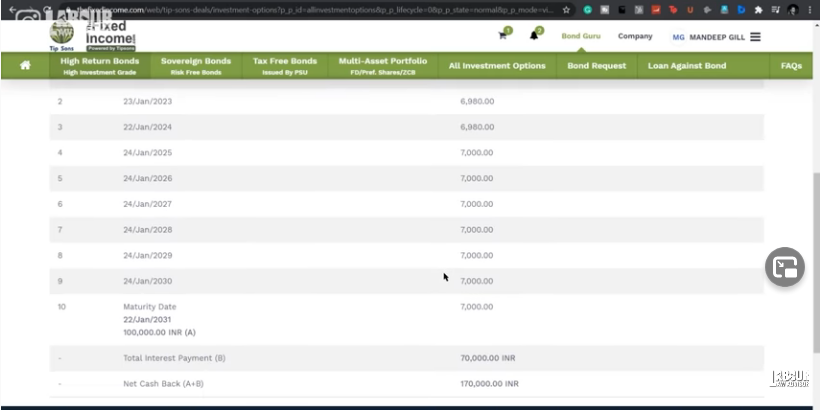 If one wants to sell a bond, then they must go to Bond Request tab and put it up for sale. There is also the option to take loan against a bond in the Loans against Bond tab.
Which bonds to invest in?
Ideally, the best type of bonds to invest in are either Government or PSU bonds. Since they entail investing a large sum of money together and give a high income. Moreover, at a time when even creditable companies with high ratings default on payments, government and PSU bonds have low to no risk involved.
Tax on bonds
In the case of bonds which are listed on the stock market, it is regarded as LTCG only when held for over 12 months and then sold off. But if bond is sold before 12 months, then it is regarded as STCG. In both cases tax applicable is same as equity funds.
For STCG, the profit earned is added to one's income and tax is payable as per slab rate. On the other hand, for LTCG, one has to pay 20% plus get indexation benefits. For LTCG, there is also the option of paying 10% tax without any indexation benefit.
In the case of unlisted bonds, holding bond for less than 3 years is STCG and more than 3 years is LTCG. STCG is added to one's income and tax is applicable as per tax slab rate. LTCG incurs 20% tax with indexation benefits. LTCG also provides 10% tax without indexation benefits but only for NRIs.
The above pointers were only for capital gain from bonds. For regular interest earning on bonds, it gets added to income and tax is applicable as per slab rate.
Loan against bond
One can also take loan against a bond on the fixed income portal. In this case, one is not transferring the ownership of the bond against the loan. One is only keeping it on rent so to say. Hence the interest earned on the bond will still go to the bond owner. Additionally, bond owner will pay loan interest to the bank or NBFC.
Cons of bond
Liquidity of bonds is low if one wants to sell it before maturity. In the case of selling bonds before maturity on the fixed income portal, either the brand may decide to buy your bond or they may not. In that case, one may have to wait a few days until a buyer comes along.
Watch the full video to know more on invest in bonds directly.
Join the LLA telegram group for frequent updates and documents.
Download the telegram group and search 'Labour Law Advisor' or follow the link – t.me/JoinLLA
It's FREE!