Have you ever felt the pain of losing a job or the fear of not knowing what will happen next? You don't need to rush to find a new job anymore. In this blog post, we'll be explaining how to avail the unemployment allowance through the Rajiv Gandhi Shramik Kalyan Yojna(RGSKY), as part of the ESI act.
We'll be covering the following topics:
About the RGSKY
Benefits
Eligibility
Reasons for disqualification
Process to avail unemployment allowance
Rajiv Gandhi Shramik Kalyan Yojna
This scheme provides an unemployment allowance for the employees under ESI scheme who are rendered unemployed involuntarily due to retrenchment/closure of factory etc. after fulfilling certain eligibility conditions. The scheme a.k.a the "Rajiv Gandhi Shramik Kalyan Yojna" came into effect from 1st of April 2005.
The scheme targets the steadily increasing number of workers who are rendered redundant in the new competitive environment. Under this Scheme, the eligible workers receive a daily rate of allowance and medical care for self and family during the period of unemployment up to two years.
Eligibility to Receive Unemployment Allowance
You must be unemployed after April 2005.
You must wait a minimum of one month after the loss of job to avail this scheme.
Your previous company has been covering under the ESI Act, and you must have paid at least 2 years worth of ESI contribution.
You must file the UA claim within 12 months of unemployment.
The UA is available for a maximum of 24 months in an employee's lifetime, up until the age of 60.
You cannot avail any other cash benefits(apart from medical).
Once you start a new job, your UA will terminate, unless you lose your job again.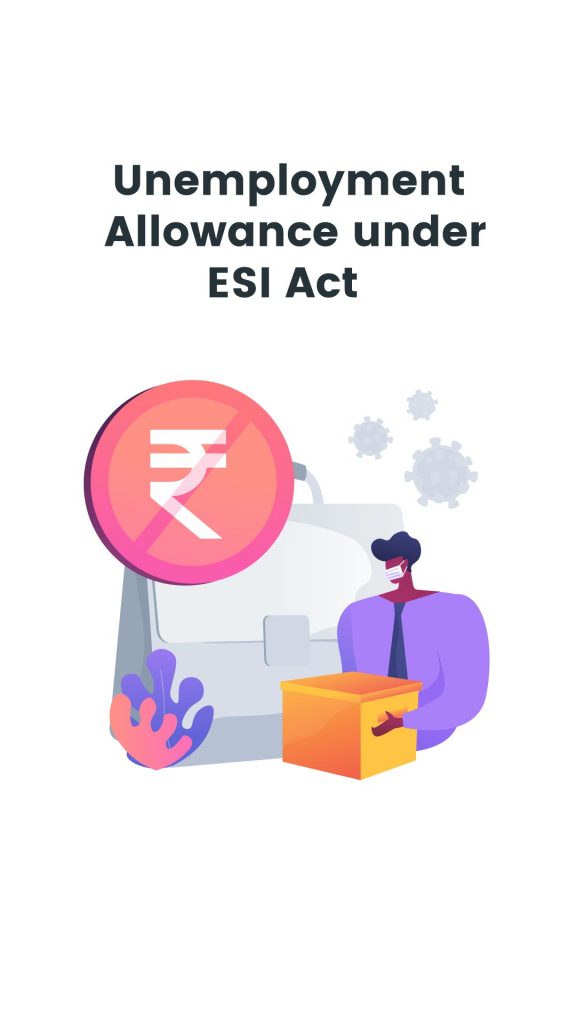 Benefits of the RGSKY
Unemployment Allowance:

Your UA is calculated on the average of your last 4 ESI contributions(let this be UA wage).
For the first 12 months, your UA is 50% of the UA wages, while for the last 12 months, it is 25%.
UA is applicable only if you lose your job unwillingly, due to the closure of your workplace or permanent disability, etc.
You can avail the 24 months of UA in parts.

If you don't have a job for 3 months, you can receive 2 months of your UA. After 3 months if you have found a job, you still have 22 months of UA left.
You can avail a minimum of one month of UA

Medical Care:

Under the RGSKY, any individual still receives all the medical benefits of the ESI Act during his or her UA period.
For more info on the medical benefits of the ESI Act visit this link.

Vocational Training:

If a person opts for vocational training from a government institute during his/her UA period, he/she receives 100% subsidy.
The government also pays for the transport fees.
Reasons for Disqualification
You lose your job due to a strike.
You opt for voluntary retirement.
If you are 60 or older.
You opt for premature retirement.
You lose your job due to a dispute or a conviction.
If you get a new job.
Process to claim Unemployment Allowance
The claim for unemployment Allowance should submit by the individual at any time earlier than three months from the date of unemployment to the appropriate Branch Office in the Form (US-1) supported by the documentary evidence (in Form UA-2) proving his unemployment.
This certificate is issued by Inspector of Factories, Asst/Deputy Commissioner, Labour, Workmen Compensation Commissioner or any other authority in this regard.
Mode of Payment of unemployment allowance:

The allowance is payable by Account Payee Cheque only

Payment in the event of the death of recipient:

The amount of unemployment allowance up to and including date of death of the recipient is payable to his/her nominee / legal heir.
If you still have doubts or want some more information check out this video by the Labour Law Advisor:
Join the LLA telegram group for frequent updates and documents.
Download the telegram group and search 'Labour Law Advisor' or follow the link – t.me/JoinLLA
It's FREE!