A Term Insurance plan is a kind of life insurance which ensures the policy buyer a large sum of money for his beneficiary, if he expires during the "term" of his "insurance plan", at a relatively affordable premium. Term insurance plans are available for purchase from a time period of anywhere ranging from 5 to 40 years.
What sets this insurance apart is that it only provides pure life insurance coverage and does not offer any maturity benefits when the policy duration comes to an end. This means that if the person whose life has been insured dies during the term of this policy then his beneficiary will receive the claim. But if the person survives the duration of the policy, then no monetary benefits are payable. Since these term insurance plans do not carry any cash value, they are thus much cheaper when compared to whole life insurance plans.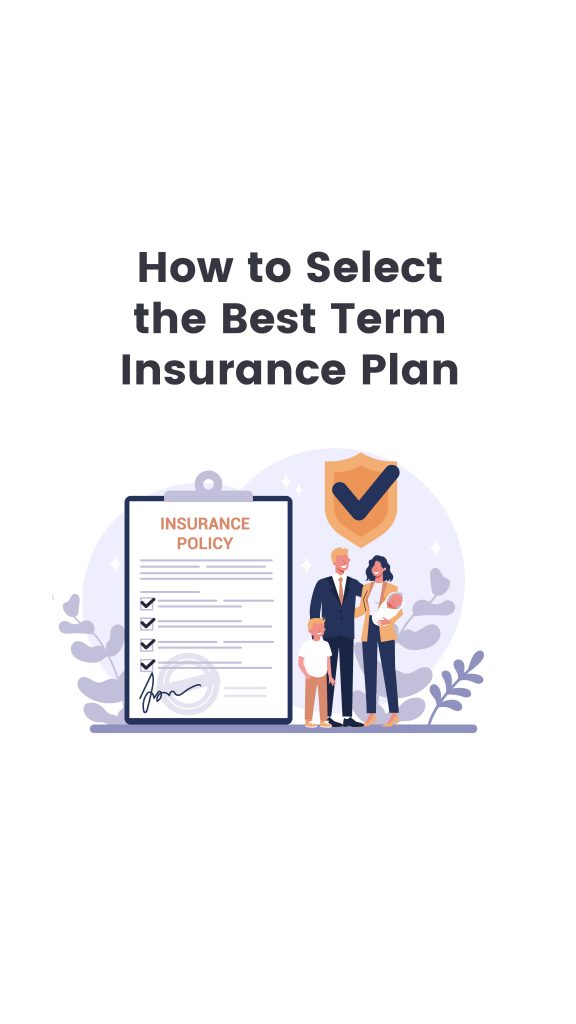 Premium Details
Usually, term insurance plans have a set level of premium rate, which means that the policyholder gets charged the same premium for the entire period of his policy duration. But in these cases the payable premium increases during the time of policy renewal based on the policy holder's age at that time. Although the coverage provided by the varied term insurance providers is usually fixed, many of these providers give the additional benefit of a number of riders which serves an attraction for the policy buyers.
Types Of Term Insurance Plans
Renewable – this type of term insurance plan can be renewed when the policy tenure ends. The policyholder can skip the medical examination for this. He might have to provide a declaration of good health though.
Convertible – the policyholder can exchange his term insurance policy for a cash-value policy. In this case, the premium will get higher, to convert to a standard life insurance plan.
Level – the premium and coverage remain fixed throughout the period of the plan.
Decreasing term insurance – with this kind of plan, the end coverage assured decreases over the period of time at a set percentage rate, usually around 5% p.a. The premiums for this type of plan remain the same throughout. This is usually for people who want to get a loan.
Increasing term insurance – alternately, the end coverage for this type of plan increase over a period of time, usually 5% p.a. The premiums remain constant.
Return of premium – in these rare cases, the policyholder receives the premium paid minus any fees, administrative charges, etc., if he survives the whole policy tenure.
Eligibility Criteria for Term Insurance Plans
For term insurance approval, all the insurance companies put forth certain requirements, which vary between different companies. The general ones are as follows:
Minimum age for entry is 18 years
Maximum age for entry ranges between 60 to 70 years
The maximum age at maturity is 80 years
The minimum assured policy sum is about Rs. 10 lakh
The maximum assured policy sum is Rs. 100 crore
Premiums are payable as a single pay, monthly pay, quarterly pay, bi-annual pay and annual pay
Mandatory Documents Needed For Term Insurance
A valid ID proof such as – Aadhaar card, passport, voter ID card, driving license, PAN card, or job card issued by NREGA and attested by an officer of the state.
An address proof such as – property or municipal tax receipt, telephone bill, electricity bill, postpaid mobile phone bill, LPG bill, water bill, bank account statement, post office savings accounts statement, or pension order.
Additional documents such as – individual photograph, income proof, age proof, or any other documents requested by the insurance company.
Benefits Of Having A Term Insurance Plan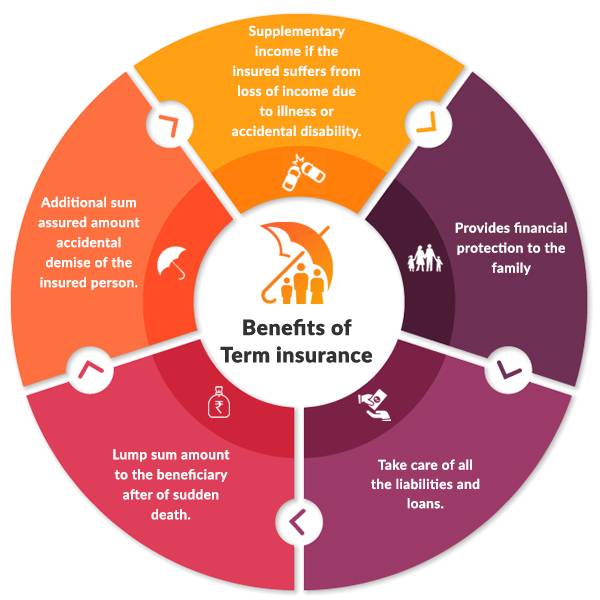 Financial protection for the policyholder's beneficiaries in the case of his/her sudden passing.
Term insurance plans are available at affordable premium rates compared to standard whole life insurance plans. Yet they offer a big assured sum nonetheless.
The payouts are flexible and can be made as a monthly income or a lump sum or even both.
A grace period of 30 days from the premium due date is given by the insurance company to make the premium payment.
There are many options available for tenures, ranging from5 to 40 years. So one can purchase a certain term plan and renew it later when that plan expires.
These plans are available both online and offline for purchase.
Insurance companies provide many riders along with the term insurance. These vary from company to company and plan to plan and provide additional benefits.
All leading life insurance firms in India provide term plans. So one can pick according to their requirement and suitability.
Premiums paid towards these plans are eligible for tax deductions under Section 80C of the Income Tax Act, 1961. The benefits received from these plans are also eligible for tax benefits.
Term insurance Vs Life insurance
The "Term" in term insurance stands for a certain age limit and it does not cover the person until his death. On the other hand, you can also opt for Life Insurance which covers one until death. But the premium for full life insurance is usually much higher than term insurance. Moreover, it doesn't seem necessary to have full life insurance. Rather insurance which covers your family members until they are dependent on you is more suitable. Once, you do not have any family members dependent on you for their livelihood, you can forego the insurance cover. This is generally the age of 55-65 years when your kids become fully independent adults and start earning their own livelihood and having their own family.
From our research, we found that there can be a difference in premiums ranging from Rs 10-100 between term insurance until 65 years and 75 years. So, depending on your premium payment, you can opt for term insurance until 65 years or 75 years.
Why select Term Insurance over Life Insurance?
Term insurance is considered one of the best insurance covers. Reason being that it provides an insurance cover of up to 25 times one's annual income. The insurance cover under term insurance is enormously high. For example, if one earns an annual income of Rs 25 lakh then they can get a term insurance cover for Rs 1 crore. Moreover, if one's annual income increases further in the future then they can simultaneously increase their insurance cover too. The monthly premium cover for this term insurance would depend on one's age. The lower the age group, the lesser the monthly premium. Thus, a 25-year-old will have to have a premium of Rs 800-1000 per month for Rs 1 crore term insurance cover. This is relatively cheaper compared to full life insurance which would cost one a monthly premium of Rs 6000-7000 for the same Rs 1 crore insurance cover. Learn more on Term Insurance and Health Insurance.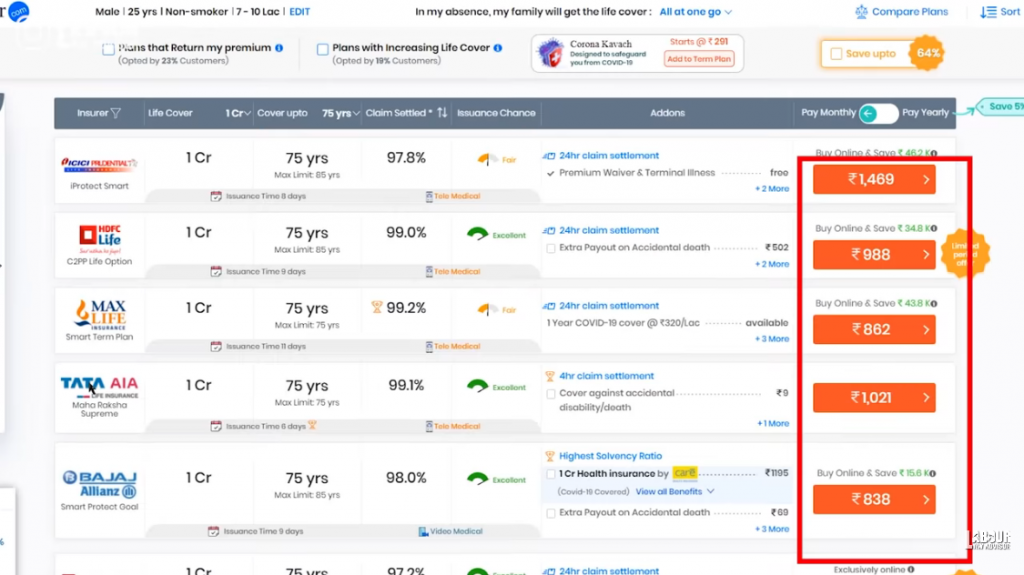 Term insurance Vs ULIP
ULIPs and Endowment Plans are considered the worst insurance cover options as they are the exact opposite of term insurance. The insurance cover for ULIP is minuscule while the premium payment is huge. For example, for a Rs 5 lakh insurance cover, one will have to pay Rs 50,000 premium annually. The high premium and low cover work quite opposite to term insurance features and are hence not advisable. Another reason insurance agents suggest while opting for ULIP is that part of the premium is invested and gives returns in 10-15 years. But this is only a gimmick as they cannot give you a credible return rate since it does not even cover inflation. Additionally, it is not advisable to pair your insurance and investments together. Rather invest separately and choose an insurance cover separately.
How to select the best term insurance plan?
Claim Settlement Ratio (CSR) – CSR means the percentage of claims which the insurance company approves. Example, a company receives 100 insurance claim requests out of which it approves 98 and rejects 2. Then it's CSR is 98%. The higher the CSR, the better the insurance company.
To check the CSR one can view the IRDAI reports or check the company website. Alternatively, one can check on insurance aggregator websites such as policybazaar.com and compare multiple CSRs. CSRs can be as high as 99% and the top 10 insurance companies with the best CSR are as given in the image below.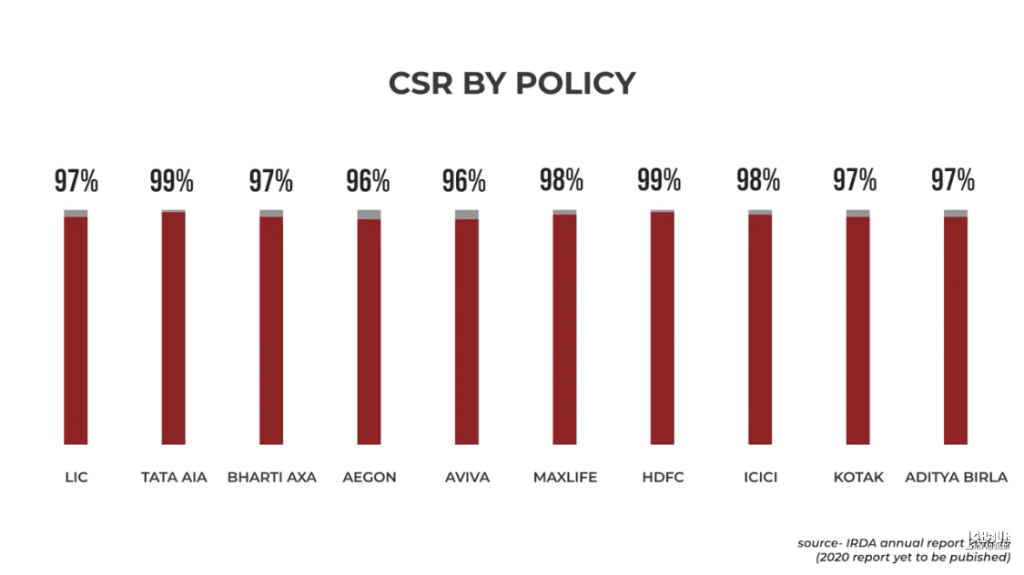 Amount Settlement Ratio (ASR) – Since companies are aware that customers check CSR first before selecting term insurance, they keep their CSR values high. Hence, the next thing to check is the ASR of the company. ASR means the value of claims which the company approves. For example, if a company receives 100 claim requests worth Rs 10 crore and approves 98 of them worth Rs 9 crore, then its ASR is 90%. It is easy for a company to approve the lower value claim to show a high CSR but the ASR value shows the actual amount of claims the company settles. Therefore, it is necessary to check the ASR of a company which can be seen in the IRDAI report. The image below gives the 10 best ASRs company-wise.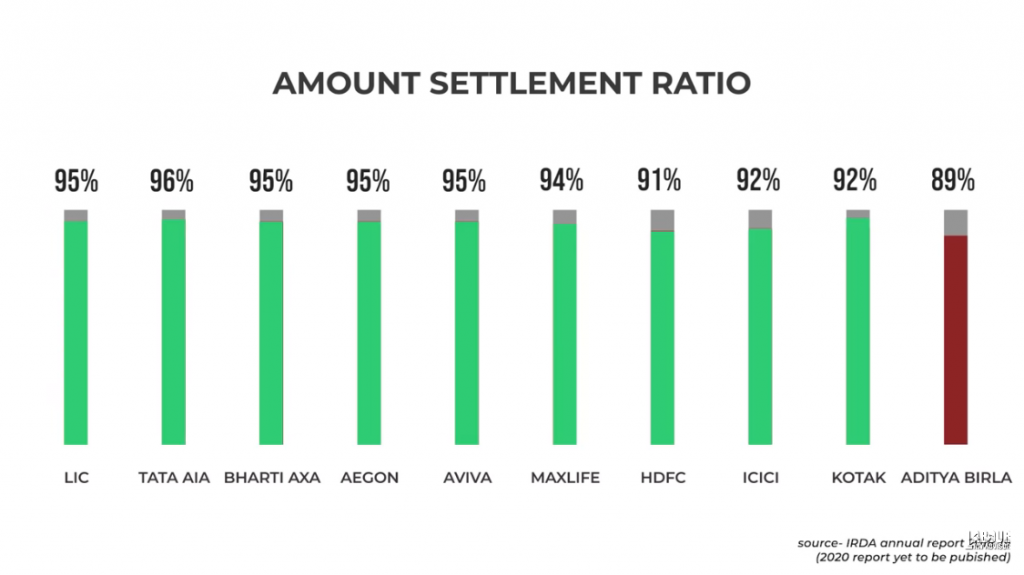 Claim Rejection Ratio – After shortlisting companies based on their CSR and ASR, we check their claim rejection ratio. While CSR shows the claim settlement ratio, there may still be some claim requests which are under process and not reflected in CSR. Thus, we look at the Claim Rejection Ratio of the company, i.e., out of 100 claim requests how many did the company reject upright. This value should be lower than 1%. We further shortlist the companies which have a Claim Rejection Ratio of less than 1%.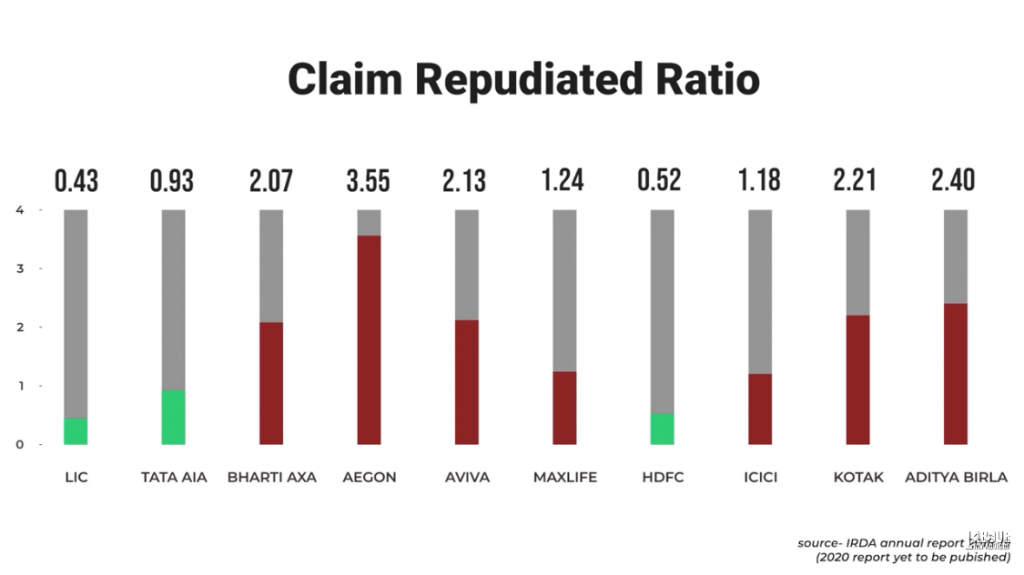 Assets Under Management (AUM) – This shows the total amount of funds being managed by the company. The higher the AUM, the more capability of the company to help solve more claims at times of crisis. Since it will have more liquidity at its disposal. Thus, we further shortlist companies based on their AUM.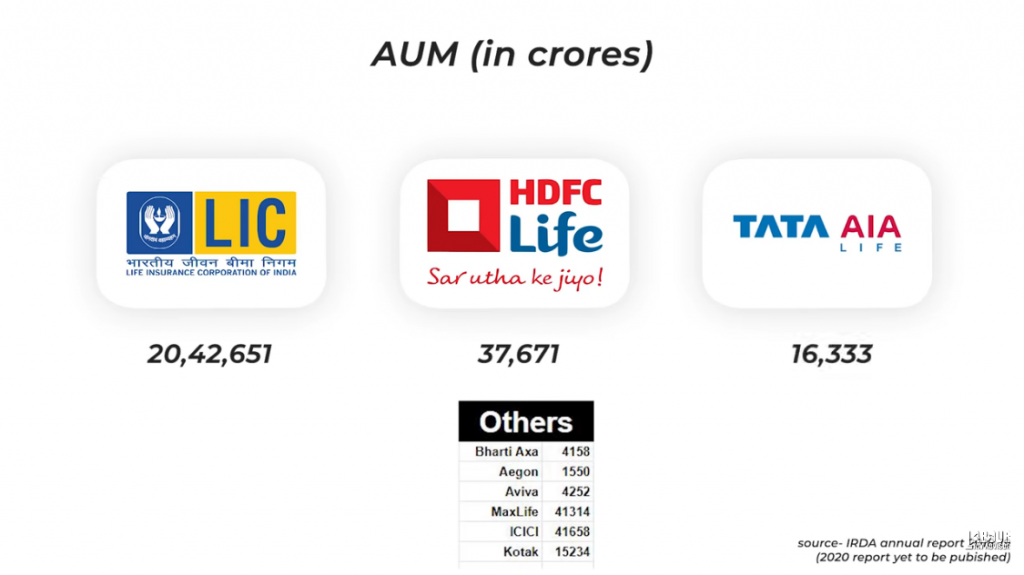 Solvency Ratio – The solvency ratio of an insurance company is the size of its capital relative to all risks it has taken. Simply defined, it means the number of assets the company has against its liabilities. According to IRDAI guidelines, all companies are required to maintain a solvency ratio of 150% to minimize bankruptcy risk. While this solvency ratio value changes every quarter for every company, we must check that it maintains the minimum ratio value. Additionally, the higher the solvency ratio, the better the option. Thus, we shortlist further based on the solvency ratio of the companies.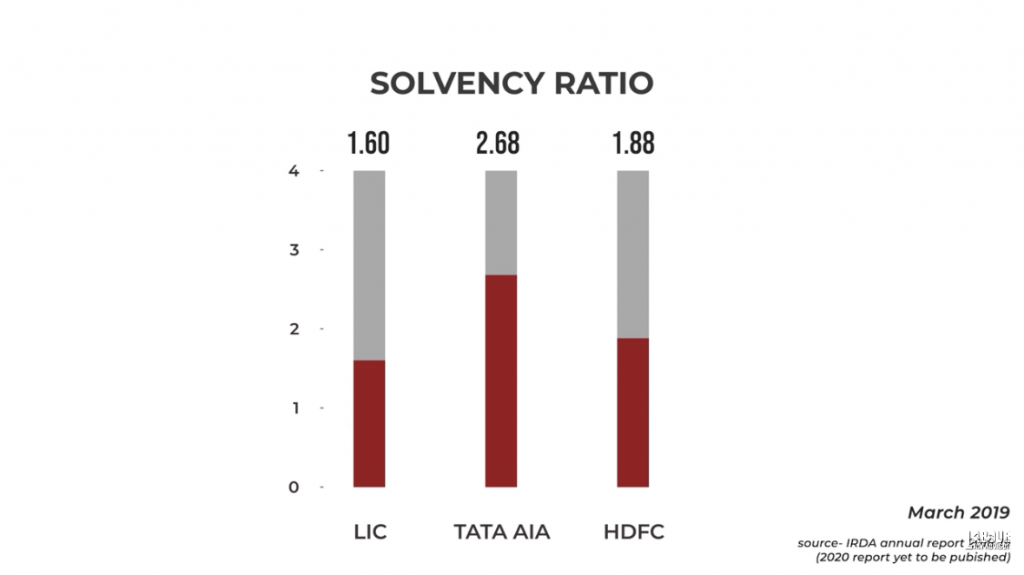 This process of shortlisting gives us the top 2-3 options of insurance companies to pick from.
Best term insurance?
While LIC is the biggest insurance company in the country with an AUM of over Rs 2 lakh crores and a lot of public trust, private sector insurance companies are also rising to the occasion. Private sector insurance companies are also trying their best to maintain the best ratio figures so that they gain more public trust and more people insure with them. Hence, they are also settling more claims, providing good insurance covers and staying away from unethical practices.
Secondly, when we check the premium payments of LIC compared to the other options such as HDFC and TATA AIA Life, we notice that LIC charges double the premium for the same insurance cover. Moreover, HDFC and TATA are both big names and trusted brands in the field. Hence, if we had to pick one out of the three, we would go for TATA AIA Life since it has a whopping 96% Amount Settlement Ratio.
Riders/Add-ons with term insurance
Once you pick a term insurance policy, you get two additional cover options as follows:
Critical Illness – This is an extra insurance cover in case of a critical illness in the future. While this is available with health insurance covers, we recommend taking them with a term insurance policy. Since the term insurance premium amount is always fixed and won't increase as you further age. Meanwhile, health insurance premium amount increases with an increase in age. The term insurance premium charge will increase according to the critical illness insurance cover. Hence it is not advisable to take a large insurance cover for it, as you can always balance it out with your health insurance.
Accidental Disability – The second extra insurance cover is for accidental disability as this will also prevent the bread earner of the family from earning a living. Here too the amount of accidental disability insurance cover will increase the premium, hence choose accordingly.
Always ask the insurance executive of the company to explain the terms and conditions of these riders before opting for them. As they are different for every insurance company and extremely important. It is also advisable to purchase insurance policies online rather than via insurance agents as it will be ultimately cheaper without the agent's commission. There is absolutely no problem with claim settlement if you buy insurance policies online.
How to avoid claim rejection?
Even after going through the entire process and picking the best insurance company your claim can be rejected. To avoid your claim rejected you must be aware of the following points:
Improper disclosures – While applying for a term insurance policy, the person has to fill a questionnaire with his personal details such as his drinking, smoking habits and medical history. To save some amount on premium payment, people often answer these questions incorrectly and hide their medical history. But at the time of insurance claim, companies do a thorough check and if they find out that you have withheld personal information that affects your insurance claim then they have the full right to deny your claim. Therefore, it is important to be honest about your habits and medical conditions while applying for insurance.
Inaccurate information – Submitting incorrect documents that do not match with the details you submit on your insurance application form can also lead to claim rejection. Therefore, ensure that your details are consistent throughout all documents.
Bonus tip
While applying for insurance policy you get two options – limited pay for 10 years and return of premiums. Limited pay for 10 years means that you pay twice the premium for 10 years, after which you do not need to pay any more premiums and your policy will be free. Meanwhile, return of premiums means that you pay twice the premium every month and if you survive until the end of the policy tenure then you receive all the premiums back.
In this situation, it is important to keep in mind that insurance cover is just a part of your investments. Your investment portfolio should be a good mix of equity funds, debt funds, fixed deposits, etc. Hence, rather than focusing on just what will happen when you die, focus on thinking about what will happen if you survive and use your extra money for investment options which create wealth while you are still alive. Think logically and avoid paying extra premium.
Watch the video below for more disclosure on term insurance plans.
FAQs on term insurance
What is Section 45 of the Insurance Act?
Section 45 of the Insurance Act states that a policy shall not be called in question on the ground of misstatement after three years. This means that no policy of life insurance shall be called in question on any ground whatsoever after expiry of three years from the date of issuance of the policy, or the date of commencement of risk, or the date of revival of the policy, or the date of rider to the policy, whichever is later.
But to think that nothing will happen to the policy taker and assume that his term insurance will cross 3 years is a risk itself. Especially during the ongoing pandemic of Covid-19, where millions of people have lost their lives worldwide, the uncertainty of tomorrow looms over everyone. As per sources, Covid-19 positive people are not even getting term insurance policies because there is no knowledge on how the disease affects one's life expectancy yet. Hence, if one has still not contracted the disease then it is best to get the term insurance policy plan at the earliest.
Another trick which the insurance company can use is to delay one's claim. Whenever a company finds something fishy in a claim, they tend to delay the claim approval by demanding various documents and prolonging the procedure. This way they also save foregoing some of that claim money.
One-day claim settlement
Some insurance companies such as ICICI Life Prudential and HDFC Life provide the service of one-day claim settlement. Although there are some conditions attached to it such as claim cover being less than Rs 2 crore or application being sent before lunch. But it is still a commendable service. Another insurance company, TATA AIA Life, states that if their policy has been in force for at least 3 continuous years then they will pay the claim within 8 working days of receipt of all documents, else they will pay an interest at 6% p.a. for any delays. Hence, this gives a reason for the insurance company to not delay any valid claims unnecessarily.
Should you close older ICICI/MaxLife term insurance plans?
If one already has term insurance plans with ICICI or MaxLife from earlier then there is no need to close them and take a new term insurance plan from another company. Both ICICI and MaxLife are well-known insurance companies with good brand value. The only reason we did not select them as our top choices was because their Rejection Ratio was higher than 1. But then again, it was just slightly higher than 1, i.e., 1.18 for ICICI and 1.24 for MaxLife, and the values could lower in the future. Hence, these two companies fall among the best insurance plans even though they may not rank in the top three for us. Also, as long as one keeps all their documents in place and tells the truth in their self-declaration, there is no reason for an insurance company to reject their claim.
What is Force Majeure?
Force Majeure, also known as the Act of God, is any unforeseen event which is beyond human control. Any loss resulting due to an Act of God can be rejected for claim from an insurance company as per the law. Most private insurance companies as well as some plans of public insurance companies have this clause in their terms and conditions. Hence it is necessary to ask the insurance company before signing the documents.
Although this may seem like a difficult clause, it is nothing to be afraid of as companies cannot impose this for just any claim rejection. The insurance regulator body, IRDAI, monitors such claim rejections and insurance companies are answerable to them for using this clause. Hence, it is nothing to be afraid of.
Benefit of physical medical test?
While it is not necessary that taking a telemedical test instead of a physical medical test will lead to claim rejection ultimately. It may just happen that taking a telemedical test does not reveal any actual health issues you may have and that leads to claim rejection later on. It is possible to get a physical medical test arranged at the time of taking the insurance to ensure that you get the correct medical status for yourself. Since at the end of the day, the accuracy of your medical reports is important for getting your claim approved.
Buying insurance claims online lead to claim rejection later
It is not true that insurance plans which are bought online are all rejected for claim later. Firstly, insurance companies have claim settlement ratios touching 98% or even 100%. With these numbers, it is not possible that the only 1-2 claims which are getting rejected were bought online. With the onset of the digital age, more services have gone digital as well as users of digital services have increased manifold. Hence, there is more probability of people buying insurance plans online now than ever.
Secondly, it does not matter to the insurance company whether one purchases their plans online or physically through an agent, as the company will receive the full premium amount in both cases. On the other hand, purchasing insurance plans through agents will just be more expensive for the buyer as he will have to pay the agent his commission as well. Lastly, there would be a whole lot of lawsuits being filed against insurance companies if they were rejecting claims just on the basis of purchasing them online.
Hence, the best practice is to ask the insurance company the process of requesting for a claim settlement and share the same with your family.
LIC's best plan – LIC Tech Term Plan 854
While LIC's plans usually have a high premium, one of its policies, LIC Tech Term Plan 854, is a unique term insurance plan with a premium almost equal to that of private insurance companies. It provides an insurance cover of Rs 1-2 crore. The only drawback is that there is no critical illness cover on it. Moreover, this policy can only be purchased online as there is no process of getting this through a policy agent or through the LIC physical office. Thus, this is a good term insurance plan which one can look into if they are interested in the LIC brand name and want lower premium charges.
Why is Limited Pay not a great option?
To understand why limited pay is not the best option let us look at an example.
Suppose, Person A who is 25 years of age takes a policy for 50 years which he will pay till he turns 75 years of age. His premium comes to Rs 1500 per month. Thus, his total investment towards the policy for 50 years will be = 1500 x 12 x 50 = Rs 9 lakh.
But under the Limited Pay scheme, the insurance company asks Person A to pay double his premium for just 10 years, and then he doesn't have to pay anything for the rest of the policy duration. Thus, his total investment in this case comes to = 3000 x 12 x 10 = Rs 3.6 lakh.
Hence, the difference between both cases of investment comes to = 9 lakh – 3.6 lakh = Rs 5.4 lakh. This amount seems great as savings for the common man, who may also think that after 10 years paying an insurance premium might get difficult for him.
Similarly, there is another Person B who pays a premium of Rs 1500 for 50 years towards insurance premium. Thus, spending Rs 9 lakh. Additionally, Person B pays a SIP investment of Rs 1500 for 13 years at 12% CAGR. Thus, earning Rs 5.5 lakh approximately in 10 years.
Therefore, the Rs 5.4 lakh which Person A had saved over 50 years was earned by Person B within 10 years! Moreover, if the problem is paying a premium after 10 years, then one could always utilize the savings made from investments such as SIP.
Hence, the best option is to spend the regular premium in the insurance policy and invest the additional funds towards investments such as SIP. This will not only give you insurance cover but also create your wealth alongside. This option is much better than paying the extra premium under limited pay which will not even give you any returns in the long run.
Secondly, when looking at it from the view of the power of compounding, the more funds the insurance company receives in the earlier stages, the more time it gets to invest it and double it. Meanwhile, when one pays Rs 1500 after reaching 40-50 years of age, then anyways given the inflation at that point of time, the company will not get enough time to invest that amount and increase it. Hence, it looks at getting double the premium from people in the earlier years of the policy through the limited pay scheme. So why give the insurance company the chance to take your earnings and invest it for their benefit rather than doing it yourself for your own benefit! Instead of worrying about paying a premium after 10 years, one should worry about investments, and rather invest more when one is younger and has fewer responsibilities.
Why is Return of Premium not a great option?
Return of premium states that it will pay back your full premium amount. But then again, it is equivalent to making an investment and getting just your initial investment back without any returns! Rather save money on return of premium scheme and use that money for investing in mutual funds.
Can you buy multiple term plans from different companies?
It is possible to buy smaller amount term plans from multiple insurance companies to ultimately have a big insurance cover. But it would require one to pay more premium in that case. Also, it is important that the total sum of insurance cover from all plans together should not exceed 25% of one's income as the extra amount cannot be claimed later and the premium you paid for it then goes to waste.
Is Sovereign Guarantee legit?
Sovereign guarantee came into place in 1956 when there were over 250 insurance companies and provident societies where people would make investments as well. Since there was no stock exchange at that time. At that point, many of these companies were running in losses and were unable to pay claims or bonuses for their customers. Thus, the Central Government had to intervene and merge all these companies to form LIC.
To make citizens trust in LIC, the government introduced Sovereign Guarantee where it promised to pay the people if LIC failed to do so. This may have been possible at that time but in today's age, the Central Government does not have the means to pay back every individual who has taken policy from LIC. While the government may promise that it will do so, it had also promised the state governments that it will pay them their GST amount, which it still has not been able to do. Hence, blindly following what the government has promised is not a good idea here.
What if I start smoking later?
Technically, if one started smoking after taking a term insurance plan then their premium should not change as it was set as per the medical declaration given when purchasing it. But it is also difficult for the individual to prove when exactly he started smoking. It will definitely become clear once his lungs are diagnosed if he had been smoking long term and then he may not be able to cheat the insurance company.
Secondly, every individual must do their full body medical checkup every 6 months to 1 year and keep those records safe. This helps in diagnosing the timeline in case of any illness. Thus, the insurance company will not be able to reject one's claim if they can show that any illness developed was over a period of time. Additionally, all companies also have a clause wherein they categorize a smoker as a non-smoker after a certain number of months of no smoking. This varies from company to company.
Are IRDAI data specifics dependable?
From the data provided by the IRDAI, there is no segregation of the different policy plans such as term plan, ULIP or endowment. Out of the 100 claims an insurance company is approving, which makes their claim approval ratio high, we do not know how many were term plan claims exactly. Hence, we need to look at the amount settlement ratio to check if the insurance company has rejected larger claim amounts or smaller ones. But that again does not show the segregation of the different policy plans.
Why don't people like term insurance plans?
Practically, it is easier to sell endowment and ULIP plans to people rather than term insurance plans because the earlier gives something in return thus satisfying human psychology. But it is important to educate people about the facts of endowment and ULIP and show them how term insurance is a better option. Educating people will help in making them wiser and taking the right decision. Learn more on Term Insurance and Health Insurance.
Watch these FAQs answered in depth in the video below.
Why Insurance & Investment should be kept separate?
If not term insurance and ULIP then which option to go for?
Insurance companies have absurd rules of a person being a graduate and earning over Rs 15000/month to be eligible for term insurance. In that case, the person has to opt for either ULIP or endowment plan. But there too it is important to try and opt for a plan which gives closest insurance to 10x of one's annual income. The investment component there can be seen an additional and not the sole investment in funds. It is also recommended to purchase the policy online as it is cheaper.
How can one save income tax under Section 80C without taking insurance policy?
There are schemes such as PPF, NPS, SSY, ELSS MF, and others, wherein you can save tax under Section 80C. Insurance policies such as ULIP and endowment are not the only options for this. Other methods to save tax under Section 80C can be found in Section 80C Income Tax Deductions in Hindi | Financial Advice to Save Money.
Some ULIP plans also give good returns.
ULIPs and MFs have a similar structure and some ULIPs may perform better and give higher returns than MFs. However, it is also true that majority of customers who opt for ULIP do not have the minimum insurance cover they need. These customers will also not opt for a separate term insurance plan. Thus, taking for granted that they will not die anytime and their family will not require that money to survive. Secondly, these customers feel that ULIP or endowment investment components are enough and do not opt for another investment option. Another issue is when people have term insurance but take ULIP for its investment component. This is again a loss since majority of the funds get deducted under ULIP extra charges itself before investment.
Moreover, in ULIPs one has to continue paying the premium every year regardless of their financial situation. If one does not pay the premium, the company can cancel their policy. Similarly, in endowment plans one has to continue paying yearly premiums regardless of their income. These plans do not have any goal-oriented investments and are too rigid in their schemes. This is not how one should make an investment. Investment should depend on one's income, goals, duration, risk factor, among other factors. However, in MF one can pay more or less as per their financial situation and there is no penalty for non-payment.
Therefore, never pick an insurance policy based on its investment component. Rather keep both separate.
Mortality charges are returned or stopped if total premium paid exceeds the insurance sum assured.
Here it is important to note the concept of Time Value of Money. This concept explains how the value of money decreases over time due to inflation and other factors. Thus, the issue is not the mortality charge itself but the fact that how the same money could be used towards investment. That money could have grown manifold over the years with the power of compounding.
MF do not give returns for years and customers redeem it due to impatience.
As seen during the pandemic, the share market crashed drastically, but then it also bounced back and is at an all-time high now. Hence, patience is an important value needed for MF investments for sure. Additionally, MF investments are flexible and the premiums can be low. Whereas, ULIP premiums are fixed, have to be mandatorily at the due date and very high.
ULIPs are better than MFs because they have a life insurance component.
The objective of MF is to invest one's money in various places and give high returns on it. Meanwhile, the objective of term insurance is to give one's nominee a large sum of money to help them survive if the member passes away. Both of these schemes have different objectives and should not be mixed. The combo insurance + investment plans being sold are actually more expensive than the individual plans. It is necessary to research, study, or hire a professional on this matter and then take an educated step towards investment and insurance rather than just doing what someone else tells you to.
Endowment plans have 6% guaranteed returns.
There is some risk involved with MF, FD, and every other investment option. Likewise, even insurance cover plans have the risk of Force Majeure or Act of God. So it not wise to think that the 6% return is guaranteed forever for anyone. There is a risk factor involved with everything, it is up to oneself to choose a plan according to the risk level they want to take.
Instead of surrendering one's life insurance policy they can opt for paid-up policy.
Paid-up policy means to stop paying the premium which results in a proportionately less insurance cover instead of surrendering the policy altogether. It depends on the person if they think they can surrender the policy and use the remaining money to invest and insure in another scheme or they do not have the capability to do that. Accordingly, they can either surrender or go for paid-up policy.
Term insurance results in loss if the person survives.
Yes, that is true and exactly how it was promised at the starting of the insurance plan itself. The objective of term insurance was to pay the deceased member's family a big corpus in return for a relatively smaller premium compared to ULIP and endowment. The term "insurance" means that the premium is not returned if the object of insurance does not suffer through a mishap. This goes the same for any insurance cover be it health, car, or life. The idea that this is a loss is a wrong thought itself and needs to be changed.
With falling interest rates, isn't endowment plan a better option for retired people?
Interest rates may be down now but they will not stay so forever. When they do rise in the future, one would have already made commitments under ULIP/endowment plans which have a higher premium and are rigid, and they cannot switch to a better investment plan thereafter. Moreover, ULIP plans tend to have a lock-in period where even if one surrenders their policy they cannot redeem their premium.
For retired people, it is better to have no policy at all. Rather their kids must take insurance policies to help out their dependent parents. Retired people must also not invest their money in any schemes with lock-in period or risk factor.
ULIP does not have fund-switching charges and surrender charges are null after lock-in period.
While there may not be a fund switching fee, if all the investment plans under the particular ULIP are underperforming and one wants to switch to another ULIP plan, then that becomes irrelevant. Also, ULIP member will not take a term insurance policy.
Jeevan Anand endowment plan provides life insurance cover for whole life and one can also avail loan on it.
One does not need life insurance cover for their whole life. This has already been stated before. Also, taking a policy for the sake of taking loans is not logical.
Another policy to check out is Jeevan Umang by LIC.
Watch these questions answered in detail below.
Join the LLA telegram group for frequent updates and documents.
Download the telegram group and search 'Labour Law Advisor' or follow the link – t.me/JoinLLA
It's FREE!