A Hindu Undivided Family (HUF) consists of members of a joint family or a married couple. Moreover, the Hindu Law Board is the governing body for a HUF. However, besides Hindu families, Jain, Sikh, and Buddhist families can also form a HUF. For the formation of HUF, there should be a minimum of two members of which at least one member should be male. Additionally, the senior-most male member is the Karta of the family and all other members are the coparceners. However, from the point of view of income tax, HUF is a separate legal entity. Therefore it is identified as a different person and enjoys the same slab rate as that of an individual.
Therefore, it can be used as an effective tool for planning the tax, which is often overlooked by many families, resulting in paying additional tax to the government every year. In this post, we discuss various nature of incomes that can be taxed in the hands of HUF and also discuss the deductions which it can claim for planning the tax. We shall also discuss some frequently asked questions related to HUF.
Formation of HUF – tool for tax planning
Since HUF is a separate legal entity in the eyes of income tax it enjoys various benefits including separate slab rates and various deductions. Thus, HUF is easily usable to save a significant amount of tax. We can understand this better through an example. Later in this post, we will discuss the income sources which can and cannot be taxable under HUF. To illustrate, we have taken two situations where Mr. Rajesh, a resident individual being a part of a joint family earns the following income. In case I, we have considered if all income is taxed under Mr. Rajesh. In case II, Mr. Rajesh has formed a HUF and some income along with some deductions is being transferred to the HUF.
PARTICULARS
Tax on Income of Rajesh (Before HUF)
Tax on Income of Rajesh (After HUF)
Tax on income of HUF
Salary
10,00,000
10,00,000
Rental Income
3,60,000
3,60,000
Standard deduction on House property
1,08,000
1,08,000
Income from House property
2,52,000
2,52,000
Income from Short term capital Gain on shares
2,40,000
2,40,000
Total Taxable income
14,42,000
10,00,000
4,92,000
Section 80C
1,50,000
1,50,000
1,50,000
Net taxable income
12,92,000
8,50,000
3,42,000
Tax Due
1,28,100
72500
0
Short term Tax@15%
36000
0
13800
Total Tax Due
164100
72500
13800
Health and Education Cess
6564
2900
552
Total tax Payable
1,70,664
75,400
14,352
Total tax paid by Rajesh & his HUF
75400+14352=89,752
Tax saved on creation of HUF
80,912
Thus, we notice that a significant amount of tax has been saved in case two.
Basics of HUF
A HUF can be formed with a minimum number of two members however from a taxation point of view HUF should consist of a minimum of two coparceners. Let us better understand this through the following flowchart.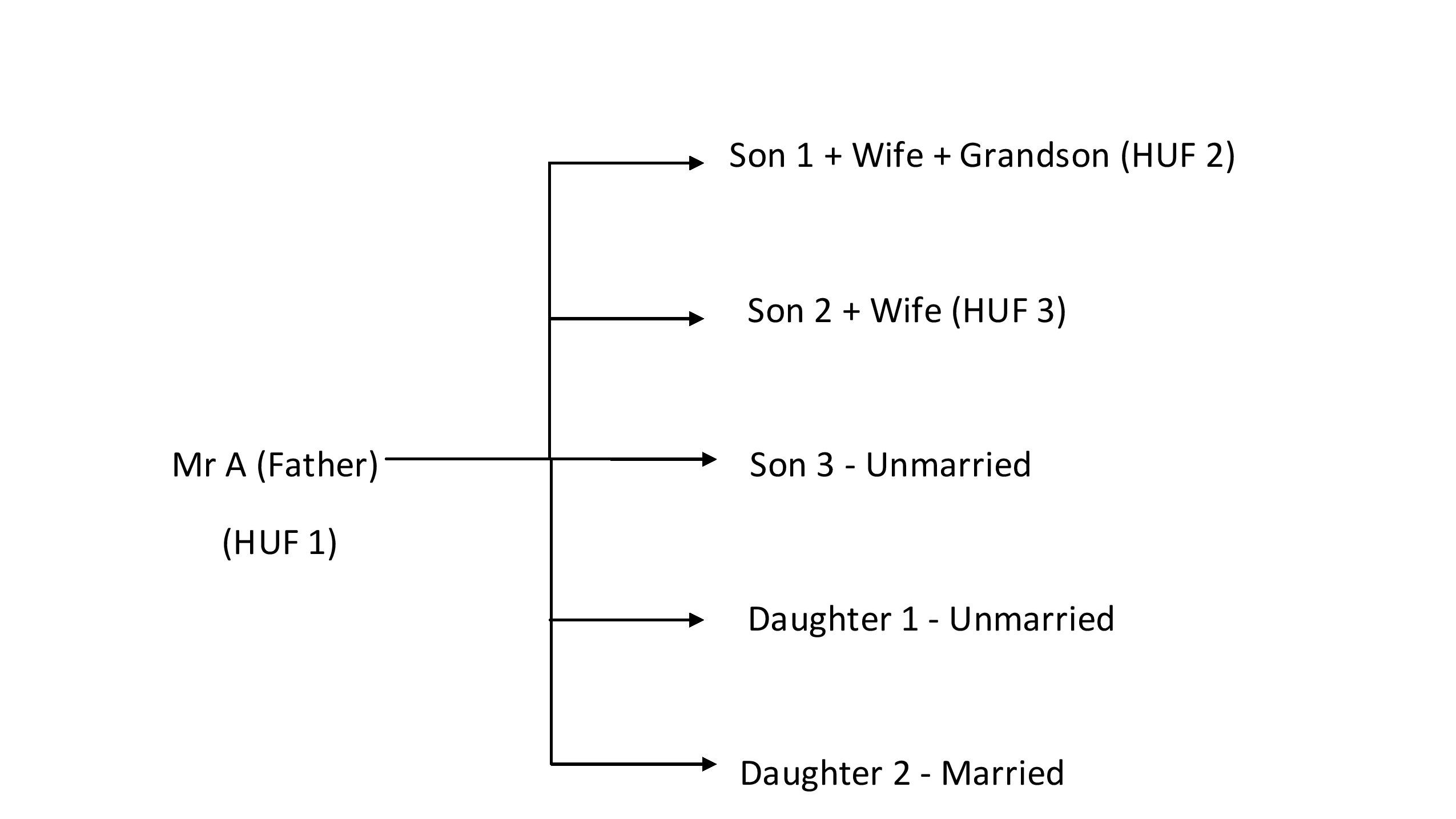 HUF 1
This is the main HUF. Earlier married daughter was not the part of HUF, however, now married daughters are also treated as coparceners and can demand share in the HUF's assets. Son 3 and daughter 1 form the part of the main HUF only.
HUF 2
Here, son 1, his wife and son form the second HUF and claim a separate deduction of income from the tax point of view.
HUF 3
Son 2 and his wife also form a different HUF however, from the point of view of tax, there should be a minimum of two coparceners for an income to be taxed in the hands of HUF except if the income is received on the partition of the main HUF.
Tax planning – Incomes that can be taxed in the hands of HUF
Own business income- It can run its own business and that can be taxed in the hands of HUF
Trading – Profit/loss derived from the trading of shares can be taxed in the hands of HUF
House property income- rental income received from House property can be taxed in HUF
Ancestral property income derived from ancestral property is taxable as income of HUF
Interest income – HUF can provide loans and earn interest income
Commission income – Commission income can be tax in the hands of HUF.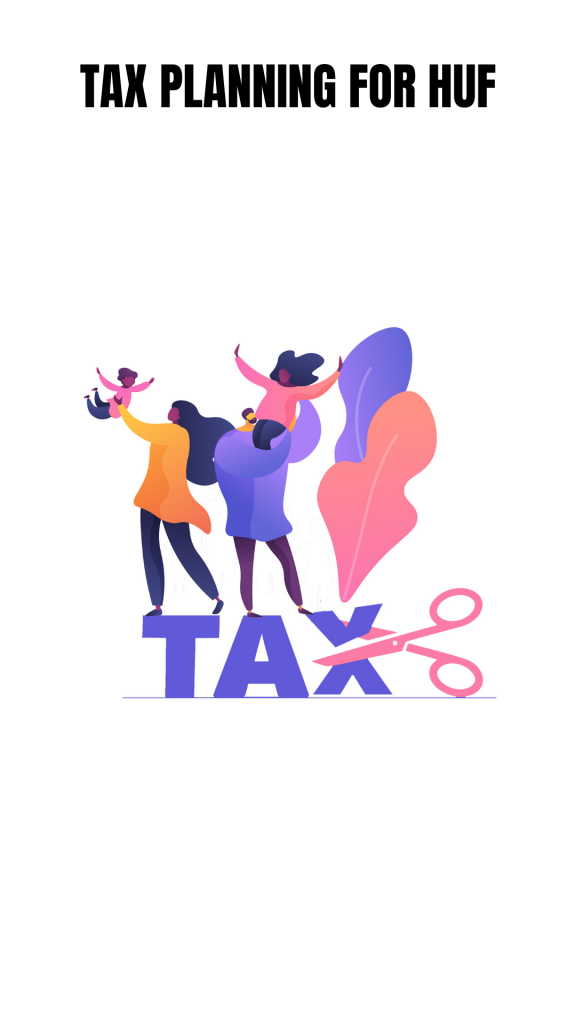 Tax planning – Incomes that cannot be taxed in the hands of HUF
Salary Income or personal income of members
Income is derived from the individual property of daughters.
If a member transfers his personal property to HUF without adequate consideration.
Stridhan – It purely belongs to the woman and hence cannot be taxed in HUF.
Kindly note that the above lists are illustrative and not exclusive.
Deductions applicable
SECTION
PARTICULARS
ELIGIBILITY CRITERIA
MAXIMUM LIMIT
Section 80C
Life Insurance Premium
Any member of HUF.
1,50,000/-
PPF
Any member of HUF.
NSC & Accrued Interest thereon
–
Principal repayment of House Loan
–
FD in scheduled bank / post office
5 years or more
Notified bonds of NABAD
–
Senior Citizen Savings Scheme
–
Unit Linked Insurance Plan
–
Section 80D
Medical Insurance Premium, Central Government Health Scheme
Any member of HUF.
Max 50000 (in case of senior citizen max limit is double)Preventive health check up not allowed for HUF.
Section 80DD
Medical treatment/maintenance of handicapped dependent relative.
Any member of HUF.
Disability: Normal – 75000/- Severe – 125000/- (Flat Deduction)
Section 80DDB
Medical treatment of specified disease
Any dependent member of HUF.
Lower of : i)Actual expense ii)40000/ (100000 in case of senior citizen)
Section 80G
Donations as per category
All assessee
50% or 100% as per category
Section 80GGC/80GGB
Donation to Political Parties / Electoral Trusts
All assessee
100% of donation
Few FAQs
Q. Can a woman be HUF Karta?
A. No, not as per the act. However, there are few case laws in support of the same.
Q. Can female members demand the partition of HUF?
A. No, only male members can. However, states like Maharashtra and Tamil Nadu have allowed unmarried daughters to exercise the right.
Q. Can a HUF be non resident of India?
A. Yes, if the control and management is situated outside India.
Q. Can HUF be a partner in the firm?
A. No. HUF can not act as a partner in the firm.
Q. Can HUF hold shares of the company?
A. Yes, shares can be registered in the name of the Karta.
Conclusion
To sum up, it would not be wrong to say that HUF itself is a very effective tax-saving scheme that can be formed with bare minimum formalities. However, it is always advised to take professional opinion wherever necessary.
For more details watch the video below.
Learn more, Taxability Of The Dividend – Before & After F.Y.2020-2021.
Join the LLA telegram group for frequent updates and documents.
Download the telegram group and search 'Labour Law Advisor' or follow the link – t.me/JoinLLA
It's FREE!