Amidst the coronavirus scare, the nation has been facing an extended lockdown. This has taken a surprise hit by the corporate sector. Since all movement of man and vehicles are forbidden, factories have stopped all work. Offices are closed. Just some IT sectors firms have been able to manage their ongoing work by having their employees work from home. But most sectors like construction, housekeeping, entertainment and food and beverages are completely closed. In such an unprecedented situation, employers are asking whether paying salary to their employees is compulsory. Meanwhile, employees are asking if they will get any salary in lockdown. Read on to know the legal and moral point of view of this situation.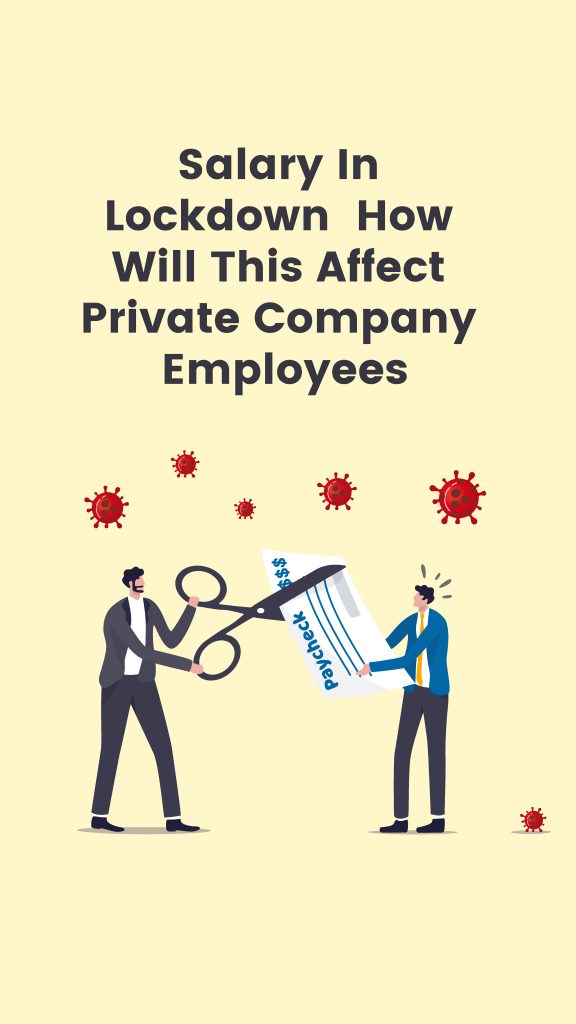 Indian economy's crisis amid corona crisis
The coronavirus lockdown in India and around the world, promises to leave a long-term impact on the economy. The stock markets have been on a down-hill slump for some time now. As the situation calls for social distancing to contain the spread of the virus, the government had to issue a 21-day lockdown. Which ultimately got extended till 3rd May 2020. This lockdown has imposed people to stay at home. It has also made all business to stay shut. Thus, this is affecting a large part of employers and employees who depend on a day to day basis to run their business.
Prime Minister's take on salary in lockdown
In one of his earlier speeches, Prime Minister Narendra Modi made an appeal to all individual regarding paying salary in lockdown. He asked all employers to be understanding if their employees were unable to come to work. He further went to ask employers not to give pay cuts to their employees, since they too relied on their salary to run a family. But this was the PM's moral point of view. There will be no legal proceedings against employers if they choose to cut salaries of employees.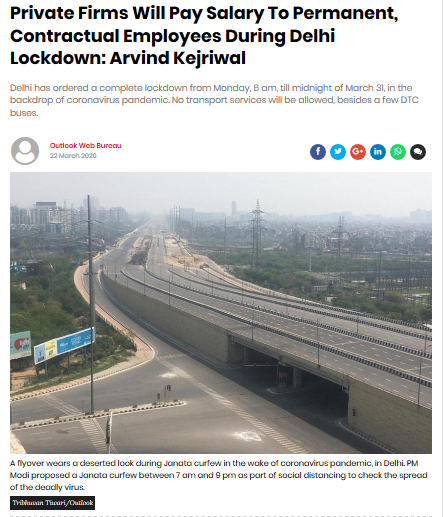 Ministry of Labour & Employment's advisory
The Labour Ministry issued an advisory asking all employers of public and private establishments to not terminate or cut the salary of their workers, particularly casual or contractual workers. This is because employers have the option of terminating employees if they do not come to work for more than 10 days. But herein the Labour Ministry is requesting the employers not to terminate employees on this basis, owing to the coronavirus lockdown. The Labour Ministry furthermore appealed employers to take employees as being on-duty even if they are unable to come to the office due to coronavirus lockdown. Hence, the employees should receive their full salary in lockdown.
Again, if employers refuse to pay wages, then employees might have to find work elsewhere. This may lead to the unintentional spread of the virus. So employers have been requested to pay full salary to their workers. But in some cases, the employers as well may not be in a financial state to pay workers. If the business is dependent on day-to-day earnings, then it might get affected due to the lockdown. Read the full government advisory below.
What should employees do in this situation?
It is always advisable for individuals to have a secondary passive source of income. And seeing the status of the stock market now would be the perfect time to make an investment. Shares of big companies are relatively cheap right now. So buying them right now might result in profits in the future when the economy rises back up. If the share market seems too risky for you then you can opt for investing in mutual funds.
Other than this, employees at a senior position can offer to take a pay cut if possible. We have seen senior officials in bigger firms taking the moral path and willingly taking a wage cut. This will help all lower employees to get their salaries as well. If not fully then at least partly.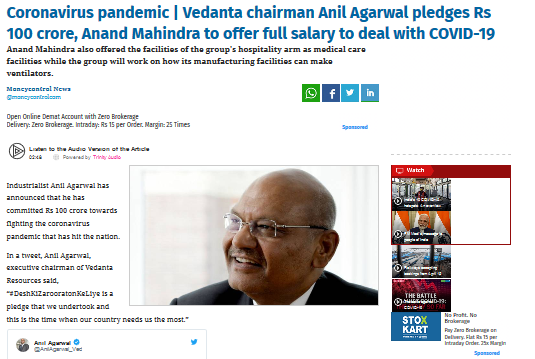 Furthermore, if the work permits, employees must take the initiative to work from home. Instead of taking a back seat in these tough times, employees must offer to work from their homes and keep their companies running as much as possible. Employees must also lend a helping hand to their firms and stand by them by working to their best abilities in such a situation.
Lastly, employees can dip into their savings to keep them financially afloat in these tough times. You can learn more about investments in our Smart Stock Tip series.
What should employers do in this situation?
It is advisable not to cut the wages of your workers, especially contract workers whose livelihood depends on his day-to-day earnings. If your business does not produce any essential items, then it is advisory to keep it closed. Only essential commodities business such as medical and food supplies should be running. This is also advised by all state and central governments. Furthermore, if unable to pay full wages, then employers should try at least paying the basic salary plus DA of employees.
Watch our video on the situation of salary in lockdown below.
Order by the Ministry of Home Affairs
The Ministry of Home Affairs released an order on 29th March 2020, under Disaster Management Act 10(2). The Disaster Management Act states that at the time of the disaster, it gives its Chairperson the power to give any order pertaining to the disaster to the entire country. The country is seeing a pandemic disaster at the moment. Thus, the Disaster Management Act is on for the entire country. This order states that despite the lockdown, large numbers of migrant workers have been travelling to return to their hometowns. Hence, the government has laid out a set of rules to be followed.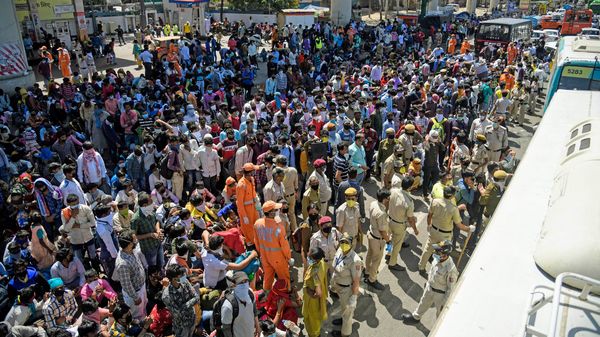 Orders related to salary and deduction
All employers in industries, shops or commercial establishments, have to pay their workers their salary in lockdown. The salary should be paid within due date and without any deduction. But this is only eligible for those employers whose business are closed during this lockdown. If your business is still on from home, and employees are working from home, then their salary is eligible for deduction if there work is not being done.
Orders related to rent
People who are living in rented accommodations, their landlords cannot ask them for the upcoming one month's rent. Furthermore, if the landlord forces the renters to leave their premises, then they will be liable to action against them.
Additionally, this order has to be carried out by all state and union territories governments, district magistrate, deputy commissioner, senior superintendent of police, superintendent of police, and deputy commissioner of police. In case of any violation of these orders, strict actions must be taken. Read the entire order below.
Implications for employees
This is a welcome move by the government for workers and employees. First time, an order has been issued by the central government on top of the advisory.
This will give employees and workers legal protection. They will be able to demand their salary under lockdown.
Most definitely this order will put a stop to any forcible vacancy of premises by landlords or harassment of renters for rent.
Implications for employers
Most businesses have been complying with these measures even before the MHA order.
Some businesses are relaying from the lockdown. Their production has come to a stop. Raw materials are lying getting wasted, finishes materials are lying not getting sold, credits are getting accumulated. Hence, businesses are facing a big cash crunch due to market closure.
If there is an additional burden of paying salary in lockdown for a few more months, then some businesses may be forced to shut down under the financial pressure.
What are the practical challenges of this order?
The ground reality is that 90% of the workforce in India is from the unorganized sector. They do not have a written contract of employment or any proof of identity.
There is no proper database for them as they move from one job to another quickly. So their employers cannot be pinpointed easily.
The legal prosecution rules under the Disaster Management Act are unclear. There are no proper complaint channels for employees and workers. Courts are also shut down due to the lockdown. So status of redressal is unsure.
Since wage deduction is prohibited, some employees might refuse to work from home as well.
We urge both employers and employees to be compassionate and practical rather than legal. It is best to help each other out in these difficult times and in turn, help the country too.
Watch the video on this MHA order regarding rent and salary in lockdown below.
COVID-19 control room for worker complaints
The Labour Ministry has set up 20 control rooms under the supervision of the Chief Labour Commissioner (CLC) across the country. Workers who are experiencing grievances related to their employment wages and fall under the central sphere can call any of these control rooms to file a complaint. Railways, mines, banks, insurance companies, major ports, all PSUs and establishments which have branches in more than one state fall under the category of central sphere. Furthermore, the definition of workers is limited here to people earning under Rs 10,000/month. But nonetheless, it is still advisable to take a chance and register your complaint even if you don't classify under the central sphere and earn over Rs 10,000.
The COVID-19 control rooms will also take complaints from the migrant workers. The control rooms will corporate with the state governments to resolve their complaints as soon as possible.
How to register complaints?
The COVID-19 control rooms are accessible by phone calls, e-mails or WhatsApp for registering complaints. These control rooms will be under the management of different officers at various levels. For instance, Labour Enforcement Officers, Assistant Labour Commissioners, Regional Labour Commissioners and Deputy Chief Labour Commissioners of the respective regions will overlook their smooth working.
The CLC will monitor all control rooms at the central level. A daily reporting will happen on these regarding the number of complaints registered and solved. All concerned officers have been advised to adopt a humane approach while assisting the aggrieved workers. Furthermore, they should try to ensure a timely delivery fo relief to the workers. Find all the 20 COVID-19 control rooms list below.
Watch the video regarding COVID-10 complaint registration due to any problems in salary in lockdown below.
Supreme Court's verdict on paying salary in lockdown – 27th April Update
April 2020 was the first full month where all offices remained permanently shut. Hence, no employees actually went to their office this entire month. Due to the situation, the Supreme Court received some cases pertaining to the payment of salary in lockdown. On 27th April 2020, the Supreme Court released its verdict on these cases.
Viewpoint of employers
During the starting of the lockdown, the Ministry of Home Affairs had released a circular under the Disaster Management Act. This happened on 29th March 2020 and has been explained above. According to this circular, employers made salary payments for March 2020 to their employees. But since then the lockdown has seen an extension. With the complete month of April seeing a full shut down. Thus, employers raised their concern on whether the Ministry of Home Affairs has the authority to force private firms to make payment of salary in lockdown. Hence, some employers filed cases in the Supreme Court to challenge this circular. Three of these cases were as follows.
1. Nagreeka Exports Ltd.
Nagreeka Exports Ltd was the first private firm to file a case. But ultimately withdrew it. Since they were receiving many petitions against their case.
2. Ficus PAX Private Ltd.
Ficus PAX Private Ltd is a Karnataka based packaging firm. It appealed that the circular by the Ministry of Home Affairs was illegal. It did not have the official power to enforce private firms to make payments of salary in lockdown. A moral plea is acceptable. But a statutory warning was illegal.
Firstly, it put forth Article 14 of the Indian Constitution to prove this point. This brought forth the Equality of Law stating how employees are getting privilege treatment. Meanwhile, employers are being forced to make salary payments even when no work is happening and cash flow is absent. Bigger firms might still be able to do this with their reserve fund. But small and medium enterprises who depend on monthly cash flows will not be able to cope with this.
Secondly, it put forth Article 19 of the Indian Constitution. This is the Right to Occupation. This allows all business to run their trades with legal restrictions. Herein, employers and employees have a contract which states no work, no pay clause. But the 29th March circular goes against this law as well.
3. Ludhiana Hand Tools Association
This is an association consisting of the hand tools manufacturers based in Ludhiana.
Their argument states that this enforcement of salary payment may result in insolvency of some firms. Since all manufacturing orders are cancelled and cash flow is restricted, which may continue for the upcoming few months as well, depending on the economic slowdown. Thus, if private firms have to make salary payments during lockdown then in the long term they may run into complete bankruptcy and shut down. This will have an even worse effect on the employees.
They also state that the Industrial Disputes Act gives employers the power to lay off employees in case of a natural disaster. Thus, the Disaster Management Act cannot mandate private firms to refrain from terminating their employees or giving them salaries.
All petitioners also ask the Supreme Court to utilize the ESI/PF corpus funds. They suggest using these funds and the PM Cares Fund to subsidize the payment of these employee salaries. Instead forcing private firms to make full salary payments is unacceptable.
Viewpoint of the Supreme Court of India
A three bench judge delivered their verdict on these petitions on 27th April 2020. This included Justice NV Ramana, Justice Sanjay Kishan Kaul and Justice BR Gaval. They asked Solicitor General Tushar Mehta to submit a clear policy regarding this circular within two weeks. They stated that it was not possible for the industry to keep making payments in such a situation until they eventually closed down permanently. Instead the government should come up with a plan for the steps it will take to either subsidize industry or to provide for it.
Watch the video on this below.
Supreme Court's verdict on paying salary in lockdown – 15th May Update
In the circular released by the Ministry of Home Affairs, on 29th March, it was stated that all factories, establishments and shops were to pay their workers their salary in lockdown. They could not terminate any worker's employment as well. However, the term "worker" was not defined vividly in the circular. If was not clear whether the term "worker" categorized all workers of all statures, only contract workers, migrant workers, and so on. Hence, some companies forwarded a writ petition to the Supreme Court to challenge this circular, as stated above.
After the initial hearing on 27th April, Solicitor General Tushar Mehta was asked by the bench to submit a clear report on the steps to be taken. He had two weeks to prepare his report. After two weeks, the second hearing was held on 15th May. In this hearing, Tushar Mehta again asked for another week's extension to present his report. Hence, the Supreme Court rules that until the government presents their report, no corrosive action will be taken against any employer who is unable to pay his employees their dues. Hence, no police complaints, audits, inspection, will be allowed for the next week, until a report is received from the government. Read the actual order by the Supreme Court below.
Watch our viewpoint on this ongoing situation below.
Supreme Court's verdict on paying salary in lockdown – 4th June Update
On 17th May 2020, MHA released an Order which said that until otherwise stated, all orders issued under the Disaster Management Act 2005 shall cease to have effect from 18th May 2020. This would also be applicable to the Order dated 29th March 2020. This order means that employees' salaries have to be given between 24th March 2020 and 17th May 2020. But after 17th May, salary payment is not compulsory and regular labour laws will apply.
The Supreme Court had asked the Central Government to give an affidavit with clear rules and regulations regarding employee salary payment. Finally, on 4th June 2020, Central Government released an affidavit saying that even if an employer does not have the financial capacity, he still has to pay his employees' salaries. Justice Kaul counter remarked this statement asking if the Central Government has the power to make employers pay 100% employee salary and prosecute them if unable to do so. Furthermore, Supreme Court acknowledged that employees' salary payment is important but the employers may not have the finances for it.
So on 4th June 2020, the Supreme Court released a statement which reserved the MHA order published on 29th March 2020 until 12th June 2020. Until 12th June, no corrosive action can be taken against any employer if they are unable to pay their employee's dues. After 12th June, a further decision will be taken on the matter.
Watch the video below for more details.
Join the LLA telegram group for frequent updates and documents.
Download the telegram group and search 'Labour Law Advisor' or follow the link – t.me/JoinLLA
It's FREE!