As a salaried employee one might move or change jobs from one company to another. In such cases, it is advisable to transfer your Employee Provident Fund (EPF) too, which is a fairly simple task nowadays with the introduction of the Unified Account Number (UAN) for the Employees' Provident Fund Organisation (EPFO) members. An employee can either completely or partially withdraw his EPF balance or he can have his PF transfer from his old to his new employer. This process needs filing up of the Transfer Form online on the PF portal. Upon submission of the transfer form, the current or previous employer has to approve it. This PF transfer approval is only possible by the employer. It cannot be done by the employee. For this process, it is mandatory that the employer's Digital Signature is uploaded on the employee PF portal and it is approved by the local PF office. The digital signature's status should be Active.
Documents Needed for PF Transfer Online
The followings documents are needed by an employee for his PF transfer online:
An active UAN and mobile number
Bank account and bank IFSC code
An approved e-KYC
Digital registered authorized signature of either previous or current owner
PF account numbers of previous and current jobs
Steps For PF Transfer Online
Open the Unified Portal website on any browser.
Fill in your UAN, PASSWORD, and CAPTCHA to sign in to your account.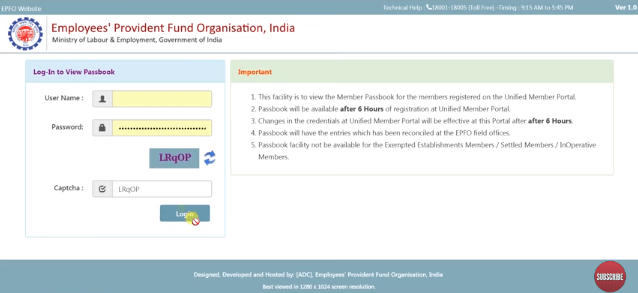 Go to ONLINE SERVICES drop down and click on ONE MEMBER – ONE EPF ACCOUNT (TRANSFER REQUEST).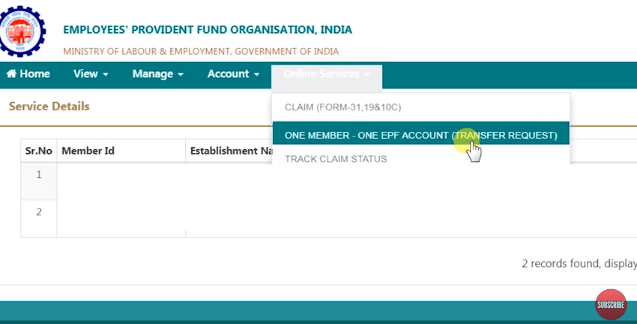 Check that all your information and PF account details of the current job are correct.
Click on GET DETAILS to get PF account details of the previous job.
Now choose either your previous or new employer for attesting your claim form. This depends on the authorized signatory holding DSC's availability.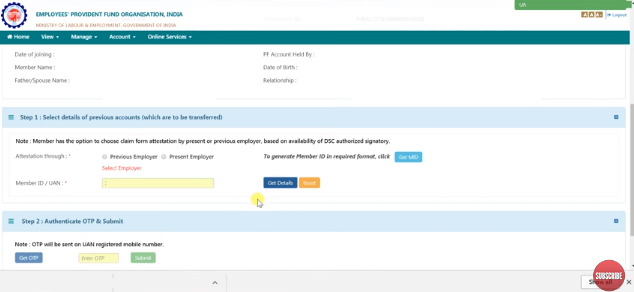 Fill in MEMBER ID/UAN details of the employer you pick.
Next click on GET OTP to receive an OTP to your UAN registered number, enter the OTP on screen and click SUBMIT.
Your chosen employer now needs to digitally approve your PF transfer online request, by accessing the employer interface of the Unified Portal.
Print out Form 13, sign it and submit it to the employer to complete this whole process within 10 days.
Watch the video on this tutorial below.
Steps for PF transfer online approval by the employer
The following procedure can only be done by the employer.
Login to the employee PF portal.
Fill in your Establishment's Username and Password and click on Sign In.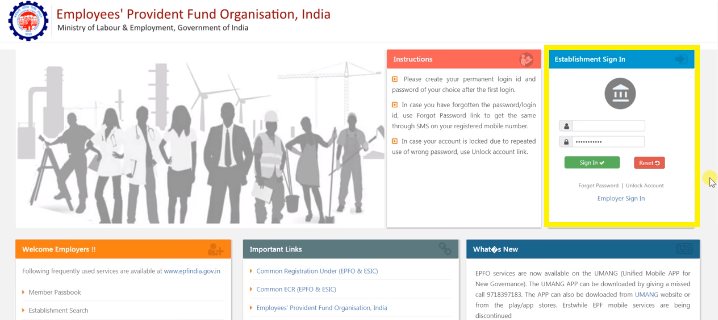 A new window will appear. From the drop-down option Online Services, click on Transfer Claims. This will open a new window to show all pending PF transfer approval cases which need employer's verification.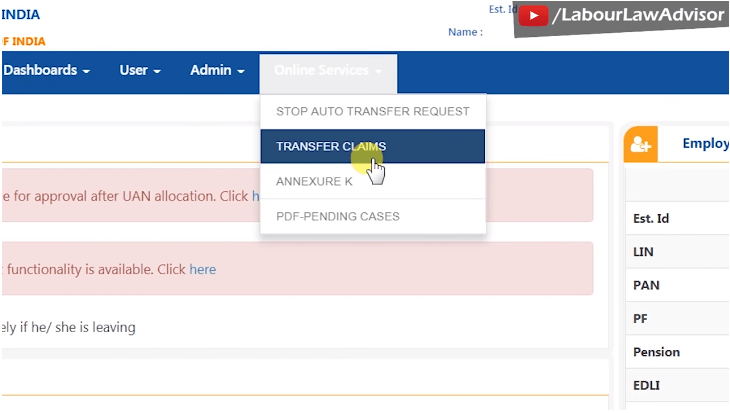 If the UAN remains the same for the previous PF and the new PF, then transfer approval can be done easily.
Click on the entry to reveal the change in PF details.
Check all the parameters and click on Approve (DSC). If the Digital Signature is Active then a pop-up window will appear asking for the password. Please put in your password and click on Approve.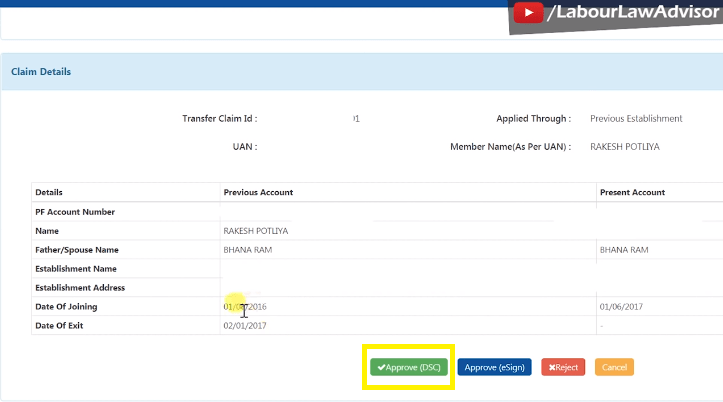 Here is a detailed tutorial for the process below.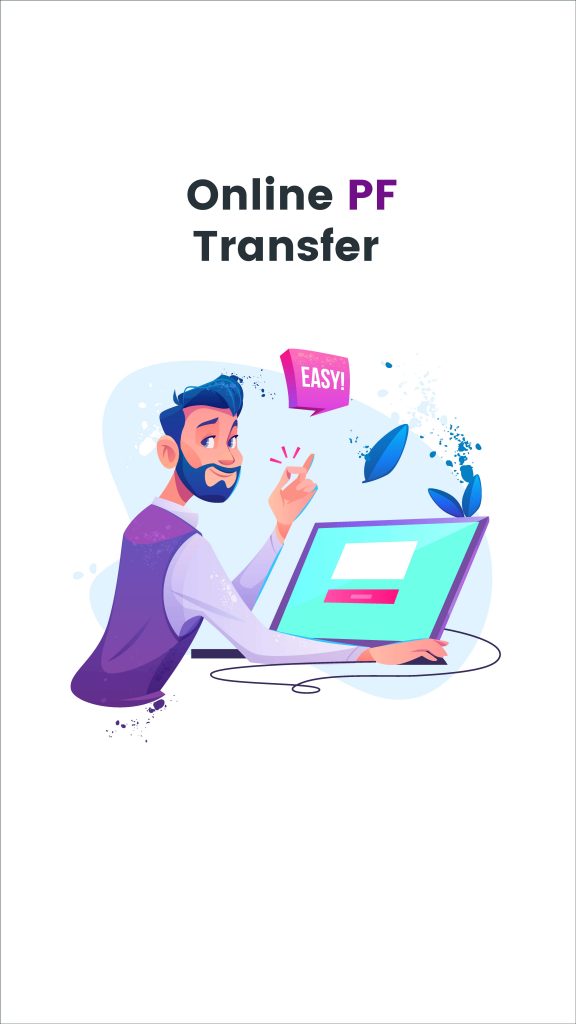 Old PF To New PF Amount Transfer Will Soon Become Automatic
According to the latest news from a labour ministry official, employees subscribed to the Provident Fund (PF) scheme will no longer have to file a transfer claim with the Employees Provident Fund Organisation (EPFO) upon changing their jobs. This is because online PF transfer is set to become a fully automated process soon.
Current PF Transfer Process
Currently, employees subscribed to the PF scheme need to file a PF transfer request, whenever they change their jobs. This is concurrent in spite of possessing a Universal Account Number (UAN). Due to this issue, the EPFO would receive around 8 lakh PF transfer claims a year. Presently, when an employee changes his job, he has to give his UAN to his new employer. The new employer then uses it to deposit his PF amount. But the catch here is that the UAN does not show the PF amount that the employee received on his previous jobs and the interest he accrued on that. Hence, the employee requires to file a manual claim online using his UAN. Then only he receives credits of his PF deposits during his last employment.
Latest Online PF Transfer Update
This being such an elaborate and taxing process, it was a relieve for PF subscribers to hear this latest news; wherein the official said that the EPFO is testing out the automation of PF transfer upon job changes on a pilot basis. This online PF transfer facility is expecting to roll out from the upcoming new fiscal year. The official went on to explain that the EPFO had hired the C-DAC to study their operating system so that they could ultimately become a paperless organization. Right now, the EPFO does 80% of their work online. So the online PF transfer process would help them even further in going completely paperless.
The official said, "After the automation of the EPF transfer on changing jobs, the subscribers would be benefitted immensely as the UAN would be like a bank account. No matter a subscriber changes place or employer, his or her social security benefits would be accessed through the UAN. That would remain the same throughout his or her life."
Important Points for Online PF Transfer
Upon joining a new company, the employee is asked to fill a Composite Declaration Form known as Form F11; by his new employer. Be sure to input your details correctly on it, especially your UAN.
The employee has to mandatorily activate his UAN as well as link it to his current mobile number. Learn to activate your UAN here. In case you wish to change your UAN linked mobile number, check this video here.
If the employee's UAN has been linked to his Aadhaar number and it has also been verified by his previous employer, then he will a message alert about the online PF transfer process on his registered mobile number automatically.
If the employee does not give a stop the auto PF transfer request then the online PF transfer will automatically happen within 10 days of the message being sent. This auto-transfer request can be stopped though via his previous or current employer. For this, the employer has to go on the PF employer's portal and select STOP AUTO TRANSFER REQUEST.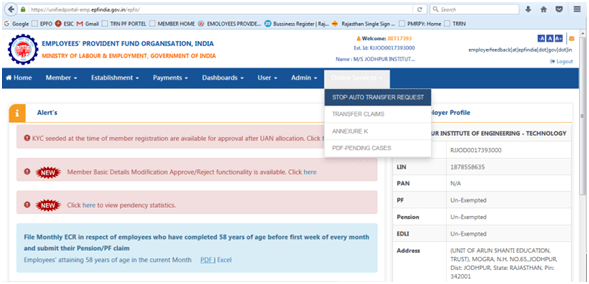 The auto-transfer request will initiate only when the new employer makes at least one month's contribution to the employee's new PF account.
The employee has to ensure that his last employer has approved his KYC, especially his Aadhaar KYC, through their digital signature. You can check out this video to inform your employer on how to do DSC approval on PF portal.
The employee has to ensure that his last employer has properly submitted his exit date and exit reason on his Member Profile on the PF portal.
Here's our in-depth video on this topic for your viewing below.
PF Money Transferred but Pension Money Not Transferred
When one transfers one's PF amount from a previous account to the current one, what happens to one's pension amount? Does it also get transferred or is it withheld? If it is also moved to the current account, then why doesn't it show up in the transfer information. Before we proceed to answer these questions, it is important to touch the basics. Even as you work in two or more companies, the UAN number linked to your statutory retirals remains the same. However, with each company, you get a new provident fund (PF) number. The one which is linked to the current company remains active, and the ones linked to your previous companies become inactive as soon as you leave them.
Therefore, it is imperative that you should keep transferring your funds from the old PF numbers to the current one from time to time. If you fail to do so, you will neither be able to take any part of it in advance nor withdraw the accumulated sum of money once you leave a firm. Hence, ensure to transfer your funds from the old PF number to the new one before switching to a new job.
What happens to your pension fund when you transfer amount from your previous PF to the current PF?
Firstly, you need to download the copies of the passbooks linked to both the old and new PF accounts. In case you have worked for more than two companies, you need to download the passbook of the PF accounts linked to those companies. Whenever you move your funds from the old PF account to the new one, it is essential to check your claim status from time to time. To do this, you need to Google search for "PF claim status". Then click on the first link and enter your UAN number and captcha. Thereafter, you will be able to see the details of your claim status on the screen. If the status shows "settled", it means your PF fund has been successfully moved to the new account from the old one. Along with it, you will also get to see the account number from which the transfer of the amount has taken place.
Secondly, you need to download all the PF account passbooks. Some people tend to rejoin the same company after leaving it in the past. In such cases as well, you get a new PF number for rejoining the same company. Hence, it is essential for you to download all the PF account passbooks linking to the individual accounts to avoid hassles linked to the transfer of your PF funds.
At the outset, it may look like the transfer amount is not arriving, but the passbook is reflecting the new PF amount. You may be under the impression that if the status of the pension amount shows transferred in the old passbook but not in the new one, it means somehow it has been withheld.
Things to keep in mind for PF Money Transfer
The only thing you need to keep your eye out for is whether you have received the entire PF amount in the current account. If this has been done successfully, there is no cause for concern even if you do not see your pension amount, as seen in the new PF passbook below. The pension amount is not calculated on the actual amount; instead, its calculation is based on certain formulae. It solely depends on two aspects: your contribution towards pension every month, and your actual number of working days in a month. An important thing to remember here is that your pension amount has nothing to do with the actual amount of pension which you are supposed to accumulate on your account.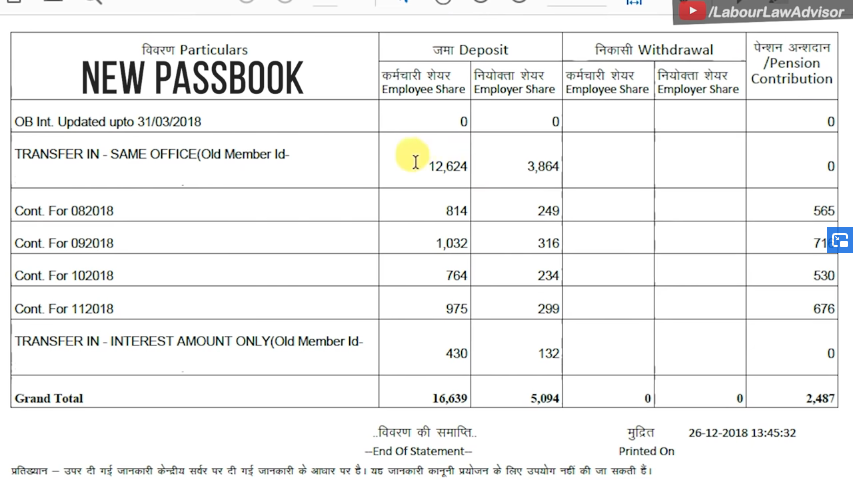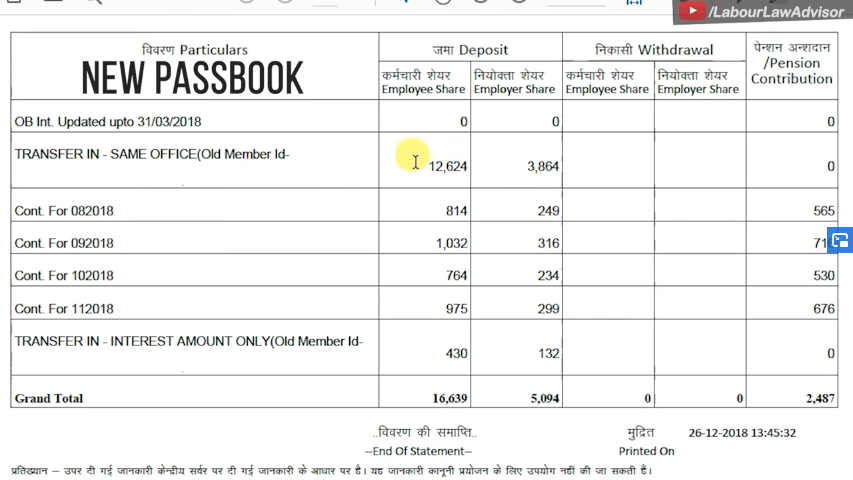 When your PF fund is going to a new account, your actual pension amount does not migrate to it. Instead, it leads to the updation of your service history. One of the benefits of this process is that the details of your pensionable service and your PF wages for the period comes under automatic calculation. If these two aspects updates successfully, you have no cause for an apprehension even as the pension amount remains invisible in the details of your new PF account or shows as "0", as seen in the old PF passbook below.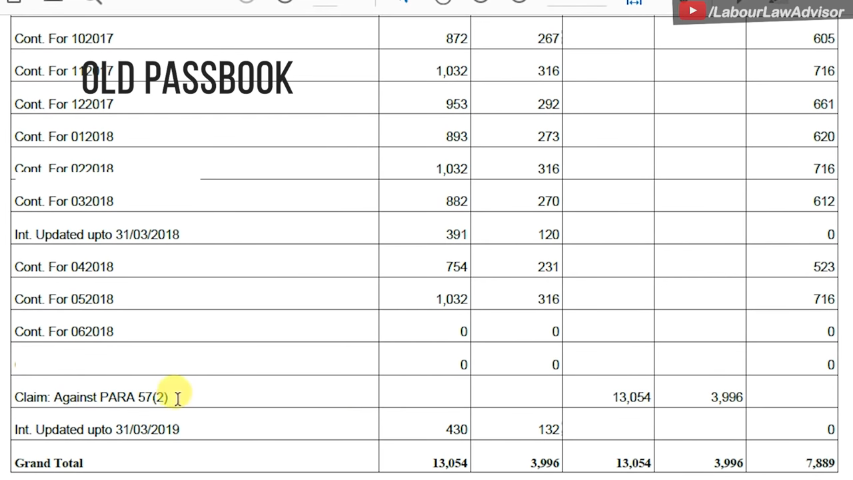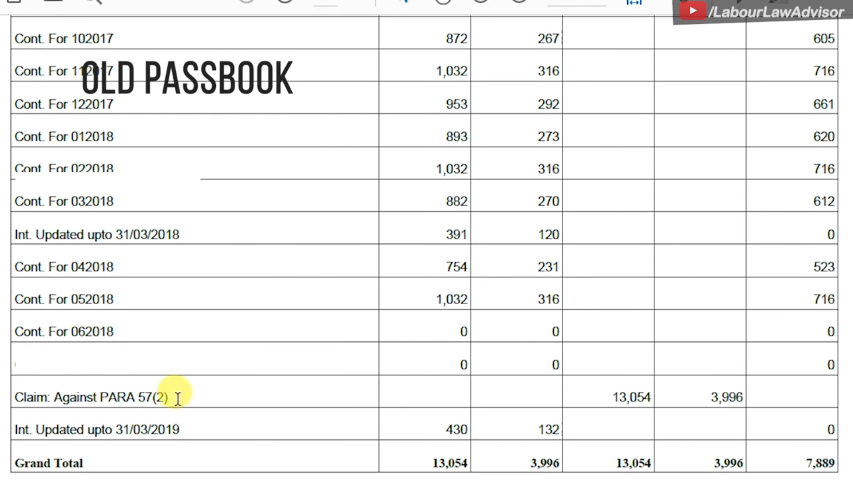 How can you check the details of your service history?
Visit the official website of the Employees' Provident Fund Organisation, India.
Click on the "Member Portal" option and log in to your account using your credentials.
Click on "View", followed by "Service History" from the drop-down list.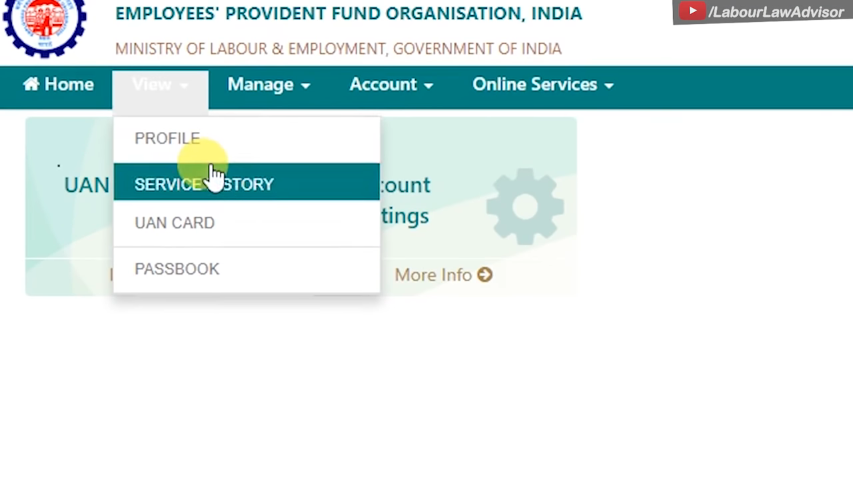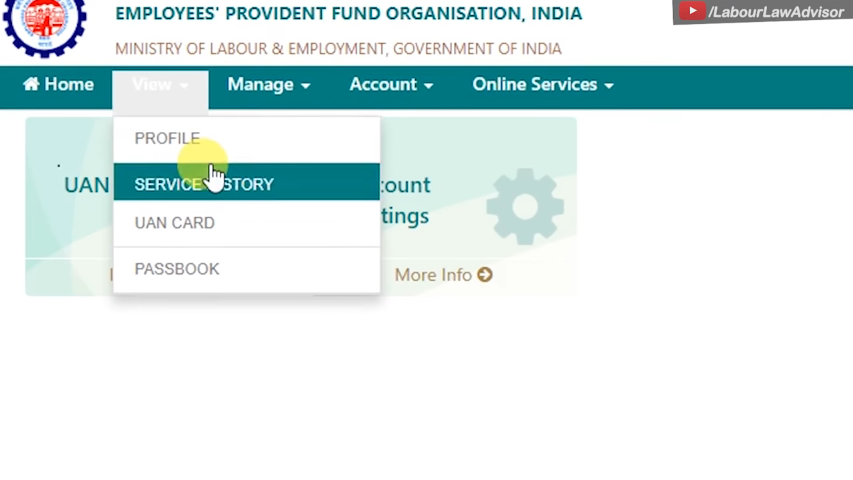 Once you do this, you will come across all the information about your service history with various organisations. You can also find your date of joining an organisation and your last working day in it. While calculating your pension amount, these considerations are necessary.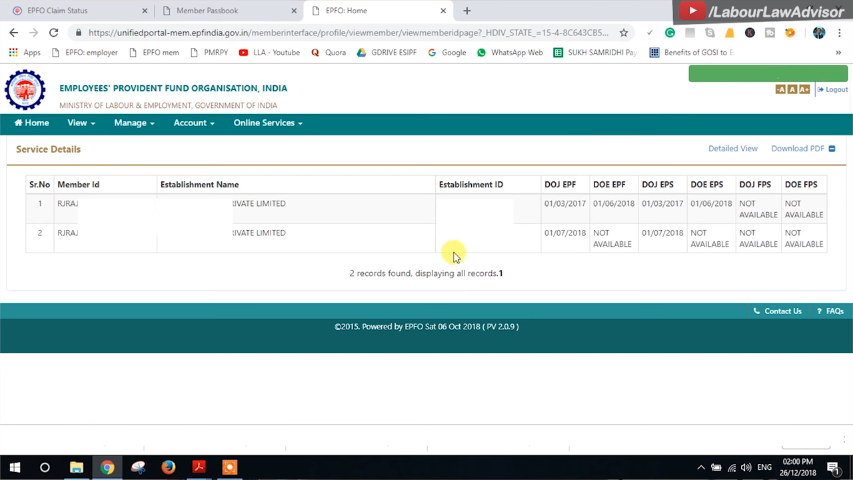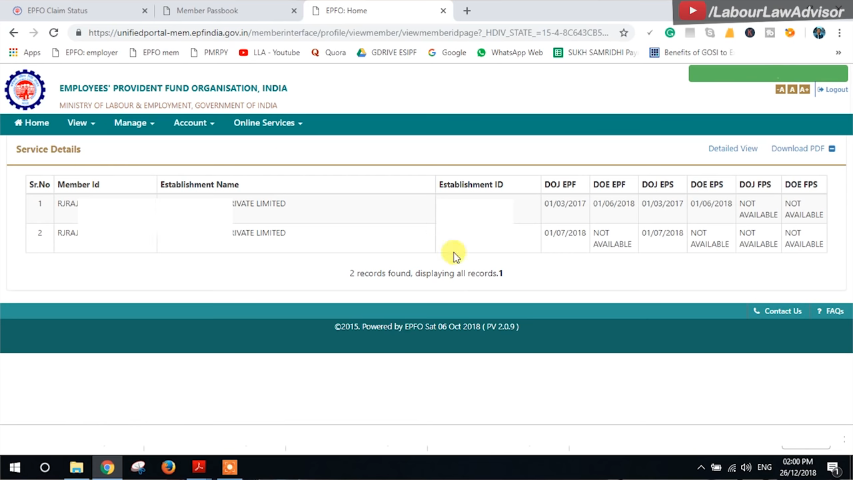 So, it boils down to whether your service history has been updated or not. You can rest assured that all is well with your pension amount if your service history is up-to-date on to your new account. Make sure you fill-up the "Form 19" for claiming the amounts of both your PF and pension. Don't forget to watch our video on this below.
Join the LLA telegram group for frequent updates and documents.
Download the telegram group and then search 'Labour Law Advisor' or follow the link – t.me/JoinLLA.
It's FREE!