EPF Joint Declaration Form is the only option available to correct various EPF related errors. Since EPF Refund, Transfer and Claim are all executed online, the correct data of a member on the EPF portal is a must. Thus, without the correct data, the Aadhaar number cannot be linked and the online claim is not possible. In case of small changes such as Name or DOB, you can do it online via Unified Member Portal. You can find that process in this video and this blog. But major changes such as Date of Joining, Date of Exit, Reason of Exit or Father's Name can only be rectified by Joint Declaration Form.
What is a PF Joint Declaration Form?
Joint Declaration Form is a combined form signed by the employee and employer both and it is used for correction in the PF member portal.
Joint Declaration Form uses for PF correction:
An employee can request the following changes through the EPF joint declaration form:
Name of the employee
Father/Husband name
PF/EPS account number
Your date of birth
Date of joining the company
Date of leaving the company
Gender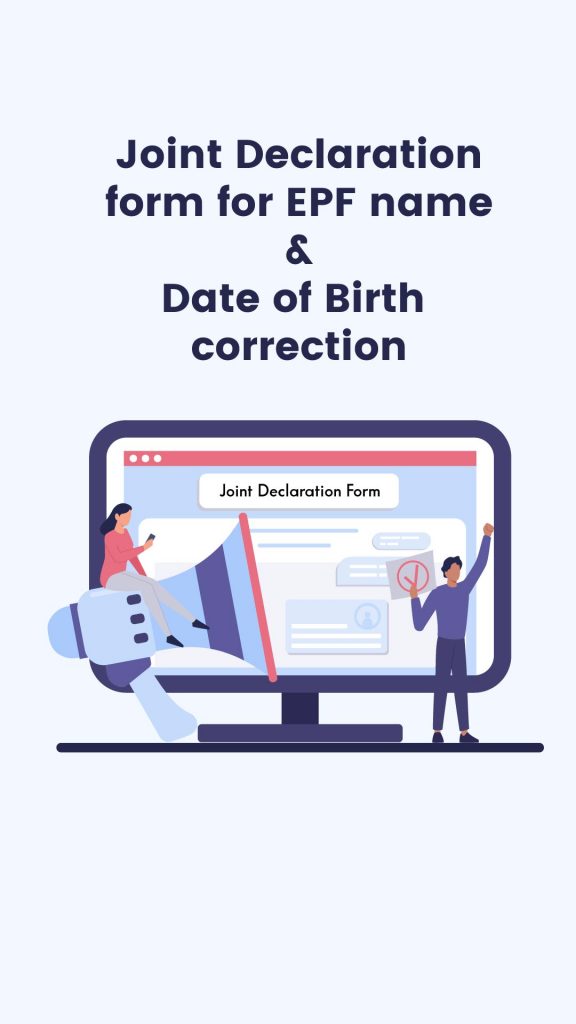 The Format of PF Joint Declaration Form:
Heading: Joint Declaration of EPF by the Member & Employer
Date: your date of submission
To the Regional PF Commissioner: mention address of the regional PF office
Subject: Joint Declaration of EPF by the Member & Employer
Mention your name
Mention your company's name
Establishment code: of your company
Establishment name: of your company
UAN number: your personal UAN number
PF number: your personal PF number
Make a table mentioning the parameters you want to change, along with the correct entry and the wrong entry in your account. This can have as many parameters as you need to correct.
Attach self-attested copies of following documents as proof: PAN card, voter ID card, passport, driving license or Aadhar card.
Name & signature of applicant: mention your name and signature.
Name & signature of authorized signatory of establishment: name, signature and company seal, which is of utmost importance, of your employer. Without the company seal, the document will be invalid.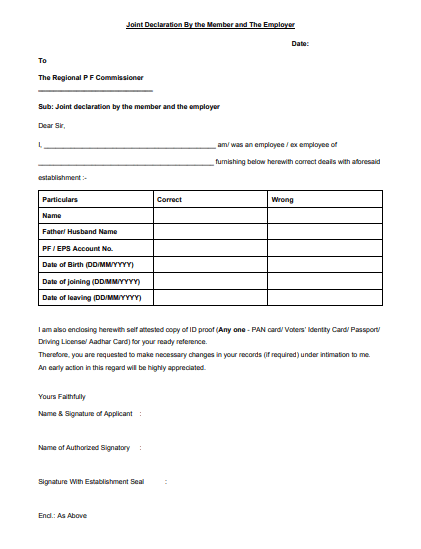 Steps to Fill the EPF Joint Declaration Form Offline:
Download the PDF version or use the format given below.
After To The Regional PF Officer, fill in your local PF office address and city name, in the space provided. To find out your local PF office address, check out this video.
Fill all details in the first half, such as Establishment Name, Code, UAN and your PF number. If you do not know your establishment code watch following video – "How to know establishment code in PF".
Now in the second section fill only the rows where you want any correction. For example, if there is a correction in Date of Exit then leave others blank.
Print 2 copies of this document and sign both.
Get your current/last employer to sign both the copies and stamp them with the company seal.
Attach self-attested proofs along with company seal sign to verify your changes.
If you want to correct your Date of Joining or Date of Exit, then appropriate proofs such as ECR of that month and attendance sheet copy must be added.
If your Reason of Exit has been mentioned incorrectly, then you need to provide documentary proof for that as well.
When there is more than a year difference in DOB then the correction is difficult. In such cases, either the Passport or School Certificate or Mark sheet or DOB certificate must be added to correct DOB with a difference greater than 1 year.
Submit one copy of this to the PF department. The second copy you can keep with yourself as proof after you have gotten a "Received" stamp on it from the PF department. along with the submission date.
Depending on the workload at the PF department, your correction should be done within 3 to 7 days.
You can download the PDF format of the form here.
You can download the Word format of the form here.
Please don't forget to check out our video on this topic below!
Learn How to Correct Name / DOb online on Pf portal
Want to know more about Employees Provident Fund (EPF)? Read 5 rules for easy PF calculation.
Join the LLA telegram group for frequent updates and documents. Download the telegram group and search 'Labour Law Advisor' or follow the link – t.me/JoinLLA
It's FREE!