Being a YouTuber may seem like a lucrative job but just how rewarding is it? Is it as easy a ladder to success as everyone thinks it is? Or are there some shortcuts to making it a success? In this article, we go through the procedures which enable a person to earn money as a YouTuber and have a livelihood through this social media platform. Read on to find out more!
Methods to earn money as a YouTuber
1. YouTube partner program
What is the YouTube partner program?
The YouTube partner program enables YouTubers to run monetize their video. YouTubers can get paid through views and through advertisements running on their videos. YouTube earns its revenue when advertisers pay them to run ads on its platform. YouTube receives Cost Per Click (CPC) or Cost Per Impression (CPI) as revenue generation. It keeps 45% of the payment and forwards the remaining amount to the YouTuber. The blended average which YouTube shows its content creators is called Cost Per Mille (CPM). This is the amount YouTube pays to content creators for 1000 views.
What is the eligibility criteria for this program?
To be eligible for the YouTube partner program, YouTubers must have over 1000 subscribers on their channel. Additionally, they must have 4000 hours of viewership on their channel. This 4000 hours watch time must be consistent for the last 12 months as well. Else the YouTuber can be disqualified.
What are the ad revenue rates?
YouTube receives ad revenue from the company, whenever its ad is played on a video. This is regardless of the ad being skipped by the viewer or not. YouTube keeps 45% of the revenue and pays 55% to the content creator. But the important point to note here is that the number of subscribers on a channel is not relevant to the amount earned. Thus, there is no correlation between views and revenue or subscribers and revenue.
It all actually depends on the number of ads or monetized playbacks. These are the videos on which ads are played. Hence, ads dod not get played on all the videos made by content creators. And there is no control over monetized playbacks. One can earn money as a YouTuber on the basis of CPM (Cost Per Mille). This amount is equivalent to 1000 views on a video. The CPM varies from country to country. In India, the CPM is approx $1/1000 views. Meanwhile, the CPM in the USA is $12.91 and in Australia is $9.23. Hence, CPM depends on the audience you receive for a video and not just on the number of views alone. If the audience is from a higher CPM country then your ad revenue for that video will be higher.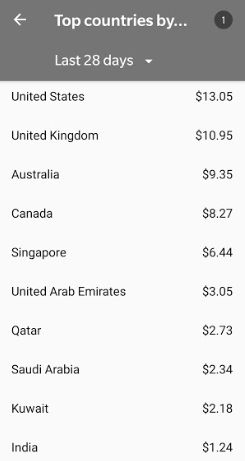 Another major point is the length of the video, If the video is substantially long then there are places for multiple ad breaks. This generates more ad revenue. Also, a key role is played by the topic of the video and the keywords used. If the advertiser is looking for certain keywords which match with your content then more ads will run on your video. Thus, more views and more revenue. The video content also plays a big role. If the video content is advertiser-friendly then you get more ads on it. Videos with certain words or propaganda can also get demonetized. That is, no ads can run on them at all.
Pros and cons
Overall, it is an 80:20 formula. Where 20% of your videos will usually generate 80% of your revenue. This is key to remember to earn money as a YouTuber. Pros of being in this YouTube partner program are the lack of any additional effort. Videos made in the past will keep generating ads revenue if they keep getting views. Furthermore, you can track your channel progression via the YouTube Creator Studio. You get automatic payouts on the 21st of every month. It is good for creators with mass content such as entertainment or how-to videos which automatically attract views.
Cons of this program are that you have no control over the ad revenue generation. It is an uncertain passive income, which can be high or low any month. Doing niche content with a small target audience will not generate enough views. There is also the problem of getting demonetized or copyrighted. Hence, if you want to earn money as a YouTuber just on this basis then it is not the best choice. It is not a reliable source of income.
2. Sponsored videos
What is a sponsored video?
Another method to earn money as a YouTuber is by doing sponsored ads. This occurs when companies instead of running ads on YouTube, directly approach a YouTuber to talk about their product. Here, it is the content creator's responsibility to thoroughly research the product/service before making its sponsored ad. Creating a biased, misleading sponsored ad content is something one should refrain from. The sponsored video content should relate to your brand as well. It must be something which you will actually use in your daily life, so as to avoid putting on a fake act on your video. Since viewers are quick to call you out on this. Hence, make your content genuine.
Sponsored videos can be done in two ways. Either you can make a complete dedicated video about the product. Where the whole video revolves around the sponsorship product with a tutorial for usage and your impressions about it. Example this content made on Zerodha, Open Demat Account With Zero Brokerage Fee. Else you can mention the product at the end of the video as something which you recommend your viewers to try.
How to get sponsorship for videos?
To earn money as a YouTuber, sponsorship ads play a big role but they are difficult to find. The YouTuber must have a good subscriber count. His videos must have predictable traffic and consistent high viewership. Then the company may feel that their risk of sponsoring your video might pay off. You can begin doing sponsoring videos from your very first content. Especially if you are creating a second channel after having a successful primary channel for some time.
How much can you earn from sponsored videos?
Sponsorship fee can range anywhere from Rs 3000 to Rs 1.5 lakh. This is all dependent on your videos view count, your subscriber count and most importantly your negotiation skills. You will need to prove to the sponsorship brand that you are a dependable content creator who has a popular following and people actually do listen to you and trust your feedback. Engagement on your channel plays a big role here.
Pros and cons
Sponsorship works really well for those niche channels where the brand can sponsor you for a couple of videos at a time. Such as cooking, educational, art. Getting a deal with the brand for your viewers such as cashback offer or discounts are also added benefits. This way there is something for your viewers as well.
Although it is not easy to come across sponsorships regularly. So then you have to approach brands your self and give them a performance report to prove your channel's standing. You also have to have good negotiation skills to sell and market your channel. But most importantly, never try selling any product to your viewers for short term cash. It will inadvertently harm your long term goals. So always choose relevant products to promote and be honest about your opinions on it.
3. Affiliate links
What are affiliate links?
While the YouTube partner program and sponsorship videos are difficult to get, affiliate links are a comparatively easy way to earn money as a YouTuber. In this, YouTubers provide affiliate links on their content and when their viewers use those links to purchase then the YouTubers receive a commission from the brand. This is helpful for channels which review new products and recommend products/ services based on their impressions of it.
Most online shopping websites provide affiliate link options. Example, Amazon, Flipkart, eBay, MakeMyTrip, OYO, etc. Rates for commission payment differ from brand to brand.
How much do you earn?
But the amount you can earn money as a YouTuber through affiliate links is quite low. This happens because not all of your viewers will purchase that product. Only 1-2% will end up buying the product. Commission rates are usually as low as Rs 10-20 per sale. So, the total income does not add to a lot. Many brands do not go for sponsorship at all. Instead, they ask you to join their affiliate program. Then you get a commission from all the sale from your affiliate link. Examples of such brands are Zerodha, Meesho, Udemy, Skillshare.
Pros and cons
There are no limitations for eligibility to get an affiliate link. So, your subscriber count or views do not matter. You can earn money as a YouTuber through affiliate links even if you have zero views and are just starting out. Your viewsers also don't have to pay anything extra to buy using affiliate links. Many times the affiliate links get them discounts too. So it is a great way for them to support you. The downside is that it is difficult to trust the companies giving these affiliate links. Many times they pay you less than promised or pay nothing at all.
4. Crowdfunding
What is crowdfunding?
The next way to earn money as a Youtuber is via crowdfunding. Crowdfunding is essentially getting contributions from your viewers for monetary support. In return, you can provide some exclusive content to just those subscribers. The main aim of crowdfunding is support from your subscribers for you to keep creating content. This can only happen when people like your work and the content you create. Crowdfunding can be done via multiple websites such as Patreon, PayPal, etc. Patreon makes it possible for fans of YouTube channels to subscribe to extra benefits.
How much can you earn?
Patreon takes a minimum amount of $5. The maximum amount can be set by the YouTubers. YouTubers can also create packages for a subscription. For example, they can choose to pay $5 a month to get early video access, $10 a month to get some behind the scenes footage, $15 a month to get access to extra videos, etc.
YouTube itself runs a crowdfunding scheme where viewers can click on the Join button for a channel and get access to exclusive content. In return, viewers have to pay Rs 159. YouTube keeps a part of this amount as commission and pays the rest to the YouTuber.
Pros and cons
Crowdfunding does not guarantee any set amount of income to earn as a YouTuber. The amount may not even be consistent month on month. Also, the amount may not be a lot.
5. Launching your own product
What is it?
Creating and selling your own brand products/services is another way to earn money as a YouTuber. One way is to create your own merchandise such as apparel, stationery, etc. This helps when your audience has an interest in buying such merchandise. Another option is to create digital courses for your audience. But again, your audience must have an interest or need for such a course. Some ideas earn while some don't, it all depends on your niche and audience.
What is takes to build a YouTube channel?
If you are serious about becoming a fulltime YouTuber, then you need to look into certain investments as follows:
Equipment – camera, desktop, mic, lights, tripod, memory card, etc.
Office/Studio for shoots – rent, maintenance, furnishing, electricity.
Salaries/Hiring of staff – editors, content writers, researchers, business developers.
Travel costs – for a shoot, business development, networking.
Other expenses – software, website creation, staff welfare, etc.
Only when you are willing to give it your 100%, will you be able to become successful on this platform. Watch our video on how to earn money as a YouTuber below.
Join the LLA telegram group for frequent updates and documents.
Download the telegram group and search 'Labour Law Advisor' or follow the link – t.me/JoinLLA
It's FREE!