When one party appoints another party to get some work done and pays a certain amount for the service provided, it is known as freelancing. Freelancing can be done from any part of the world, at any preferable time, and without formal or corporate clothing. The individual who takes the freelancing work is known as a freelancer. Demand for freelancers is increasing day by day. Companies and organizations prefer appointing third parties to get their work done. Freelancers are the ones who are not liable or fixed employees for any one organization, and thus they can have multiple bosses and work ok multiple projects at a time. We recommend the best YouTube channels for freelancers to start their freelancing careers.
Office set up cost for freelancers
Freelancing hardly costs any money but it costs your time. You need to invest your valuable time for a successful freelancing career. In the beginning, to get more clients and projects you need to hustle and invest your quality time but your hustling will reduce once you start getting projects. If you don't have any equipment and want to start a freelancing consultancy, your actual investment should be in
Mobile/ Desktop/ Laptop
High speed internet connection
Skill development
Stationery (notebooks, pen, pencil)
These are the actual things where you need to invest in the beginning.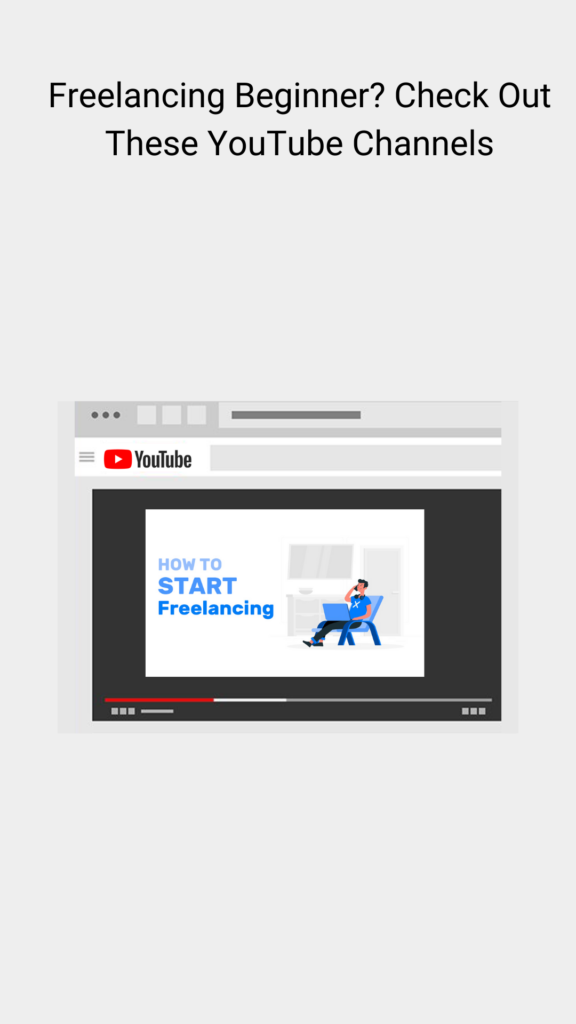 Are YouTube channels useful for freelancing?
We as human beings always prefer visual content more. When we get tips and guidance in video format, it becomes easy to understand and grasp. In this blog, we have listed a few YouTube channels that are resourceful for freelancing. These channels provide step-by-step guides, case studies and make detailed videos related to digital marketing, freelancing, content writing, blogging, etc. With the help of these channels, one can learn how to boost their career and can get proper knowledge and guidance for the set up of freelancing offices, rank gigs, and promote their work on different social media.
Best YouTube channels for freelancing
1. H-EDUCATE
Hasan is the founder and the instructor of H-educate. He has more than 500k students worldwide. The videos of H-educate include step-by-step guides, case studies, and tutorials for freelancers. The main focus of the channel is freelancers at the entry-level or beginners. Also, Hasan has free digital marketing tools for keyword research, SEO analysis, and email and data extraction.
2. BetterCreator
BetterCreator is a YouTube channel for creators and freelancers to earn extra income. The videos on the channel are mainly related to business ideas, freelancing, and the economy. The channel is managed by Mahendra, who is a full-time freelancer and a coach and guide to new freelancers.
3. HBA Services
HBA service was founded in the year 2019 by Hafiz Ali who is a five-star freelancer in data and email extraction. The channel initially began with videos on the concept of how to make online money, but later on, the video focus went onto freelancers and data extractors. The channel has a number of videos on freelancing, how to start a freelancing career, easy ways to attract clients, how to design gigs, and also how to promote gigs. Hafiz Ali is a full-time freelancer and the founder of HBA service (freelance consultancy).
4. Sanjiv Kumar
Sanjeev Kumar Jindal is the founder of this YouTube channel. He is an HR professional for the last 27 years. This channel focuses on different ways of getting jobs and starting a freelancing career. The channel has videos related to full-time jobs, part-time jobs, freelance jobs, and also tips and tricks to scale freelancing. Most of the videos cover freelancers and new job seekers. The videos on this channel are all explained in detail. The videos are usually lengthy and have a step-by-step guide.
5. Shruti Rajput
Shruti Rajput is a college student and the owner of this YouTube channel as well as a freelancer trying to earn some extra money for her personal expenses. The channel is based on how to make money online through different freelancing websites like Fiverr and Freelancer. The videos shared are based on personal experience and knowledge.
6. Ishan Sharma
Ishan Sharma is a freshman at BITS Pilani, Goa, pursuing Electrical Engineering. The channel has a number of videos for freelancers and there are a number of interviews and interactive sessions with CEOs and other successful freelancers. Moreover, Ishan Sharma shares a number of videos related to software development and how he earned his first 7 figure income with the help of freelancing websites.
7. Viral Pur
Himanshu Mehta is the founder and illustrator of Viral Pur. The videos on these channels are mainly based on working online on freelancing sites and also using mobile to start a freelancing career. The channel is mainly for students and work-from-home opportunity seekers. It has a complete video on how to set up a freelancing office at home. There are a number of videos on transcription and copy-paste work on this channel that help freelancers to start their content freelancing journey.
8. Lets Uncover
Soban Tariq is the instructor and founder of Lets Uncover. He is a Pakistani YouTuber. He is a freelancer and uploads videos mainly for freelancers. Most of the videos are related to freelancing, online earnings, and also lifestyle. There are a number of videos on using digital mediums to scale online business, designing and promoting Fiverr gigs.
9. Cyber Baba
It is a YouTube channel for the youngsters and students in India, who want to learn computer software, hardware, networking, and web development but due to not being efficient in English face a lot of problems. Cyber Baba is a YouTube channel that provides daily new tips and tricks about android, computers, the internet, Facebook, YouTube, mobile, google, Twitter, and other social media platforms.
You can also start an offline freelancing career and work on a freelancing basis for any private organization or company. You can directly approach clients and provide them with a portfolio of your work and then ask for an opportunity. There are also a number of freelancing jobs offered in the market. To know how to apply for the job you can refer to our previous blog on how to apply for the job for freshers.
If you want to know the different skills required to start a freelancing career you can comment in the comments section and let us know so that we can have a separate blog on it!
Also, Join the LLA telegram group for frequent updates and documents.
Download the telegram group and search 'Labour Law Advisor' or follow the link – t.me/JoinLLA
It's FREE!