In a previous article we on Smart Stock Tips, we understood what are Mutual Funds and the different types of investment options, namely, SIP and Lump Sum. In this article, we shall cover another important facet of Mutual Funds investment which is known as Expense Ratio.
What is an Expense Ratio?
Your mutual funds are managed by an expert fund manager along with an Asset Management Company (AMC). The AMC and the fund manager allocate, manage and advertise your mutual funds to gain maximum returns and handle risks. For all these tasks you need to pay an Annual Fund Operating Expense to the AMC, which is known as the Expense Ratio.
A mutual fund has a high expense ratio if its net assets are small. This happens because the fund has to cover its costs from a small asset base. Likewise, funds with large net assets have a lower expense ratio.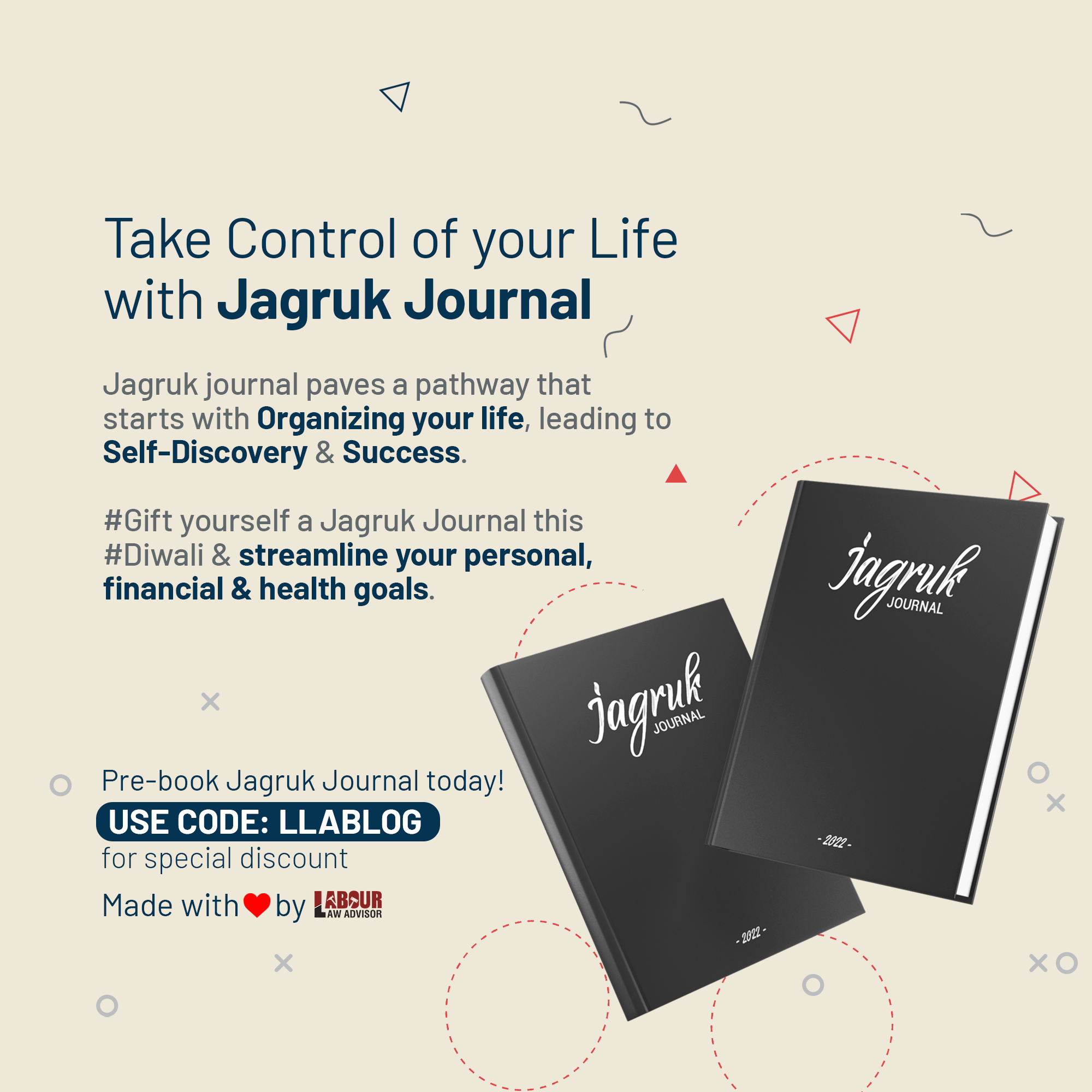 Components of Expense Ratio
An expense ratio comprises of various costs for running the mutual fund. The AMC recovers these expenses from the mutual fund investors on a daily basis. But, this expense is revealed to the investors only once on a bi-annual basis. Thus, the expense ratio has an important impact on your returns. The Expense Ratio has following components:
1. Management fees
Your mutual funds are managed by expert fund managers who use their high education levels, fund management experience and professional credentials to formulate the best investment strategies, before the actual investment in assets. Thus, they charge compensation for this expertise known as Management Fees or Investment Advisory Fee. This is approx 0.5-1% of the mutual fund's assets, annually.
2. Administration costs
This is the expense of running the fund. Thus, this includes record keeping customer support, registration, and communication costs. This varies from AMC to AMC, and is charged as a percentage of the fund assets.
3. Distribution's commission/ Advertisement expenses
Most mutual funds charge their shareholders a fee to market and advertise the fund to investors. These three fees together equal the percentage of assets which is deducted from the fund.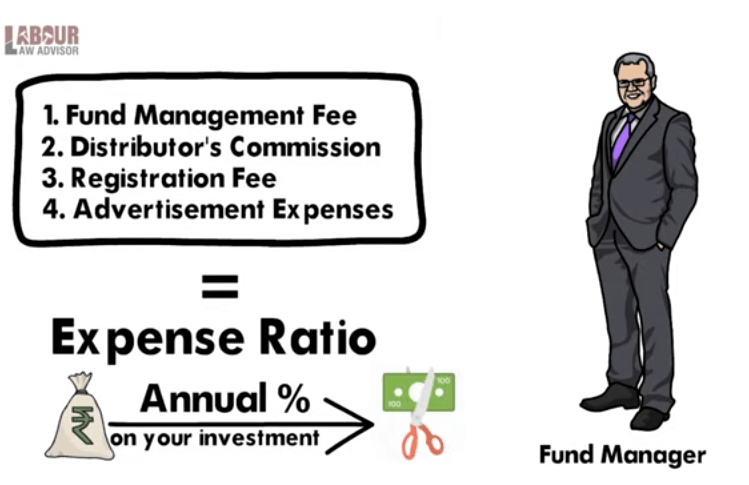 Expense Ratio impact on fund returns:
Expense ratio is an indication of how much the fund charges annually as a percentage to handle your investment profile. For example, if you invest Rs 20,000 in a mutual fund with an expense ratio of 2% then you are paying Rs 400 to the AMC just to manage your funds. Hence, if a fund has returns equal to 15% and has Total Expense Ratio (TER) of 2%, then you get a return of 13%. The Net Asset Value (NAV) of a mutual fund is given after these fee deductions. Thus, it is highly important to know how much money you are paying the AMC to manage your profile.
Expense Ratio deduction happens on a daily basis. So, if you are investing Rs 100 in a mutual fund with 2% expense ratio, then before the money goes to the mutual fund, your expense ratio will get deducted. 2% of Rs 100, divided by 365 days, will give you your daily expense ratio. The money left post this deduction will go to the mutual fund for investment.
This deduction for expenses may not sound as a lot on an annual basis. But when taking the power of compounding into consideration, you realize that your mutual funds investment will increase each year. Hence, your daily expense deduction would also increase. When you calculate this total expense after a few years, the number might come in lakhs. Which could be a loss.
Case Study 1: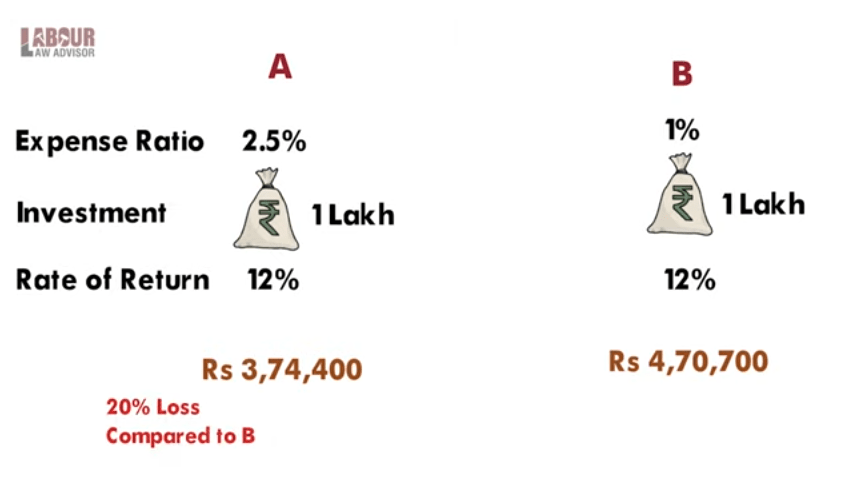 After 15 years, Mutual Fund A will give you a return of Rs 3,74,400, while Mutual Fund B will give you a return of Rs 4,70,700. Thus, A has a 20% loss in returns compared to B.
Case Study 2: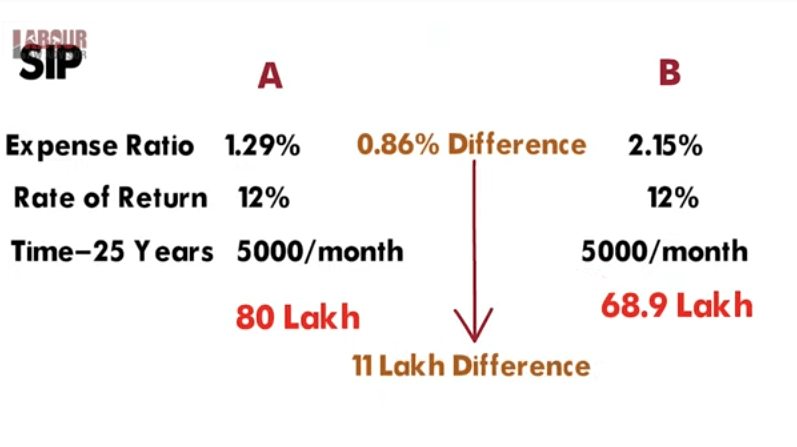 In terms of SIP, after 25 years, Mutual Fund A will give you a return of Rs 80 lakh, while Mutual Fund B will give you a return of Rs 68.9 lakh. Thus, B will result in Rs 11 lakh loss when compared to A, with a less than 1% difference in the expense ratio.

Implications:
Expense Ratio is an indication of the percentage of sales to the total of individual expense or group expenses. A lower ratio gives more profit and a higher ratio gives less profit. AMCs must manage their expenses as per Regulation 52 of SEBI Mutual Fund Regulations. According to this, the TER allowed is 2.5% max for the first Rs 100 crore of average weekly total net assets, 2.25% max for the next Rs 300 crore, 2% for the next Rs 300 crore and 1.75% for the rest of the Asset Under Management (AUM). The limitations for debt fund is 2.25% max.
Thus, for Equity Mutual Funds, even if the Expense Ratio is high, you can still get high returns if the mutual fund has a good past track record, good performance and a skilful fund manager. But for a Debt Mutual fund with an average return rate of 8-9%, a high expense ratio could result in a loss. so look for a low expense ratio debt mutual fund for investing. Similarly, Direct funds include distributor's commission and have a high ratio. While Regular funds don't and have a low ratio.
To avoid paying additional Brokerage fees, you can look for apps for investments. Kuvera App is one such app, which we have covered in detail here. You can download the app via this link and use the code LLAYT to get 100 points which you can use later for investments.
Watch our video on this topic below:

Learn some more financial tips through our following blogs:
Income Tax Return Filing For Salaried Persons | Online Process
How To Become Rich Without Hard Work | Financial Advice By Finnovationz.com
Make Money in Share Market | Financial Advice by Finnovationz.com
Franchise Business | Low Investment High-Profit Business Idea
Income Sources | Financial Advice To Earn More Money
EasyPlan – Investment Solutions
Meesho App – Earn Money Online Without Any Investment
Join the LLA telegram group for frequent updates and documents.
Download the telegram group and search 'Labour Law Advisor' or follow the link – t.me/JoinLLA.
It's FREE!