The Employee State Insurance Corporation Scheme (ESIC) was created by the Government of India, as a means of providing financial protection to members in case of an untimely health-related incident. Every company with 10 or more employees with an individual salary of less than or equal to Rs 15,000 per month, should do ESIC registration. Following are some of the latest and important ESIC news of 2018:
ESIC News 1: ESIC Medical Quota
Insured persons in ESIC, earning wages of up to Rs 15,000 monthly, can have their wards admitted to ESIC Medical Colleges across India. Hence, this reservation comes under the Insured Persons Quota, for Insured Persons (IPs) who have completed a minimum of 3 years of service under ESIC. The fees for such students would also be subsidized at around Rs 22,000 annually.
Additionally, the reserved seats for Insured Persons Quota gets pooled on an all-India basis and are allotted amongst the eligible wards of insured persons. Furthermore, the quota seats are filled n a merit-cum-preference basis via a central counselling based on the All India Entrance Test – NEET results. But due to lack of awareness of this quota, most reserved seats go vacant as people do not apply for them.
ESIC News 2: Nursing Internship at ESIC Model Hospital
During the 174th meeting of the ESI Corporation in New Delhi, the decision to begin a nursing internship program in ESIC hospitals was taken. Besides, this program was open to registered fresh graduates nurses who were looking for an opportunity to update their skills in a real practice under senior staff supervision. ESIC had opened this internship to graduate nursing pass outs, focussing on the application of nursing theory and knowledge to actual nursing tasks in a proper medical environment. Moreover, these nursing interns would receive a consolidated stipend of Rs 22,000. Selection would depend on merit. Also, the selection of around 20% of ESIC hospitals' nursing staff will be from among these nursing interns. This would also solve the problem of short-staffing at ESIC hospitals. All 160 ESIC hospitals across the country would run this internship program.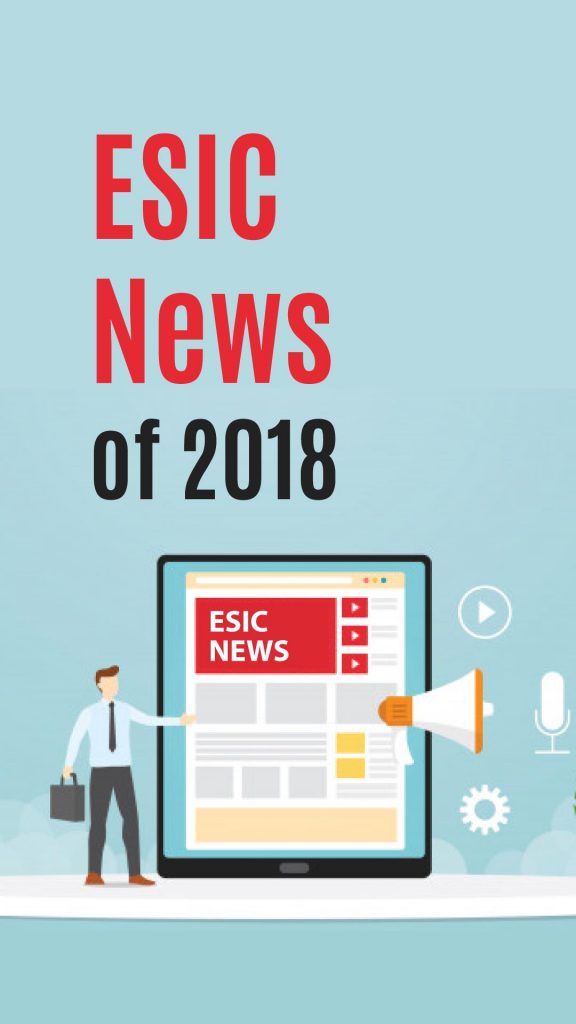 ESIC News 3: ESIC Dispensary cum Branch Office (DCBO)
Every district in India would have an ESIC Dispensary cum Branch Office (DCBO). The DCBO will be responsible for providing primary medical care services, secondary medical care referrals, inspections of secondary care referrals bills, etc. DCBO would also distribute medical drugs to Modified Employer Utilization Dispensary and Modified Insurance Medical Practitioners of the district. They will also be responsible for the payment of cash benefits and survey work for coverage in each district. The ESIC will sustain the establishment and operational cost of DCBO. This will occur without sharing, in the manner similar to the expenditure of ESIC hospitals.
ESIC News 4: ESI Employer Contribution of 4.75% to Include in PMRPY
According to the Pradhan Mantri Rojgar Protsahan Yojana (PMRPY), the government had planned in its budget of 2018-19, to meet the employer's full contribution of 12% of salary for new employees, towards their PF for all sectors for next 3 years. Similarly, there was an informal discussion of meeting the employer's ESI contribution of 4.75% for the employee's ESIC scheme.
ESIC News 5: ESIC Annual Preventive Health Checkup
Annual preventive health checkup is an ESIC department scheme. In this scheme, all IPs above the age of 40 years receive free health checkup. This is available in all ESIC hospitals. One a year they can avail this. The Labour Department wants has given a directive to the ESIC, to spread awareness of this. This will benefit around 1 crore IPs.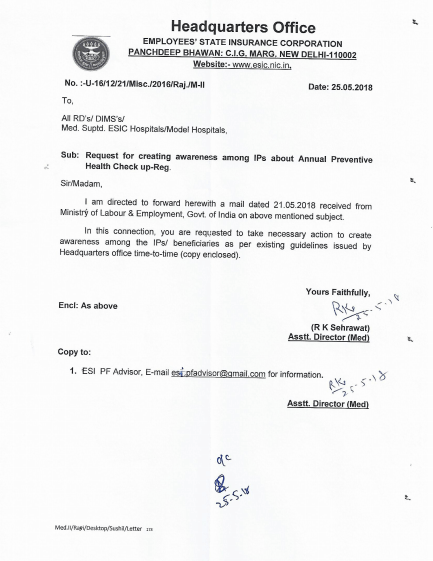 Check out our video below:
Some other important ESIC blogs to check out:
ESIC Benefits – Know More, Save More
ESI Act 1948 – Explanation With Calculation & Example
ESI Meeting: 7 Major Changes
Join the LLA telegram group for frequent updates and documents.
Download the telegram group and search 'Labour Law Advisor' or follow the link – t.me/JoinLLA
It's FREE!