Welcome to this blog with all the ESIC updates! As you must be knowing ESIC announces most of changes/announcements in its regular ESIC general meeting. This meeting happens every 6 months. This is attended by ESIC board members, employers & employee's representatives and chaired by Central Labour Minister. In this blog, we keep adding updates from every meeting starting from the 175th General Meeting and so on.
ESIC 175th General Meeting Updates (Sep 2018)
In September 2018, the ESIC (Employees' State Insurance Corporation) conducted its 175th general meeting. It was conducted under the Chairmanship of Shri Santosh Kumar Gangwar. During the course of the meeting, some crucial decisions were taken for improvements in services given to Insured Persons (IPs) and their dependents. Read on to find out the major announcements of the meeting.

Major Decisions/Announcements:
Super Specialty Treatment after 6 months
The eligibility condition for availing Super Speciality treatment saw a decrease from 2 years to 6 months. With 78 days of contribution requirement. Additionally, the eligibility for dependents of IPs to avail Super Speciality treatment saw a decrease to one year, with 156 days of contribution requirement. This reduction in the eligibility period will be helpful for IPs and their dependents in case of a medical emergency, where a large sum of money would come in need.
Sadly, this is not implemented in most areas as of Nov 2019, when we are updating this blog
Funeral Expenses Increase to 15,000
The proposal of increasing Funeral Expenses from Rs 10,000 to Rs 15,000 also got the approval. This amount would be payable in case of death of the IP.
Unemployment Wages under ESIC
A new scheme called ATAL BIMIT VYAKTI KALYAN YOJNA got the approval for IPs. Under this scheme, the IP is eligible for 25% of his average wages for the past 6 months, for a maximum period of 3 months. So if the IP were to leave his current job and be unemployed for 3 months before joining a new job, then he would get this unemployment allowance for those 3 months.
ESIC 176th General Meeting Updates (Dec 2018)
The 176th ESIC General Meeting was conducted on 5th December 2018 under the surveillance of Labour Minister, Shri Santosh Kumar Gangwar. The following decisions were taken during this version of the ESIC general meeting.
Major Decisions/Announcements:
ESIC Benefit to Non IPs
ESIC benefits will be available to non-Insured Persons as well. Thus, people who do not contribute monthly towards ESIC will also get its benefits. To avail of this benefit, non-IPs will have to make a Rs 10 OPD card. This will give them access to see a doctor at any ESIC hospital or dispensary. If you get admitted as a patient at an ESIC hospital then you will have to pay 25% of Central Government Health Scheme (CGHS) for admission. Lastly, all medicines will be available at the actual cost price. Although, these services will only be available at those ESIC hospitals and dispensaries which are under-utilized.
Measures will be taken to fill the 5200 vacancies in all ESIC hospitals and dispensaries. Vacancies are available for social security officer, medical officer, teaching facility, office staff, clerk, doctors, etc.
Employees who earn less than Rs 176 per day will not give ESIC contribution. Instead, the central government will pay their ESIC share. Thus, 1.76% of salary deduction for ESIC will be given by the government.
A gazette notification to increase funeral expenses from Rs 10,000 to Rs 15,000 was also released. Thus, the decision taken at the 175th general meeting saw a result at this meeting.
ESIC 177th General Meeting Update (Feb 2019)
The 177th meeting of ESI Corporation held on 19th February 2019 under the Chairmanship of Mr Santosh Gangwarji, Hon'ble Union Minister of Labour and Employment has taken some landmark decisions for the overall improvement of the ESI Scheme and ESIC Circular Meeting and for the benefit of the insured persons and worker population of our country.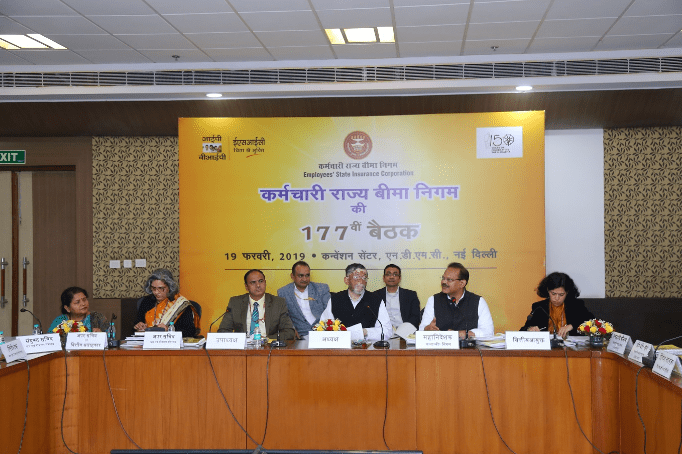 Major Decisions/Announcements:
Increase Wage Limit of Dependent Parents
Increased the monthly income ceiling limit for dependent parents from Rs 5000 to Rs 9000 (i.e., almost double the previous limit) to avail benefits under the ESI scheme.
Rationalized ESI Contribution Rates from 6.5% to 5% and the employee share of contribution has reduced to 1% and employer share to 4% (total 5% of monthly wages). As a result, this shall improve compliance and reduce the burden of ESI contribution payment. Also, the reduction in contribution rates will undergo a review again after two years.
A major decision was removing the ESI expense ceiling on IPs for the State Government. Currently, 87.5% contribution is provided by the Central Government and 12.5% by State Government running the medical scheme. The State Governments will now receive a reimbursement of the full expense required for running the medical scheme, without any ceiling. This shall help to increase the spending on the ESI Scheme by the State Government. It is a corresponding improvement in medical facilities. If this still does not bring any improvement then running hospitals should be taken over by the central ESIC board.
The sanction of four new ESI dispensaries approved for Kerala Maanamthavady, Sulthanbathery, Kannan Devan Hills and Mannamkandam (Idukki).
A Level 1 ICU to be set up at all the ESI Hospitals.
A decision was also taken to improve the Super Speciality Treatment ward and specialized medical services provided through the ESI scheme.
The eligibility for the Super Speciality Treatment will reduce to 6 months from the current 2 years.
ESIC 178th General Meeting Update (Sep 2019)
The 178th ESIC meeting held in September had several important decisions which we discuss in this article.
Major Decisions/Announcements:
A new amendment is now applicable on rule no. 52 of ESIC as per the ESIC meeting. This amendment states that the exemption limit on paying the employee's ESIC contribution has been increased from Rs 137 to Rs 176. This has been done in accordance with the increase in minimum wages to Rs 176. This new amendment is applicable from 6th September 2019 onwards.
Since many regions with newly implemented ESIC do not have adequate facilities, ESIC and Ayushman Bharat Yojana have been clubbed in these places. Hence, the ESIC meeting finalized that all insured persons under ESIC in the newly implemented regions will get medical treatment under Ayushman Bharat Yojana. The secondary and tertiary medical services will be available at Pradhan Mantri Jan Arogya Yojana (PMJAY). Furthermore, all logistics and IT facilities will be used for registration, billing, etc. ESIC medical services. For medical services exceeding Rs 5 lakh, one needs to take ESIC permission. Since PMJAY has a cap at Rs 5 lakh.
Additionally, all PMJAY beneficiaries can get medical treatments at all ESIC hospitals. Hence, it becomes redundant for a person to pay contributions to both ESIC and PMJAY. Since both facilities will now be the same.
In the ESIC meeting, another thing decided was that non-insured persons will now be able to avail medical services at under-utilized ESIC hospitals. These non-insured persons will have to pay a fee of Rs 10 for consultation. Additionally, at the rate of 25% of the CHGS package for IPD at ESIC hospitals. The CGHS rate is different per state. This facility is open for all people at Alwar (Rajasthan), Bihta (Bihar), Gulbarga (Karnataka), Bareilly, Varanasi, Lucknow and Kanpur (Uttar Pradesh). Dispensaries will also be open to non-insured persons. This will also be applicable at the under-utilized dispensary-cum-branch office (DCBO).
Since Jammu, Kashmir and Leh are now Union Territories, new ESIC hospitals will open there too. Srinagar will get an ESIC hospital with 100 beds. Meanwhile, Leh will get one with 30 beds.
ESIC Current Implementation Status in India
As per the image below e, we can note that all the green regions have ESIC fully implemented. Any company with over 10 employees has to implement ESIC in these green areas. The yellow regions have partial ESIC implementation. These regions might have lower ESIC contribution rates since ESIC has been newly or partially implemented here. Meanwhile, the red regions do not have ESIC implementation. Hence, they do not have any ESIC dispensary facilities.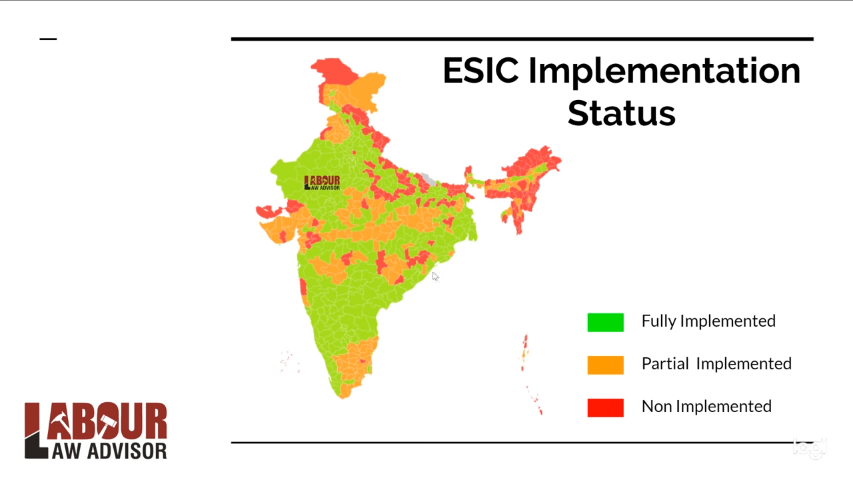 According to the above three images, the green code states have full ESIC implementation. Among the yellow code states, some districts have ESIC implementation only and the rest do not. The red code states do not have ESIC implementation in any district at all.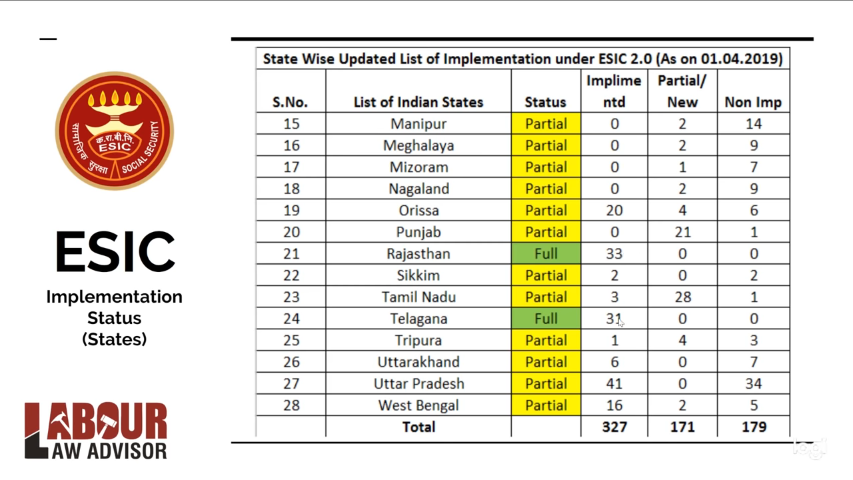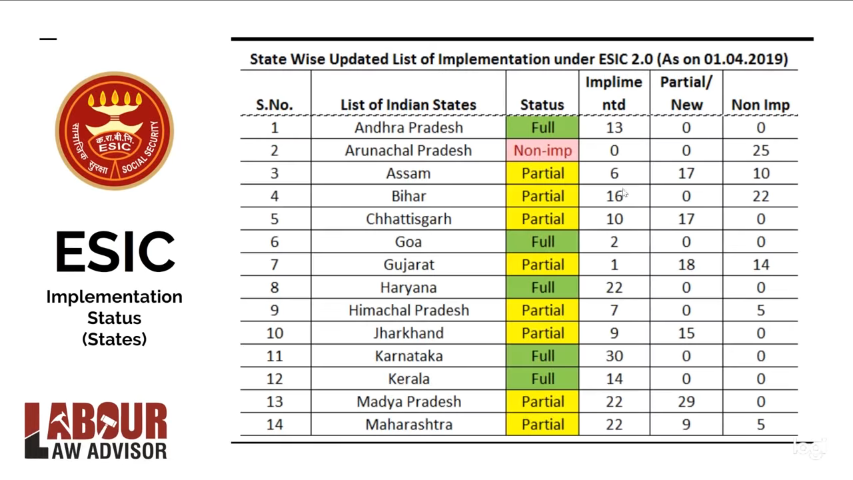 ESIC 179th General Meeting Update (Dec 2019)
The 179th ESI General Meeting was held on 5th December 2019. This occurred under the Chairmanship of Shri Santosh Kumar Gangwar, the Honourable Minister of State for Labour & Employment. The following important decisions were undertaken during this meeting.
Major Decisions/Announcements:
The audited annual accounts of ESIC for 2018-19 were taken into consideration. According to these reports, 1,77,444 new establishments were added to the ESIC scheme, which increased the total number of IPS to 3.49 crores from 3.43 crores.
The proposal for creation of extra new super speciality posts was also given a go-ahead. Although this is valid for Telangana, Chennai and Haryana where there is under-staffing of medical personnel.
The ESI Hospital of Durgapur received approval for increasing its beds from 150 to 250.
The proposal for the reconstitution of Local committee under Regulation 10A was approved.
A 3-year DNB course in super-speciality courses at ESIC super speciality hospital of Sanathnagar has been approved.
The ESIC diary 2020, ESIC calendar 2020 and ESI Samachar were also released.
For more information on ESI calculation read our blog to get valuable insights.
ESIC 181st General Meeting Update (Feb 2020)
The 181st ESIC general meeting was held on 13th February 2020. It occurred under the Chairmanship of Shri Santosh Kumar Gangwar, the Honourable Minister of State for Labour & Employment. The following important decisions were undertaken during this meeting.
Major Decisions/Announcements:
The revised estimates for the year 2019-20 and budget estimates for the year 2020-2021 were adopted and approved.
Acknowledging the rise in cost of living index which results in increase in expenditure related to confinement, existing amount of confinement expenses increased from Rs 5000 to Rs 7500.
ESIC approved the operationalization of the Economically Weaker Section quota and admissions to ESIC medical institutions from academic year 2020-21. Furthermore, provisional admission policy 2020 for admission to MBBS/BDS seats under IP quota in ESIC medical colleges was also approved.
19 other agenda/reporting items pertaining to improvement in services/benefits to IPs and their beneficiaries and other administrative matters were discussed and approved.
ESIC 182nd General Meeting Update (Aug 2020)
The 182nd ESIC general meeting was held on 20th August 2020. It occurred under the Chairmanship of Shri Santosh Kumar Gangwar, the Honourable Minister of State for Labour & Employment. The following important decisions were undertaken during this meeting.
Major Decisions/Announcements:
ESIC is implementing the Atal Bimit Vyakti Kalyna Yojna under which unemployment benefit will be paid to the workers covered under ESI Scheme. The ESIC decided to extend the scheme for one more year upto 30th June 2021. It has been decided to relax the existing conditions and the amount of relief for workers who have lost employment during the Covid-19 pandemic period. The enhanced relief under the relaxed conditions will be payable during the period of 224th March 2020 to 31st December 2020. Thereafter the scheme will be available with original eligibility condition during the period 01.01.2021 to 30.06.2021. Review of these conditions will be done after 31.12.2020 depending upon the need and demand for such relaxed condition.
With a view to strengthen ICU/HDU services in ESIC hospitals amid the Covid-19 pandemic, it was decided to establish ICU/HDU services upto 10% of total commissioned beds in all ESIC Hospitals.
Measure taken by ESIC during Covid include providing 23 ESIC hospitals with around 2600 Isolation Beds and approx 1350 quarantine beds across India. These were functioning as COVID-19 Dedicated Hospitals to exclusively provide COVID medical services to the general public of the area. Additionally, around 961 Covid Isolation Beds were available in most of the remaining ESIC Hospitals across the country, making a total of 3597 Covid Isolation Beds in various ESIC Hospitals. Further, a total of 555 ICU/HDU Beds with 213 Ventilators have also been made available in these Hospitals.
ESIC 183rd General Meeting Update (Dec 2020)
The 183rd ESIC general meeting was held on 7th December 2020. It occurred under the Chairmanship of Shri Santosh Kumar Gangwar, the Honourable Minister of State for Labour & Employment. The following important decisions were undertaken during this meeting.
Major Decisions/Announcements:
In view of demand from both workers and employees and with the objective to provide better medical services to beneficiaries, ESIC decided to directly run by itself all newly constructed hospitals and those that are approved in future unless the State Government insists to run the hospital.
Keeping in view the increase in ESI coverage over the recent years and the absence of ESI's own medical infrastructure in several areas, ESIC has decided that in areas where ESI infrastructure is not available within a radius of 10 km, the beneficiary can avail medical consultation for OPD services directly from a hospital empanelled with ESIC or with Ayushman Bharat without the need for referral from an ESI dispensary or hospital.
ESIC to strengthen its super speciality services in select ESIC Hospitals in Delhi/NCR in first phase.
The ESIC will engage Hospital Managers with specialisation in hospital management or hospital administration or health care administration for maintenance, housekeeping, patient assistance, patient safety and other ancillary activities in ESIC hospitals across the country.
ESIC will also engage the services of project management consultant for monitoring and facilitating execution of hospital and dispensary construction projects of ESIC from the stage of concept plan to the commissioning of the project.
Extension of relaxed conditions and enhanced benefits for further six months i.e. upto 30th June, 2021.
ESIC 184th General Meeting Update (Feb 2021)
The 184th ESIC general meeting was held on 22nd February 2021. It occurred under the Chairmanship of Shri Santosh Kumar Gangwar, the Minister of State for Labour & Employment (Independent Charge). Many important decisions were undertaken during this meeting as follows:
Major Decisions/Announcements:
Relaxation for women IPs with maternity leave
Post extending maternity benefit leave from 12 weeks to 26 weeks it was seen that some females IPs were unable to claim sickness benefit after coming back from maternity leave. Reason being that the mandatory contribution condition of 76 working days was not met. This has now been relaxed for women IPs so that they may claim sickness benefit if the contribution for them was paid or payable for not less than half the number of days available for working in shorter contribution periods. This relaxation is in effect from 20th January 2017.
Relaxation in contribution conditions for Jan – Jun 2021
Considering that India went into a second lockdown and factories were closed for that duration, IPs were unable to attend work and keep up with the mandatory contribution days. Hence they were unable to get sickness and maternity benefits under ESIC. Therefore, ESIC relaxed the contribution conditions for IPs for January to June 2021. Thus, women IPs are eligible for maternity benefits if their contribution is payable for not less than 35 days. Similarly, other IPs appointed before April-September 2020, will get sickness benefits basis their contribution from September 2019 to March 2020. For IPs appointed during April-September 2020, sickness benefits will depend on contributions during April-September 2020.
New ESI construction in Uttarakhand and Andhra Pradesh
ESIC will construct a new 300-bed hospital as well as 50-beds Super Specialities and staff quarters in 5 acres of land at Haridwar, Uttarakhand. Likewise, a new 350-bed hospital with an additional 50-bed SST wing and 128 staff quarters to be constructed at Sheelanagar, Vishakhapatnam. Moreover, a new Negative Pressure ICU will be established at ESIC Super Specialty Hospital and Medical College at Hyderabad, Telangana.
ESIC 185th General Meeting Update (Sep 2021)
The 185th ESIC general meeting was held on 10th September 2021. It was held at Rishikesh, Uttarakhand under the Chairmanship of Union Minister for Labour and Employment, Shri Bhupender Yadav. Important decisions undertaken during this meeting were as follows:
Major Decisions/Announcements:
5 acres of land were approved for the construction of 100-beds ESIC hospitals in Haroholli and Narsapur in Karnataka as well as 7 new dispensaries in Kerala.
Government's focus is towards targeted delivery of services by ensuring last mile deliveries promptly.
Atal Beemit Vyakti Kalyan Yojana is extended up to 30th June 2022.
IPs would be referred to empanelled private medical service providers if ESI hospitals don't have certain facilities. Similarly, if any IP has an ESI hospital at more than 10 km distance from their place then they can directly go to empanelled hospitals for medical care.
Approval of construction of a 30-beds hospital for Shahjahanpur, Uttar Pradesh.
ESIC Dental College will shift from its temporary location at Rohini, Delhi to a new building at ESIC Hospital Basai Dara Pur campus.
ESI coverage to be extended to unorganized sector as per Social Security Code. A Special Committee is to be set up to submit a detailed report for this procedure.
All employees will be linked with their Aadhaar card details.
A meeting of all the State Labour Ministers to be held shortly for discussion on better and efficient working of the ESI scheme.
Medical reimbursements and improvement of medical facilities will be top priority.
ESI scheme will also be extended to the plantation sector.
Join the LLA telegram group for frequent updates and documents.
Download the telegram group and search 'Labour Law Advisor' or follow the link – t.me/JoinLLA.
It's FREE!