The Employee State Insurance Corporation Scheme (ESIC) was created by the Government of India, as a means of providing financial protection to members in case of an untimely health-related incident. Every company with 10 or more employees with an individual salary of less than or equal to Rs 15,000 per month, should have an ESIC registration. ESIC provides the following benefits: medical, sickness, maternity, disablement, dependent, funeral and unemployment. ESI new employee registration is mandatory within 10 days of employee's joining. This article details the steps for new employee registration as well as updation for old employees.
Steps for ESI New Employee Registration
Open Mozilla Firefox on your computer and log into www.esic.in
Click on CLICK HERE TO LOGIN to continue.
Enter the USERNAME and PASSWORD for your establishment. Type the CAPTCHA given and click on LOGIN.
Close all the extra windows that pop up since they are unimportant.
Under the EMPLOYEE column, click on REGISTER NEW IP. You can use this every time to add a new employee to the ESIC scheme so that they can receive all the ESI benefits.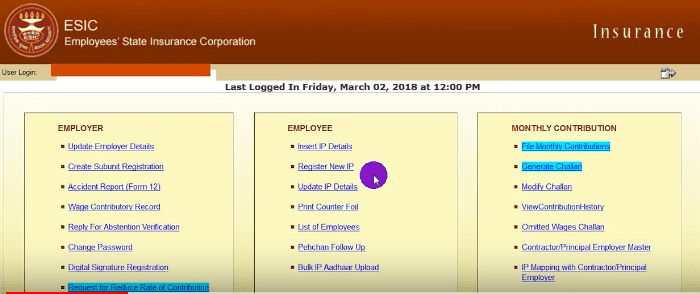 The EMPLOYER/SUBUNIT CODE NO. of your company will automatically appear.
If the employee already had an ESI account in his previous company then click on YES for IS IP ALREADY REGISTERED. Proceed to enter the EMPLOYEE'S INSURANCE NO. from the previous company and his DATE OF APPOINTMENT in your company.
If this is not the case then click on NO for IS IP ALREADY REGISTERED. Click on CONTINUE.
Now EMPLOYEES REGISTRATION FORM-1 will appears. You will need to fill out all the parameters with an asterisk (*). All details have to be exactly as given on the employee's Aadhaar card.
Point 10 "DISPENSARY" is the most important parameter to be filled.
Points 13, 14 and 15 are important as well. Fill out all DETAILS OF NOMINEE, FAMILY PARTICULARS OF INSURED PERSON and DETAILS OF BANK ACCOUNT OF INSURED PERSON correctly, by clicking on each and filling out the individual pages.
Click on the CHECKBOX for Declaration.
Click on SUBMIT.
Steps for Aadhaar Upload
Under EMPLOYEE column click on BULK IP AADHAAR UPLOAD.
An excel file will open. Upload the insured person's name and Aadhaar details.
Click on SAVE.
Note
After ESIC registration of the new employee is complete click on PRINT COUNTER FOIL to get a temporary medical card for the new employee.
This is usable for up to 2 months. After which the employee can get medical help at ESIC dispensaries by just showing his Aadhaar card.
Other helpful blogs related to ESIC which you can browse through:
ESIC Rules Update 2020
The ESIC released anew circular on 29th June 2020. This circular states that it is now mandatory to enable mobile number and bank account details while registering new employees. Additionally, these details also have to be updated for the older employees. This new rule comes into effect from 1st July 2020 onwards. If while adding mobile number of employee it seems that the number is already linked with another employee then you will receive an OTP for verification. Upon successful verification, mobile number linking will be complete. Similarly, while adding bank account details, if bank account is linked to another employee then it will not get added. Furthermore, the employer will have to scan and upload an attested copy of the employee's cancelled cheque leaflet's front page, or passbook page with account holder details.
Old employees have the option to visit the Regional ESI Branch Office and get their bank account details updated. This is possible by producing a copy of front page of employee's cheque leaflet and getting it attested by the ESIC Branch Manager. Until the bank account details and mobile number are updated, employees will not be able to claim reimbursements or avail cash benefits from ESI.
Latest steps for ESI new employee registration
Visit the ESIC website and login to your account.
Once logged in, you will receive an IP Duplication message. This says that if you are registering an Insured Person (IP) who already has an earlier IP Number then to use that for the registration. Else, if you make a new IP Number then the IP's earlier benefits will be lost. Click on Close.
A second Notice pops up saying to register new employees within 10 days of joining. As well as to deposit ESI contribution within 42 days from end of contribution period. Click on Close.
Then a third Notice appears regarding the mobile number and bank account details update. Click on I Agree.
Update Mobile Number Of The Insured Person
Click on Update Mobile Number Of The Insured Person, under Employee column.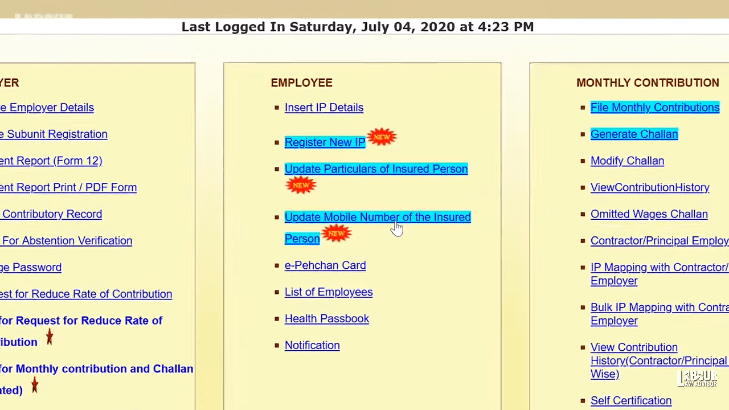 A new page opens which will automatically display all the IPs whose mobile number needs to be updated.
Click on Click Here To Update Mobile Number.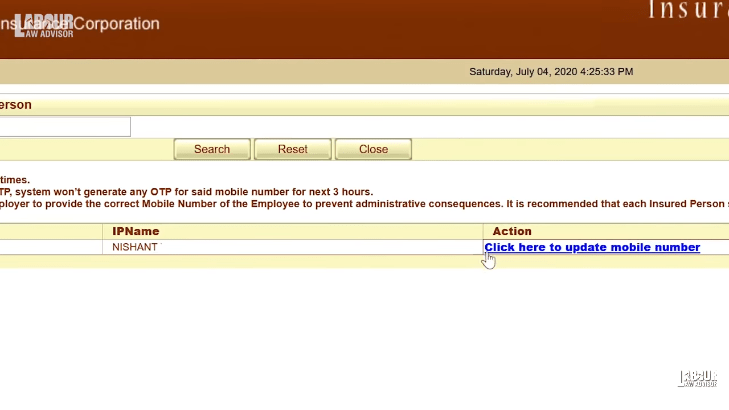 Enter IP Number and Mobile Number. Next click on Validate Mobile Number and Update.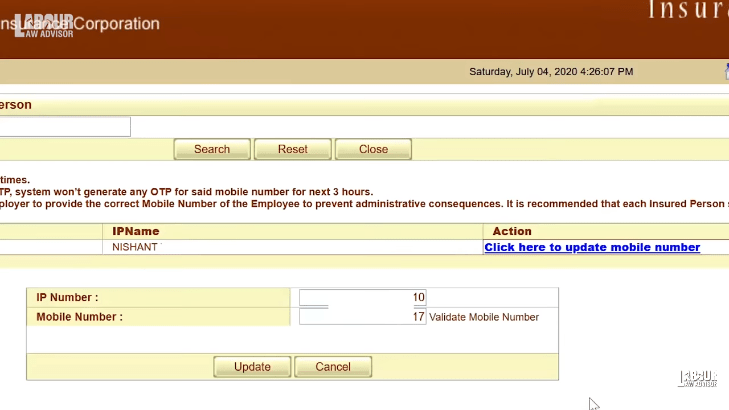 Thus, the mobile number updation is complete. A message will appear saying the same.
In case the mobile number is updated for another IP then an OTP will be sent on it. It will be valid for 20 minutes and you can receive only 3 OTPs. Once OTP is verified, only then this process will be completed.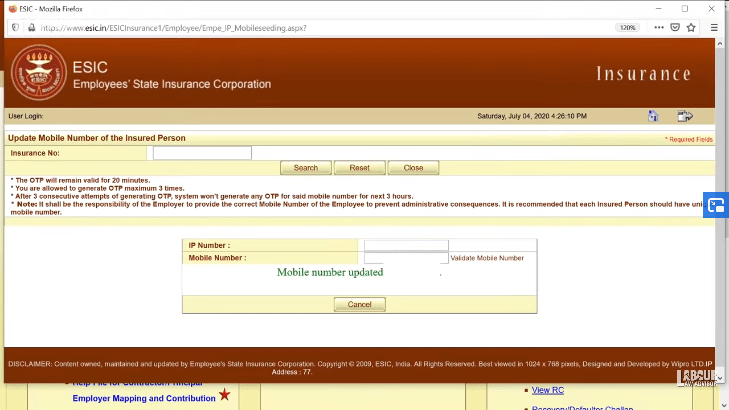 Update Particulars Of The Insured Person
Click on Update Mobile Number Of The Insured Person.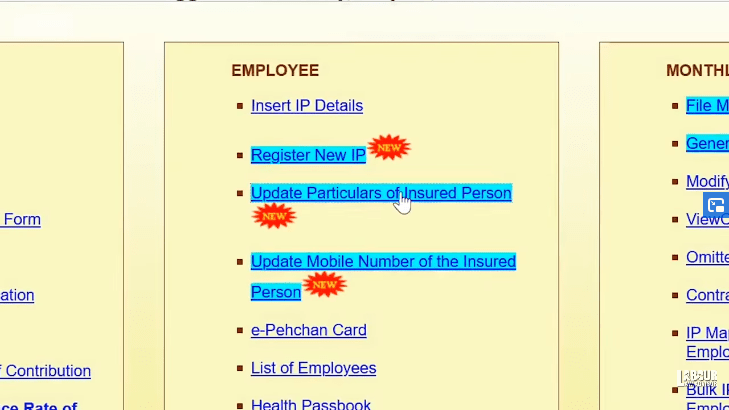 Then click on Search to view all the IPs in the company.
Select any IP and click on Edit.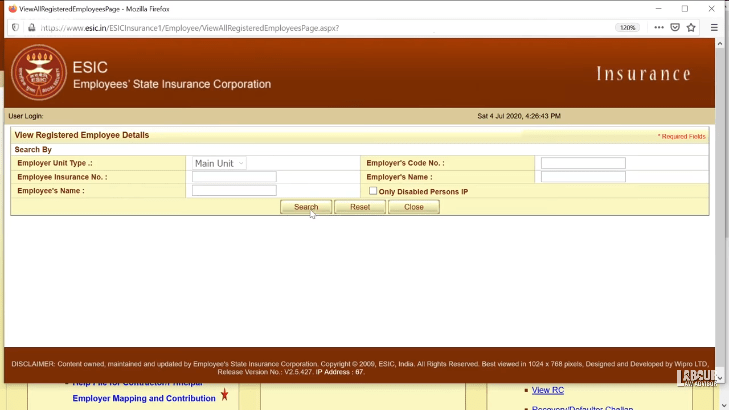 Go to the Bank Details tab.
Input the IFSC Code and click on Search.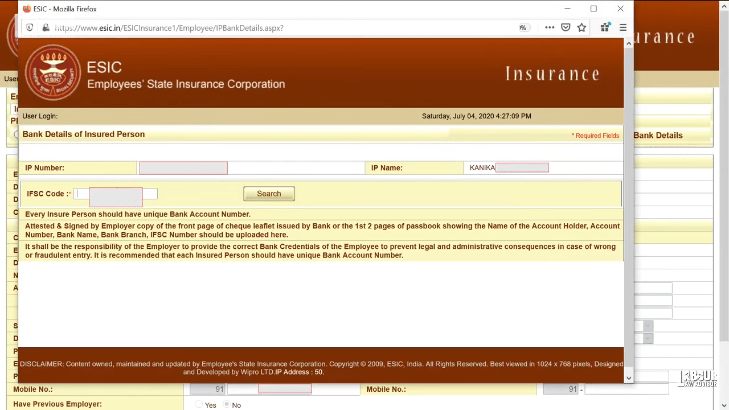 Input the IP's bank account details such as Account Number and MICR Code.
Then Upload the copy of cancelled cheque or passbook with the employer's seal and signature.
Click on Submit.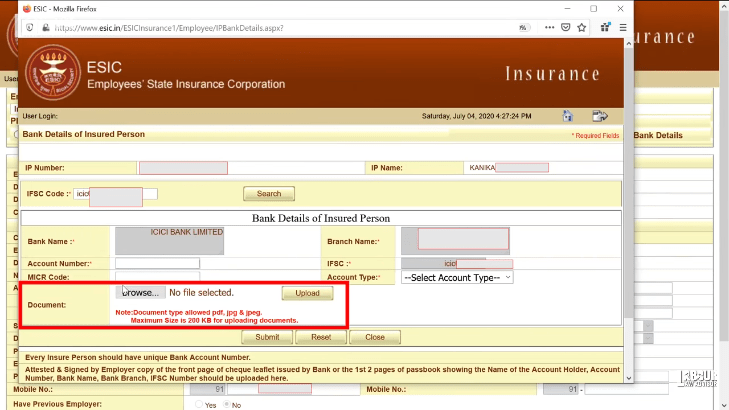 Register New IP
Click on Register New IP.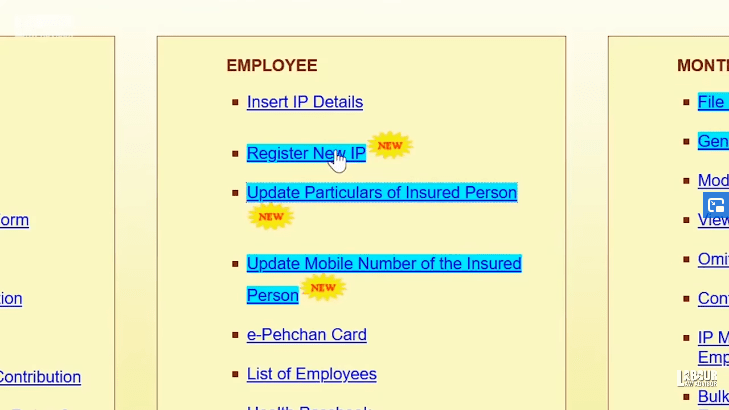 If IP is already registered, click on Yes and input Employee's Insurance No. and Date of Appointment.
Date of Appointment should not be older than 10 days.
Click on Submit.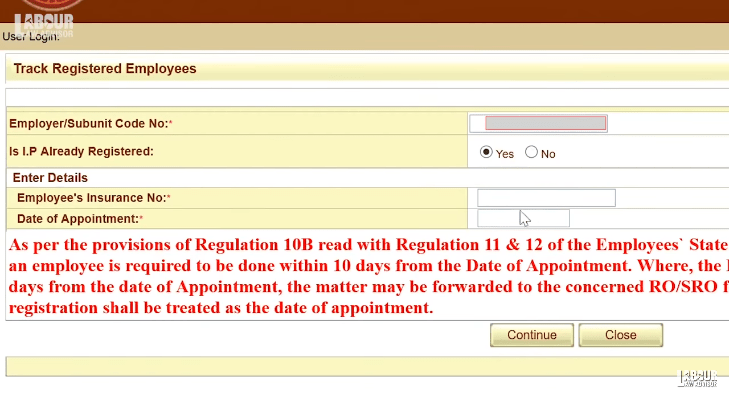 If IP is not already registered, then click on No and input a mobile number. Click on Validate Mobile Number and then Continue.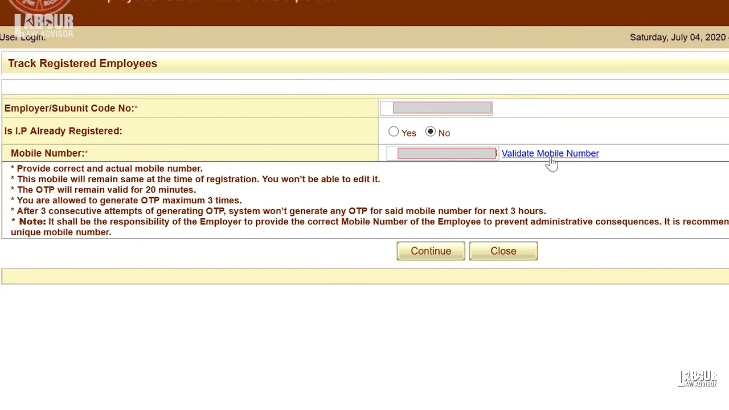 Input all the particulars given on the next page along with the scans of proof copy asked.
Click on the Declaration checkbox and click on Submit.
Thus, the ESI new employee registration is complete.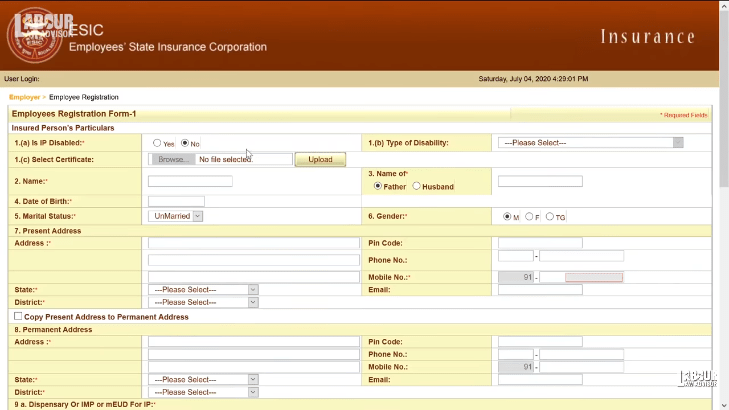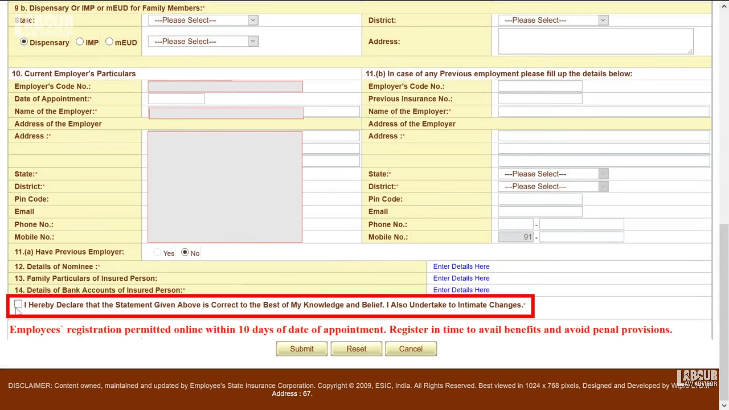 Major Problems in ESI new employee registration
The first challenge employers may face for ESI new employee registration will be the lengthy and time consuming process. Since there is no bulk upload facility, individually uploading new employees will take a lot of time for the employer.
For migrant workers it will be difficult to provide documents for registration. Especially, with the 10 day registration limit, the employees may end up bearing the brunt for this.
It is also being said that these updates have to be completed within 2 months else challan generation will be disapproved.
Watch the complete ESI new employee registration process below.
Join the LLA telegram group for frequent updates and documents. Download the telegram group and search 'Labour Law Advisor' or follow the link – t.me/JoinLLA
It's FREE!