Infrastructure Leasing & Financial Service or IL&FS is a Mumbai-based firm. It is over 30 years old and a leading giant in the infrastructure sector. IL&FS is a shadow bank or a non-banking financial firm that has serviced similar to a traditional commercial bank. Some of the main shareholders of IL&FS are LIC Corp of India with 25.3% shares, Housing Development Finance Corporation with 9.02% shares, Central Bank of India with 7.67% shares and State Bank of India with 6.42% shares. Apart from these, Japan's Orix Corp holds 23% shares and Abu Dhabi Investment Authority holds 12.57% shares. IL&FS has subsidiaries in transportation network building, engineering and procurement, and finance sectors. IL&FS takes up big infrastructure projects from the government and distributes them as small parts among many companies. They have an estimated asset of about Rs 1.15 lakh crore.

What is the IL&FS financial crisis?

IL&FS defaulted on a couple of payments and failed to service their commercial papers within the due date. This implies that the business giant is either out of cash or facing a liquidity crunch. On one hand, the firm gathered too much debt which needed to be paid back in the short-term. On the other hand, the revenues from their assets got skewed in the long term. IL&FS initially brought a shockwave through the financial sector when it delayed a $350 million bond insurance in March. This was due to the demands of a higher yield from its investors.
Additionally, due to the slowdown in infrastructure projects and contract disputes, about $90 billion worth of payments from the government is due, which is worsening the situation for them. Currently, IL&FS Financial Services has about $500 million due in repayments for the second half of the last financial year while it has only about $27 million available.
IL&FS was rated as a AAA company meaning it provided the best security for your investments. But it now has about Rs 91000 crore in debt and is unable to even pay the salaries of its employees. A large part of this debt comprises of funds from EPF, PPF, EPS, SCSS, and other Provident Fund schemes.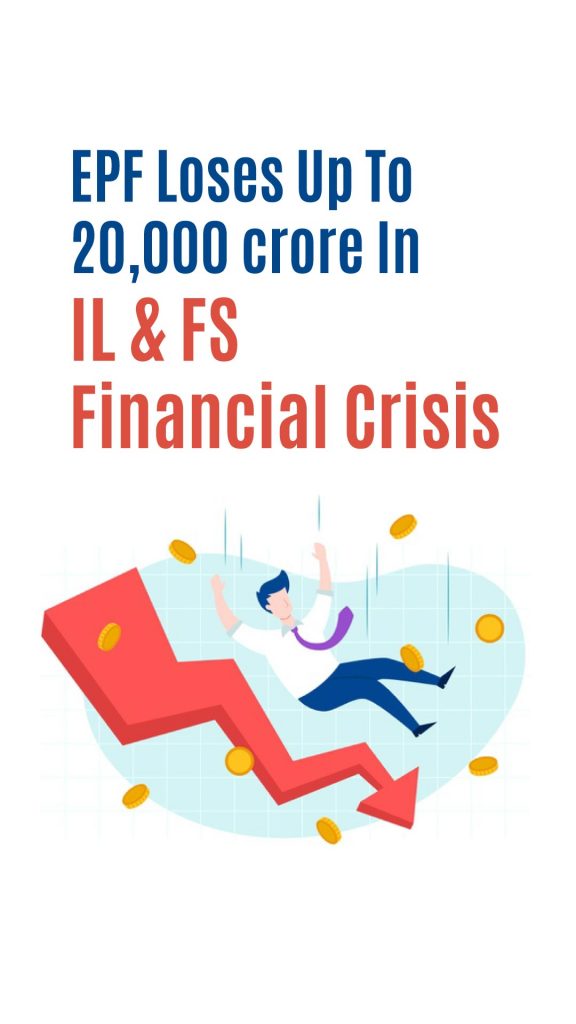 EPFO losses due the the IL&FS crisis:
The defaults made by IL&FS seem to have an impact on the retirement funds managed by the EPFO and thousands of standalone trusts. The EPFO had made an investment of Rs 600 crore in IL&FS debt securities in 2008. Meanwhile, standalone PFs seem to have made investments in IL&FS between Rs 15000 to Rs 20000 crore. The IL&FS' default in payments over the past few months triggered a cash crunch among the non-banking finance firms but the EPFO got their payments done on schedule. But, if the IL&FS defaults on paying its loans to the EPFO, then it will impact the PF funds of many EPF members.
It was reported by the Economic Times on 11th February 2019, that the Central Provident Fund commissioner had stepped in to make sure that the IL&FS developments did not impact the retirement savings of salaried individuals in standalone PF trusts as well. This IL&FS crisis is being called the Lehman Brothers crisis of India. All that the EPF members can do now, is wait and watch.
Watch our video on this news below:
Find our latest blogs on EPF:
Hidden PMRPY Rule Stops Your PF Pension Withdrawal
Tax deducted at source | Save TDS On PF Withdrawal
Supreme Court EPF Judgement 2019 | Is PF on special allowances applicable?

Join the LLA telegram group for frequent updates and documents.
Download the telegram group and search 'Labour Law Advisor' or follow the link – t.me/JoinLLA
It's FREE!