What is the EPF Grievance Portal?
The Employees' Provident Fund Organization (EPFO) has developed an online complaint management system known as the EPF Grievance Portal. Here, PF members can voice their troubles regarding their PF account. Problems arising in PF transfer, PF withdrawal, or PF contribution can be addressed via the EPF Grievance Portal. This portal is available to all pensioners, employees, and employers.
Step by step process to submit PF complaint online:
Search for "EPF Grievance Portal" on your web browser or log on to the website by clicking here.
From the menu bar, click on Register Grievance Portal. A new page appears with four options – PF Member, EPS Pensioner, Employer, and Others.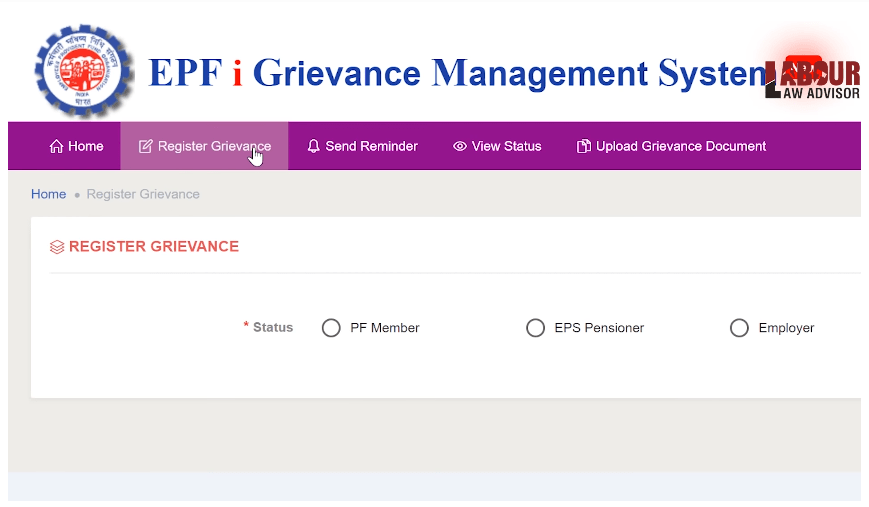 If you are an employee then click on PF member. Now fill in your UAN and Captcha and click on Get Details. If the details given by you are correct and match to a relevant PF account, then your complete UAN details will appear below.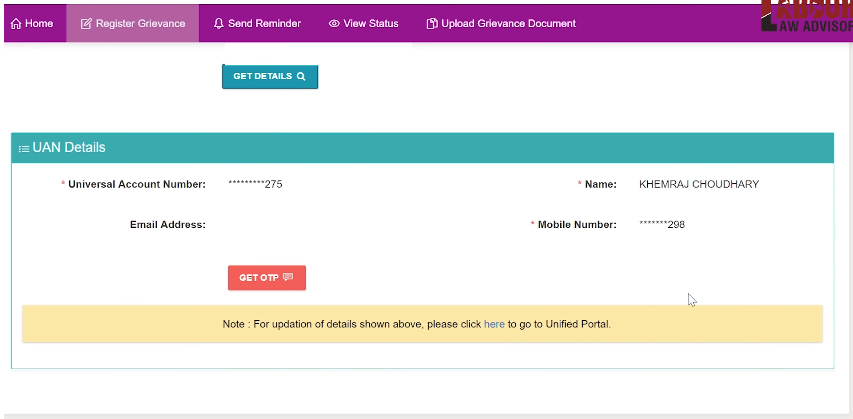 If the details shown are fine then click on Get OTP. Now you will receive an OTP on your registered mobile number and email. Fill in the OTP you receive and click on Submit. Now you will be able to register your grievance.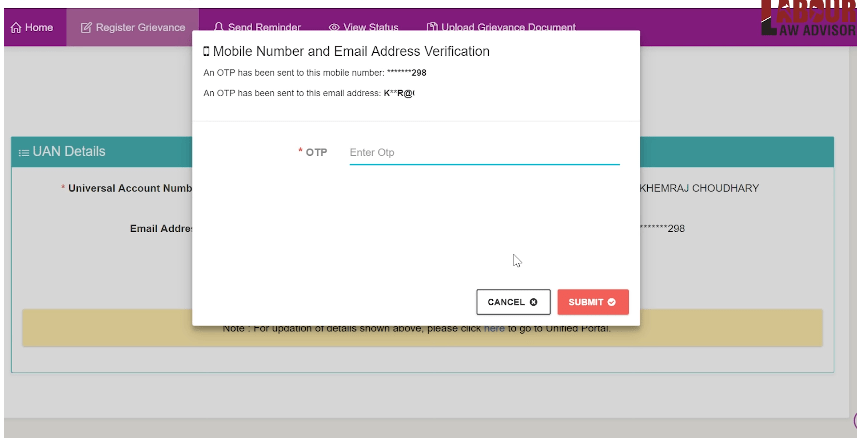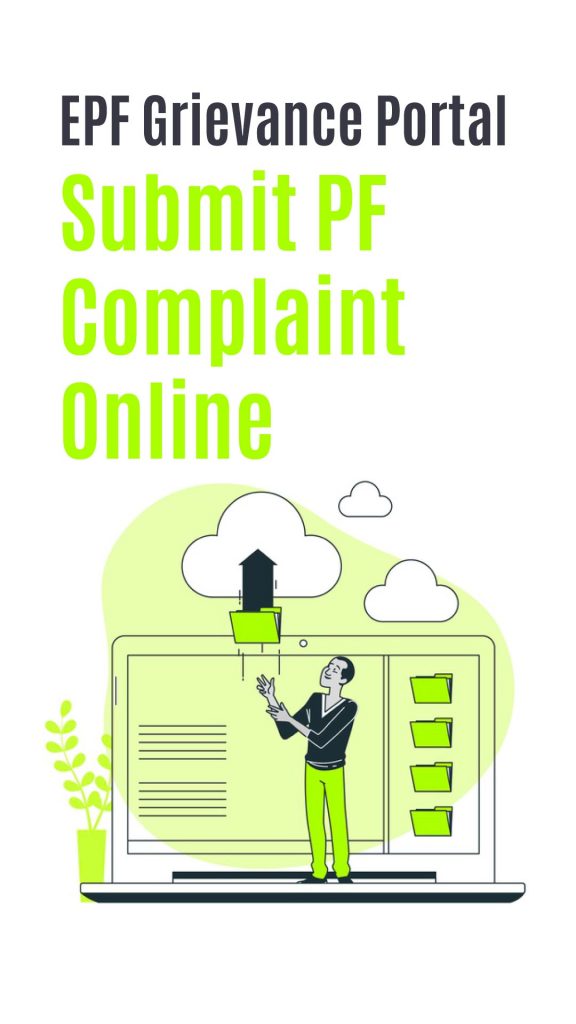 Personal details:
Fill in your Gender, Address, Pincode, Country, State, Alternate Mobile Number and Security Code (i.e., captcha given).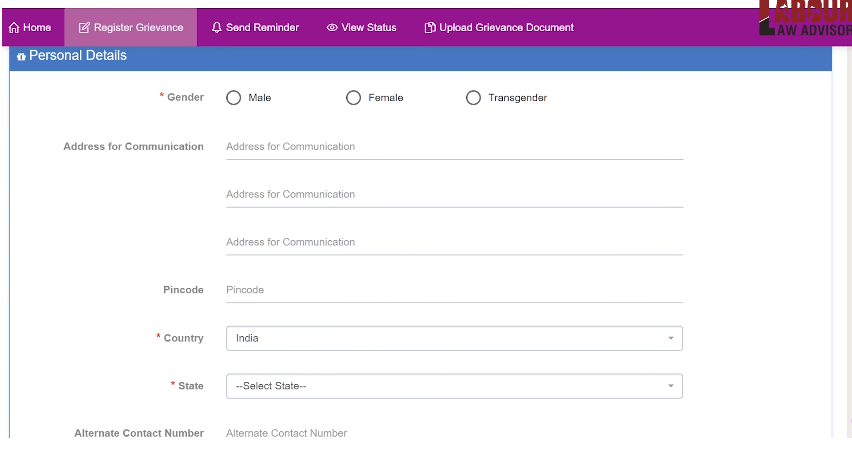 Grievance details:
Under this section, "Select PF Number To Lodge Grievance Against", if you have multiple PF numbers, then they will all appear here.
You need to select the PF number against which you want to file a grievance.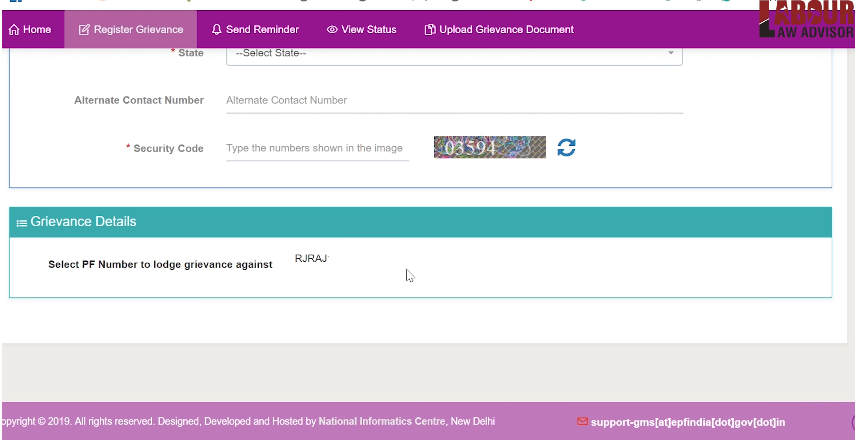 Clicking on the PF number will open a new page. This is where the actual grievance will be registered.
For Grievance Related To – choose from the four options given, as per who your complaint is against. The options are – PF Office, Employer, EDLI, and Pre-Pension.
For Grievance Category – these options will appear according to the first category chosen. Select your relevant option.
For Grievance Description – write down your actual complaint in short.
For Upload Document (if any) – attach all relevant documents you have.
Click on Add to submit your grievance.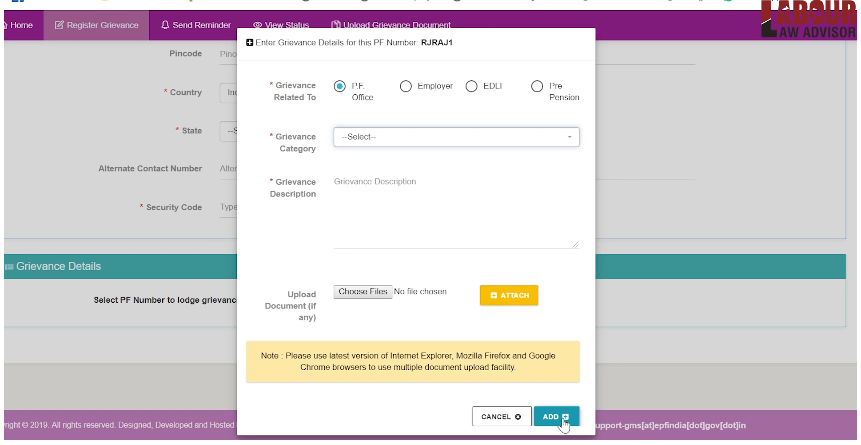 After registering your grievance you will get a Registration Number. You need to keep it safe. You can use that for sending a reminder about your grievance if no feedback is received after some days. To do this, go to Send Reminder option from the menu bar. Add in your details like Registration Number, Mobile Number, Reminder Description, Captcha and Submit.
Likewise, you can use the Registration Number to check the status of your grievance. To do this, click on View Status from the menu. Fill in the details and submit.
There could also be a case, where the PF department may ask you for additional documents. To do this, click on Upload Grievance Document, from the menu. Give you Registration Number and other details and click on Submit.
Points to note about the new EPF Grievance Portal:
The portal is now linked to your UAN, so some of your mandatory details will appear automatically.
There is also a reminder facility and a viewing current grievance facility.
If your grievance fails, there is also a feedback facility to give your response.
Apart from current PF employees and employers, pensioners can also submit their grievance through this portal.
Don't forget to watch the detailed video on this online tutorial below:
For more information on PF, check our blog LLA Advisor.
Join the LLA telegram group for frequent updates and documents.
Download the telegram group and search 'Labour Law Advisor' or follow the link – t.me/JoinLLA
It's FREE!