Earlier a Joint Declaration Form was the only option available to correct various EPF related errors. Since EPF Refund, Transfer and Claim are all executed online, the correct data of a member in the PF portal is a must. Thus, without the correct data, the Aadhaar number cannot be linked and the online claim is not possible. In this article, we will take you through the easy steps needed for your EPF date of birth correction or UAN date of birth correction, even if the change is of more than one year. Read on to find out more.
Steps for EPF/UAN Date of Birth Correction Online:
Log on to the EPF member portal website.
Enter your UAN and PASSWORD to log into your EPF account.
On your homepage, go to MANAGE and click on BASIC DETAILS from the drop-down list options.

This will open a new page with your personal details. You will find the Date of Birth parameter here.
Under the CHANGES REQUIRED column put in your correct Date of Birth details. Click on SAVE.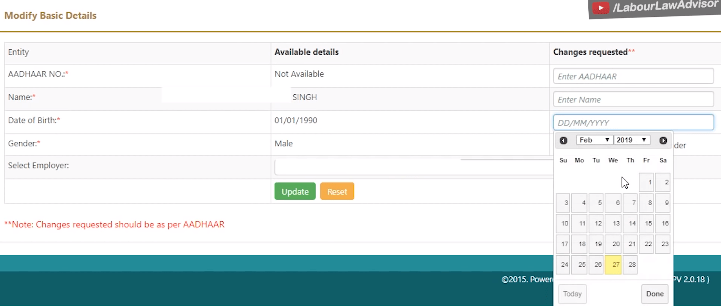 If the difference between the new date given and the old one is more than a year then an alert will appear, further asking you to upload a PDF document as your age proof. This document can be your EDUCATION CERTIFICATE or BIRTH CERTIFICATE or PASSPORT.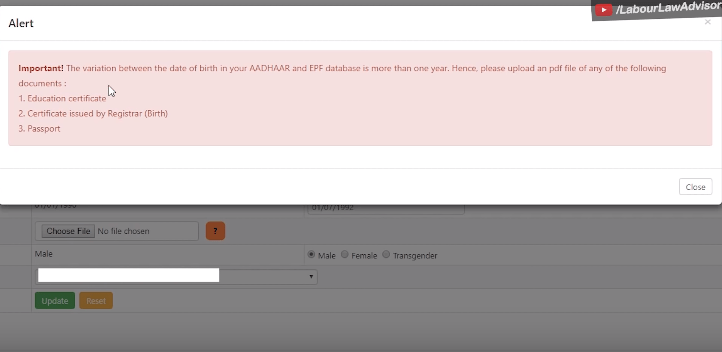 Under the UPLOAD DOCUMENT IN SUPPORT OF DOB row, choose your PDF document of the same and click on UPDATE.

Hence, your changes have been updated from your end.
Here's a video explaining the EPF date of birth correction full process:
EPF Date of Birth Correction Via Aadhaar Card
The EPFO's latest circular on 4th April 2020 provides a few new methods of changing your date of birth on the PF portal. Among the documents acceptable as a valid date of birth proof, the EPFO accepts the birth certificate, school certificate, central/state government service records, passport or any other reliable document from the government. Apart from this, it will also accept a medical certificate issued by a civil surgeon after examining the member medically and releasing an affidavit on oath. This medical certificate will then have to be authenticated by a competent court. Last option is your Aadhaar but only for a maximum change of three years.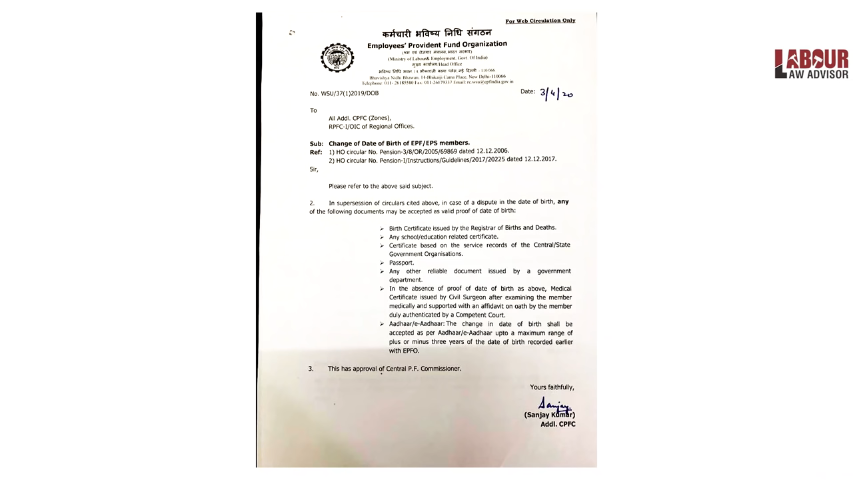 Steps for EPF date of birth correction
Visit EPF member portal.
Login to your account by using your UAN and password.
On the new page, go to the drop-down View menu and select the Profile option.
This will open your profile details. On the Date of Birth row, next to the actual date will be an edit icon. Click on it.
The next page will show your incorrect Date of Birth under Available Details. Input your correct Date of Birth under Changes Requested.
Upload your supporting document under the row below.
Click on Update. Your process is complete.
Watch the detailing video below.
Join the LLA telegram group for frequent updates and documents.
Download the telegram group and search 'Labour Law Advisor' or follow the link – t.me/JoinLLA
It's FREE!