A salaried employee is someone who receives a fixed amount of pay/salary for the number of hours worked. A salaried person may get their salary either on a weekly basis or on a monthly basis. In order to safeguard the rights of employees, the government has implemented certain rules and regulations. Despite such laws, employers are exploiting their employees because of a lack of awareness and knowledge about their rights. If you are an employee and want knowledge about your rights then this blog is for you. In this blog, we are going to discuss YouTube channels for all employees and labours that create awareness, share information, and make videos related to employees to safeguard their rights.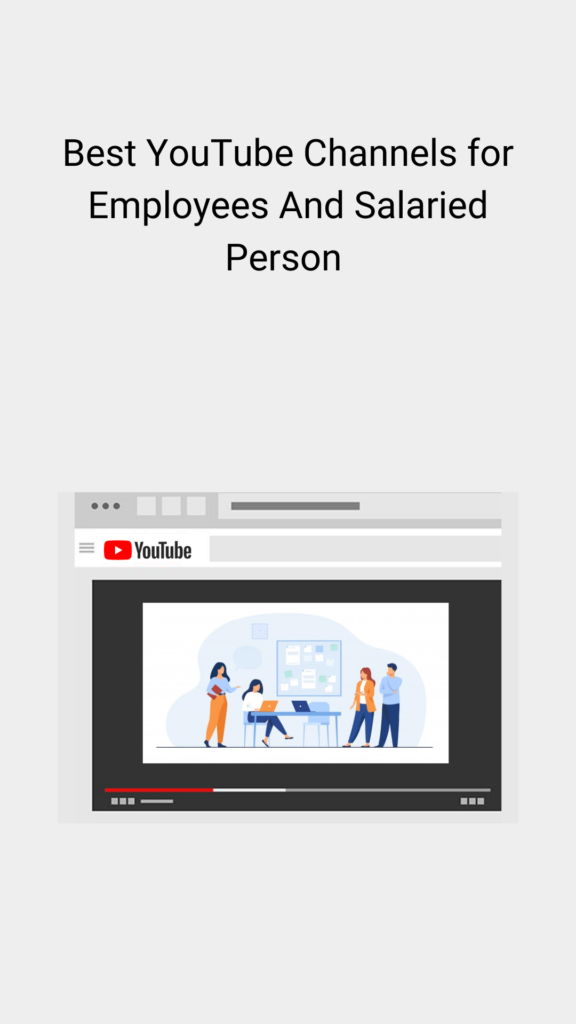 How employers exploit employees/labours/workers/wage earners
Exploiting means taking undue advantages and being unfair. There are some common ways of exploiting employees, it is as follow:
1. More work and less pay (Underpayment)
This is the most common problem that employees face. Employees are forced to work for long hours that too without breaks and at the time of payment, they are paid a lot less than they deserve. For example, an employee is made to work for 16-17 hours a day but paid for 8-10 hours only.
2. Inequality while making payment
This malpractice takes place in a number of workplaces. Cases in which both male and female employees are working in an organization for the same tenure, but while making the payment the employer pays less to the female employee as compared to male employees. In order to stop this exploitation, the government enacted the Equal Remuneration Act. According to this Act, every employee should be paid equally.
3. Favouritism while selection and promotion
Faced in many MNC's, where the deserving candidate is exempted and the favourite candidate is selected or prompted. In many cases, relatives and known people are given a chance and opportunity as compared to the more deserving and hardworking employees.
4. Efforts not identified or cherished
There are a number of workplaces where the effort of an employee is ignored. The employees do not receive any motivation or inspiration from the higher hierarchy and top-level authorities. Employees are just made to work and then sent back home.
5. Mental pressure
There are a number of employers who abuse, blackmail and threaten their employees. Some employers also restrict the movement of an employee by seizing the passport or forcing an employee to sign a contract and agreement. This creates an adverse effect and puts physiological pressure on the employees. There are also places where employer harms their employees physically.
YouTube channels for all employees
1. Labour Law Advisor (LLA)
LLA or Labour Law Advisor began in August 2017 and within four years has quickly grown to one of the country's biggest labour law YouTube channels. Labour law decoder Rishabh Jain and money-minded Mandeep Singh started this YouTube channel. The YouTube channel was started to help employees, workers, labours, HRs, and employers. All the videos are thoroughly researched and very well created with step-by-step tutorials for all procedures. There are also collab videos with other leading YouTubers on the channel covering important aspects of labour law and discussing various rights of employees and salaried people. This YouTube channel is a boon creating videos with in-depth explanations for all-important labours law and employee rights.
2. Finology Legal
Finology Legal is one of the best great Youtube channels for employees, that deals with all things relating to the legal laws of the country. Priya Jain started this YouTube channel in July 2018. She has over ten years of experience across Singapore and India working on APAC-wide roles in financial markets, sales and strategy with Standard Chartered Bank and DBS bank. Finology Legal covers all topics related to the judiciary and laws of the country, it also covers various labours laws and rights of the employees and salaried person.
3. Law in India (Hindi)
Law in India (Hindi) is a YouTube channel for empowering legal literacy and creating awareness about the rights and various penal sections in India in the Hindi language. Making people, labours, and employees realize their rights and demand justice legally, is the main motto of this channel. The channel also works for safeguarding the rights of labours and wage earners. Codes and rights explained are in easy and understandable language for the common people.
4. Khan GS Research Centre
Khan GS Research Centre is a YouTube channel by Khan sir. He is famous all over the internet because of his unique ways of explanation and humour. There are a number of videos for salaried persons and employees. These videos discuss the rights of the employee, how to fight against the injustice of the employer and also videos related to PF and ESIC.
5. WorkerVoice.in
As the name suggests, this is a YouTube channel to boost the morale of the workers and labour section. WorkerVoice.in is a platform for the common people or the workers. The channels bring news and vital information related to employees and salaried persons. Moreover, it tries to organize each and every query, problem, issue related to workers/employees in a simple and straightforward language. The videos made are based on current scenarios. Shri Surjeet Shyamal is the coordinator and the illustrator of this YouTube Channel.
6. International Labour Organisation
From the name itself, we can say that this one of the YouTube channels is for labourers rather than employees. This YouTube channel not only makes videos for employees and labour within one nation but also makes videos for each and every employee, labours and working-class people in the whole world. The channel brings together the government, employees, employers, and workers to drive the smooth formation of employment. The channel makes videos discussing the rights of the workers, social protection and treating employees equally, and the right to information labours and employees.
Above mentioned YouTube channels are not specifically for the employee or salaried person but also for the common people, employers, entrepreneurs, and business owners. Because no matter the place, it involves the use of labours and workers.
Also, Join the LLA telegram group for frequent updates and documents.
Download the telegram group and search 'Labour Law Advisor' or follow the link – t.me/JoinLLA
It's FREE!