Employees' Provident Fund or EPF or PF is a financial savings scheme for salaried employees. Under this scheme, employees and their employers contribute a fraction of their salary each month. Every employee subscribed to the PF scheme has to fill out a declaration and nomination form under the Employees' Provident Fund Scheme, 1952 and the Employees' Pension Scheme, 1995. It is necessary to link one's bank account details with their EPF.
But it may so happen, that you can submit incorrect bank details for your EPF account. In such a case, your EPF amount may go to the wrong bank account. Or you may need to update your bank's KYC details in your EPF account because the bank's IFSC code has changed since it went a merger. Or you may get an error saying your bank account is already linked with another UAN account and hence you cannot file a claim. In order to save your EPF money in any of these cases, read the following article and learn how to correct your mistakes.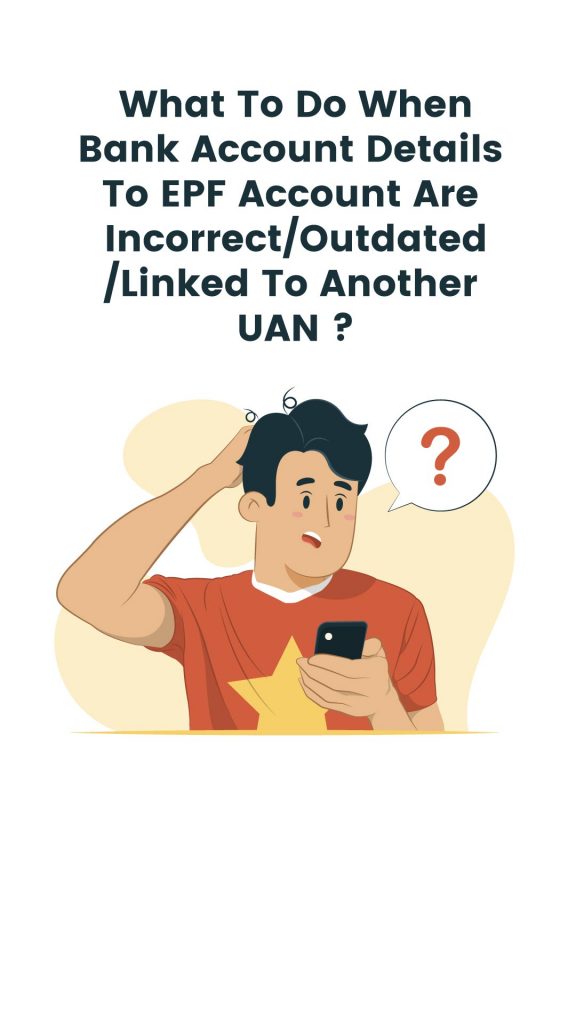 Case 1: The Incorrect Bank Account Details Match With Another Person's Bank Account
The first step to take is to go and find out at your bank whether the account details you submitted actually match with someone else's account or not. If the incorrect bank account details actually match with another person's account, then the only solution will be to talk to that person and ask him to transfer the funds to your account.
Case 2: The Incorrect Bank Account Details Do Not Exist
If the incorrect bank details which you linked to your EPF account does not exist at all, then there might be a solution to your problem. An important point to note here is that, whenever banks merge together, their IFSC codes get changed. So in case, your bank is undergoing a merger, then you need to recheck your IFSC code and immediately update it to your EPF account. Watch the tutorial on how to update your KYC here.
Case 3: Either Bank Account Or IFSC Is Incorrect/ Do Not Match Each Other
In case you submit wrong bank account number or IFSC code and they don't match to any single account then the EPF fund is returned to the EPF department. The funds do not go into anyone's account. But your EPF claim status will appear as "Settled". So for this purpose, firstly you need to track your EPF claim status. We explain the process here.
If your EPF claim status appears as "Settled" yet you have not received the EPF money, then the following can happen. Hence, if your given bank account number and IFSC code are not matching, you should not raise another claim. Since your given bank details are already incorrect, your claim will get rejected if you try raising it again. The solution here is to send a Re-Authorization Letter to the EPF department. This should have your correct name, bank account number, IFSC code along with a cancelled cheque. Send all these documents in one mail to your Regional PF Office. Find your regional PF office via this video. Now it will be the EPF department's job to reauthorize your EPF claim and transfer the funds to the correct bank account.
Case 4: Bank Details Are Incorrect & Claim Is Not Filed Yet
When you have not claimed the EPF yet and are aware that your bank details given are incorrect, then the solution is pretty simple. Just login to your member portal on EPF website and update your correct bank details. It is also necessary to get your updated KYC details approved by your employer. View that process here.

Here's a quick run-through of these cases below:
How to Update Bank Account Details on EPF Account?
Bank KYC Updating Process
The easiest way to overcome the problem is by having an additional bank account. We recommend you to open a new zero balance savings account.
Now, the first step is to redo your bank account KYC. The aim is to add a fresh bank account detail to your EPF KYC.
To do this, login to your EPF member portal with your UAN and password.
Go to Manage tab and select KYC from drop-down list.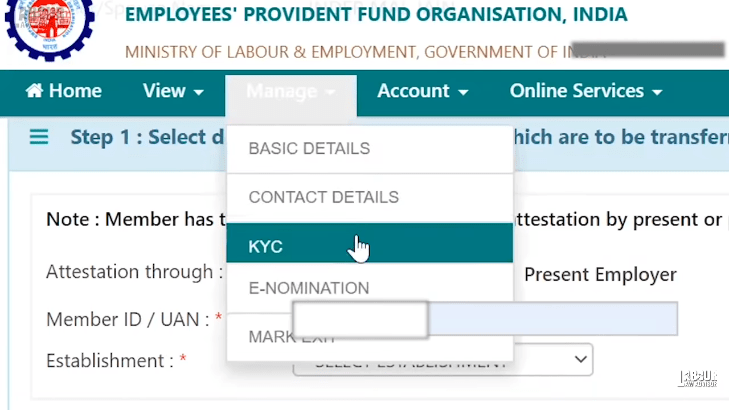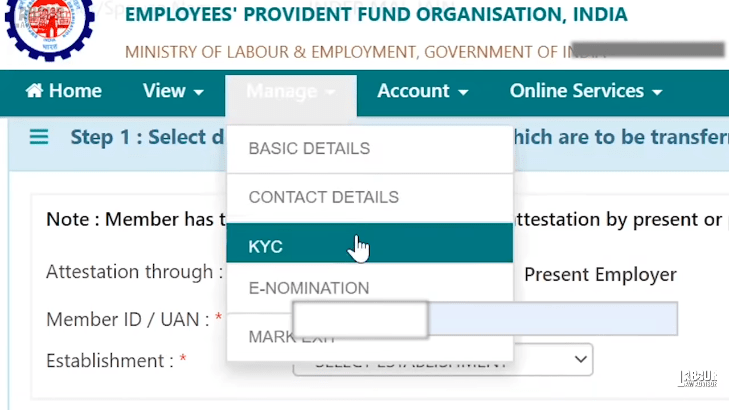 On the new window, click on the checkbox for Bank. Fill in the details for bank account name, bank account number and IFSC code. Click on Save.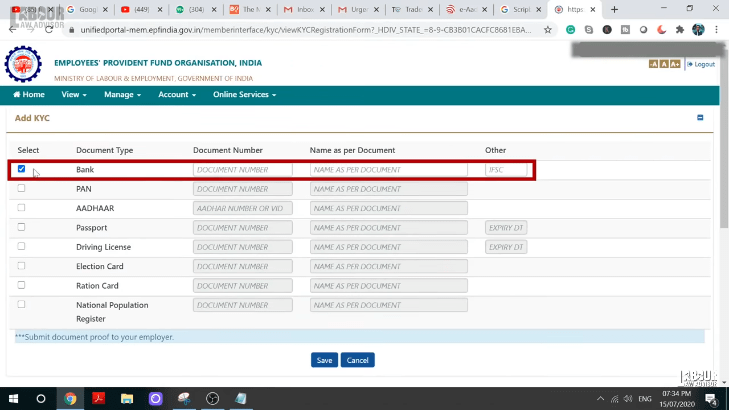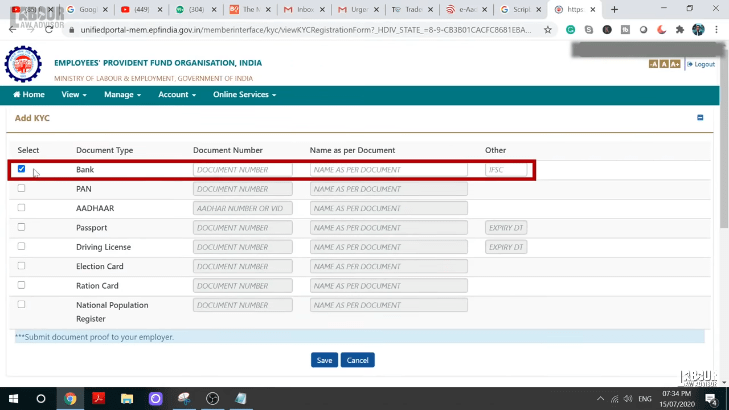 Once the window has finished loading you can view this new bank KYC under KYC Pending For Approval section.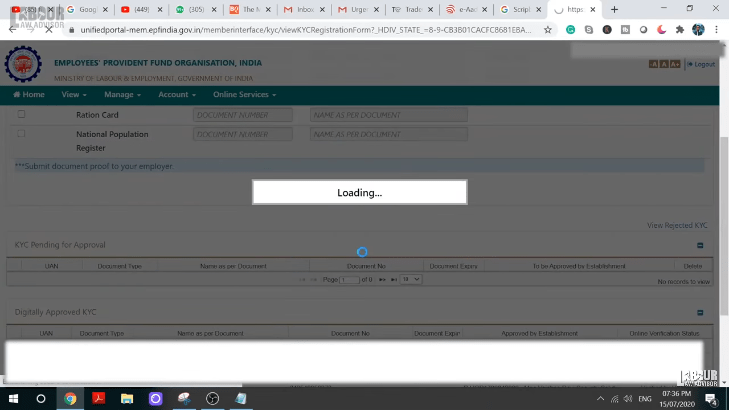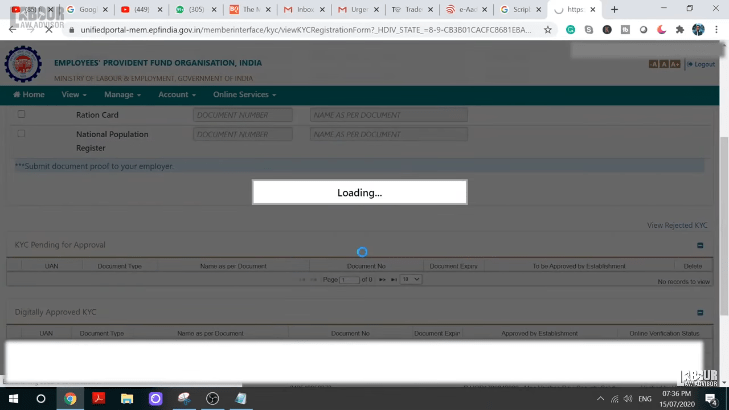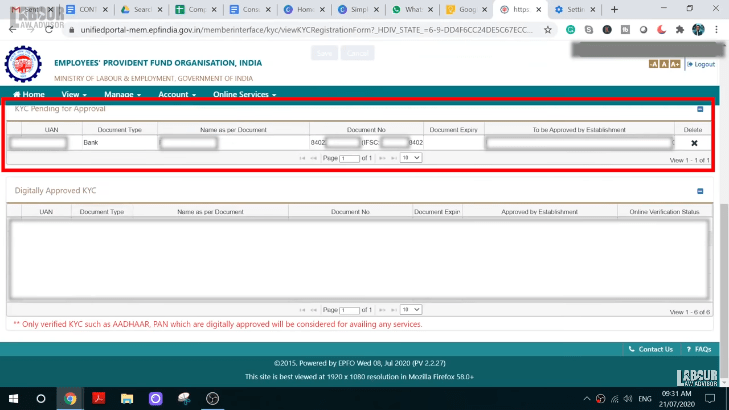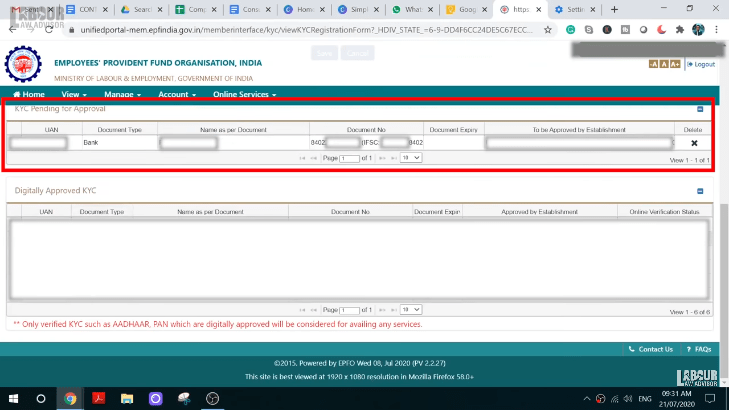 Bank KYC Verification Process
Now if you Online Services tab and select Claim from drop-down list, a new window will open.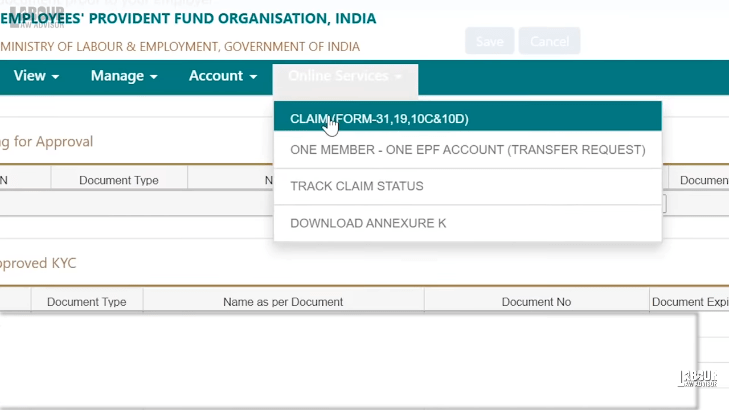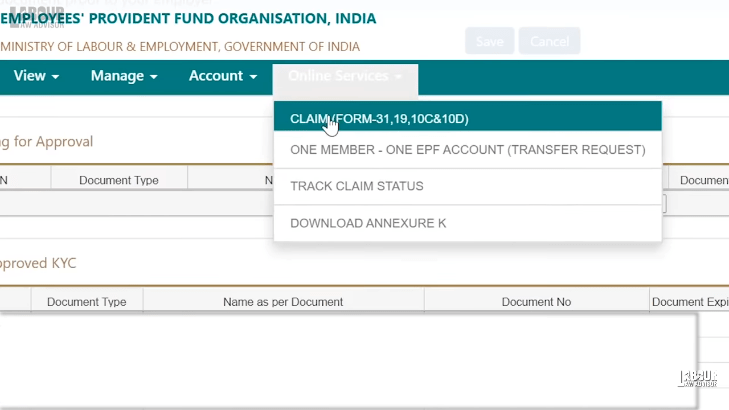 Here, you can see which employer is supposed to approve your bank KYC under To Be Approved By Establishment.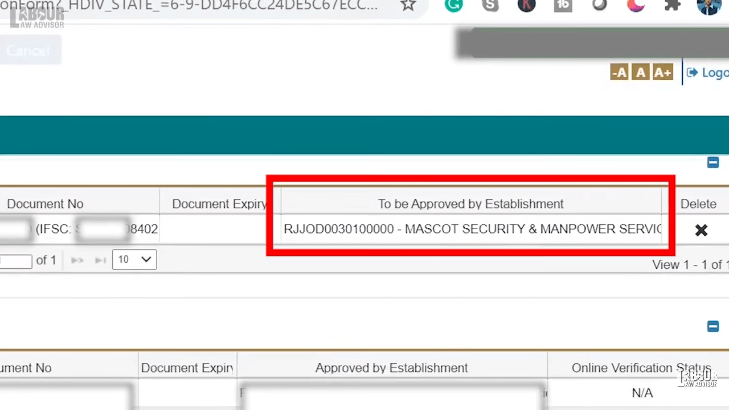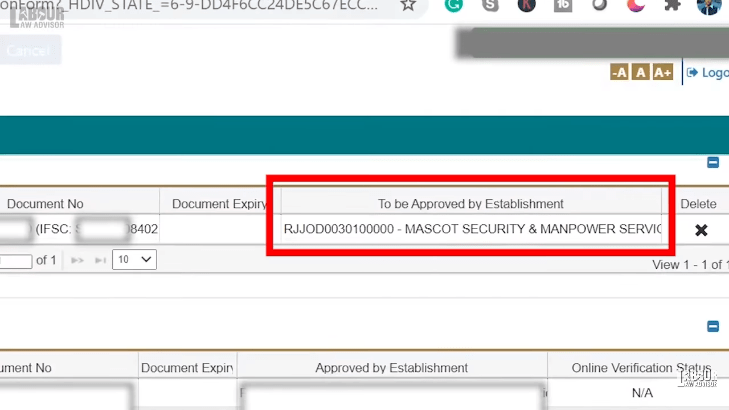 Once this KYC goes to your employer he can view it under Pending KYC. Further, he can approve it with his Digital Signature.
Bank KYC Change Process
Once employer approves your new bank KYC details then it will move from KYC Pending For Approval section to Digitally Approved KYC section.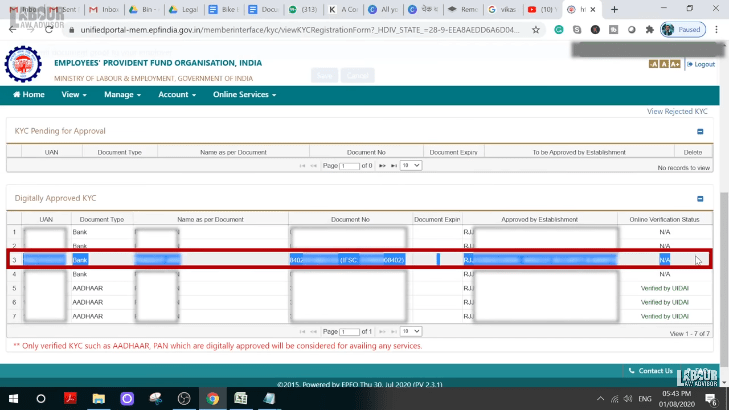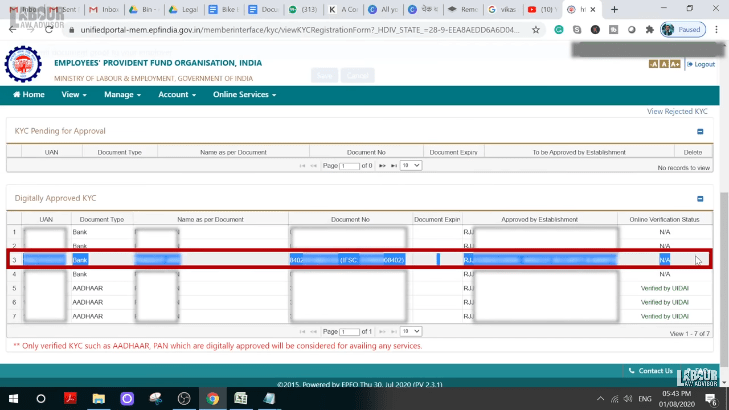 This happens instantaneously as the employer approves the KYC.
The last column for Online Verification Status states if an external agency is approving the KYC. If it says N/A it means no external agency is approving it. Else it will mention which agency is verifying the details.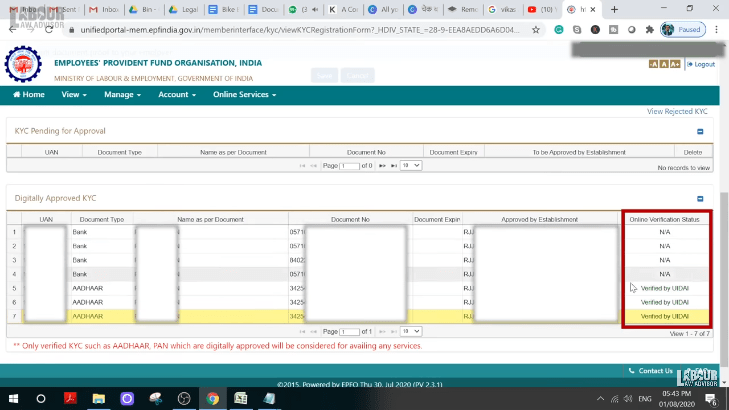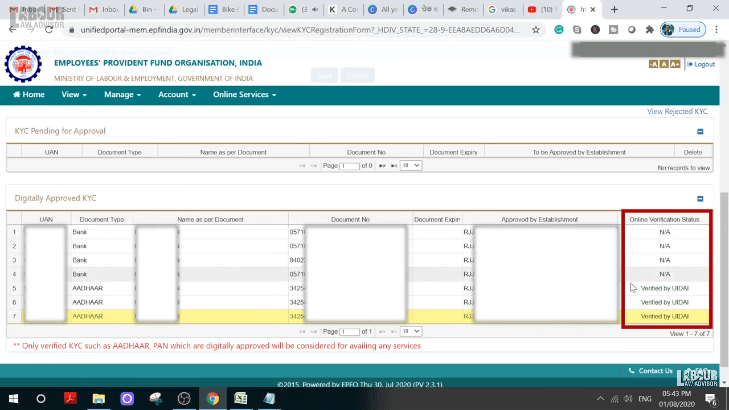 Once bank details KYC approval is complete, you can go to Claim under Online Services tab.
To double-check, fill in your new bank account details under Bank Account No. (As Seeded Against UAN) and click on Verify.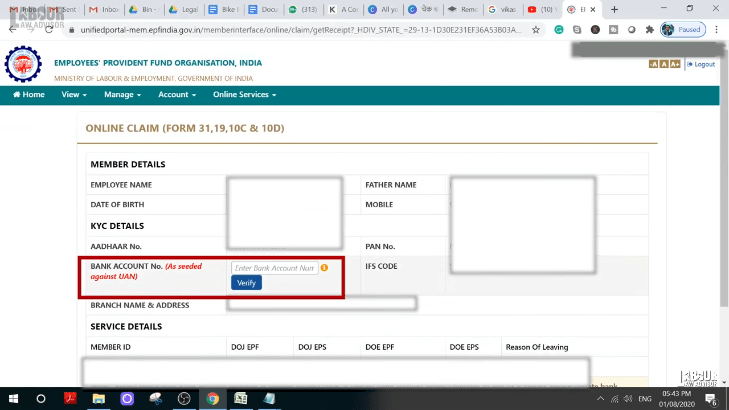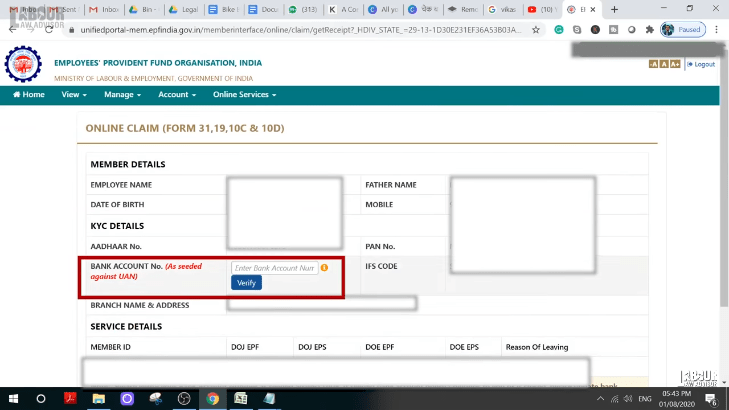 If it is verified you will see a new pop-up window with the message of Certificate For Undertaking.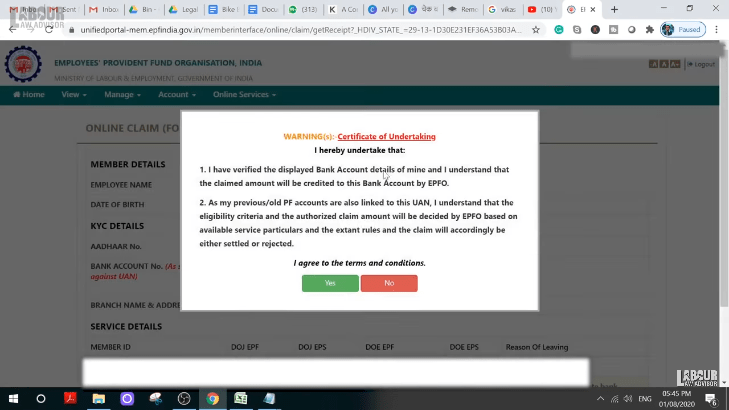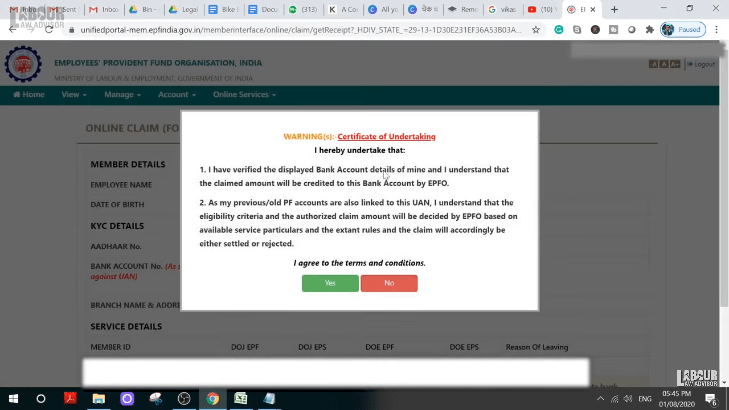 You can now proceed to reapply for a new claim.
Watch the video below for an online tutorial:
Join the LLA telegram group for frequent updates and documents.
Download the telegram group and search 'Labour Law Advisor' or follow the link – t.me/JoinLLA
It's FREE!