The Ayushman Bharat Yojana, also known as the Pradhan Mantri Jan Arogya Yojna (PMJAY), was launched on 25th September 2018. The program focuses on health insurance & treatment to the poor and deprived households of India. According to the Socio-Economic Caste Census (SECC) data of the year 2011, this program would encompass around 50 crore Indians living in rural and urban areas. This program comes under the Pradhan Mantri Jan Arogya Yojana. It also replaces the Rashtriya Swasthya Bima Yojana (RSBY) launched by the UPA government in 2018. In this article, we cover various details regarding the scheme – eligibility check procedure, finding the nearest CSC and applying for a Golden Card.
What is Ayushman Bharat Yojana all about?
The scheme will operate under the Prime Minister's Jan Arogya Yojana. This will replace the existing Rashtriya Swasthya Bima Yojana which was introduced in the budget back in 2016. The previous scheme neither had potential monetary benefits nor was it brought into operation. The current one has five times more benefits than the last one and is already in operation.
Objectives of Ayushman Bharat Yojana:
The primary objective of this scheme is to provide ten crore poor and vulnerable Indian families with primary and tertiary medical treatment.
150,000 sub-centres or wellness clinics will be established where a wide range of medical assistance will be provided to poor families.
Starting from child health-care and maternal health, extending to diagnosis for diabetes, everything will be available in this scheme.
A single wellness clinic will be sufficient enough to offer service to 5,000 people.
What are the benefits and how to get hold of the same?
Ten crore families can avail up to a sum of Rs. 5,00,000 per family, for treatment in a year. Like the figures suggest, even the costliest of surgery is possible with such an amount.
This scheme will cover 1,354 medical procedures and treatments. The ones willing to avail the service have to go to a wellness centre and they can get the treatment done for free.
The program not only provides you with the hospital fees but the pre and post expenses, such as the cost of medicines, are also taken care of.
The scheme is quite powerful to cover around 40% of the country's population.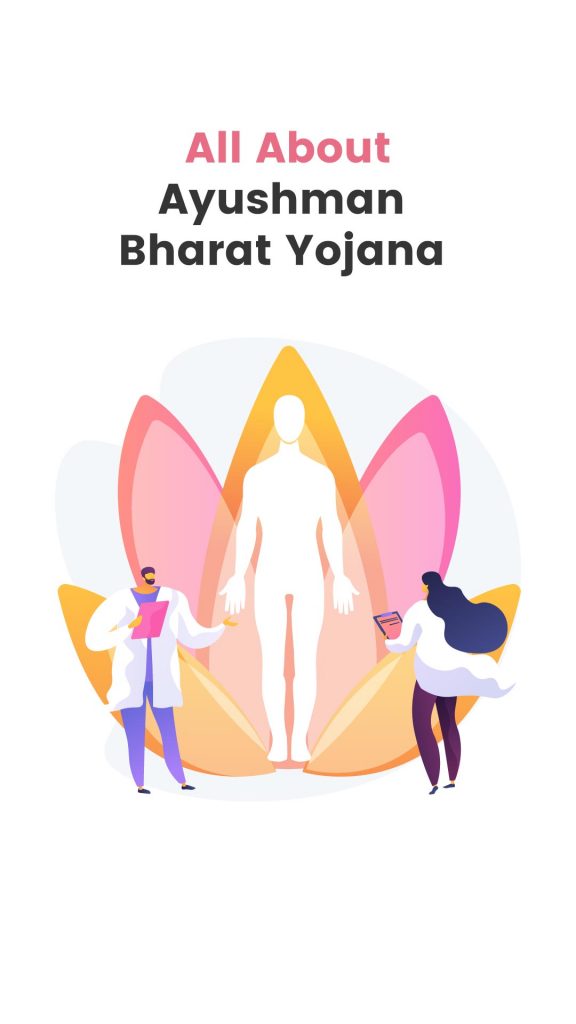 Ayushman Bharat Yojana Eligibility Check Procedure:
There are 2 methods to check your Ayushman Bharat Scheme Yojana eligibility as follows –
1. You can call on the helpline number 14555 and tell them your personal details as requested. The officials would then let you know whether or not you are eligible for the program.
2. You can check your eligibility online with the following steps.
Steps To Check Your Ayushman Bharat Yojana Eligibility:
Login to the webpage mera.pmjay.gov.in
Enter your mobile number linked to your Aadhar card. This is extremely important since all your personal details are usually linked to your Aadhar card, and this is how your details for eligibility would be accessed.
Enter the CAPTCHA given.
Click on GENERATE OTP.
You will receive an OTP on your mobile number mentioned above. Enter this OTP on the space given, continue to click on the CHECKBOX for BY CLICKING SUBMIT YOU AGREE TO OUR TERMS, ELIGIBILITY CRITERIA & DATA POLICY and click on SUBMIT.
The next page asks you to input your STATE. Click on the dropdown list and select your state name.
Below this, you need to select one of four options for search which could be your- NAME, RATION CARD NUMBER, MOBILE NUMBER or RASHTRIYA SWASTHYA BIMA YOJNA (RSBY) URN NUMBER. Select one and fill in that details and continue on SEARCH.
If the search result on the right-hand side shows NO RESULT FOUND then it means that you are not eligible for this program.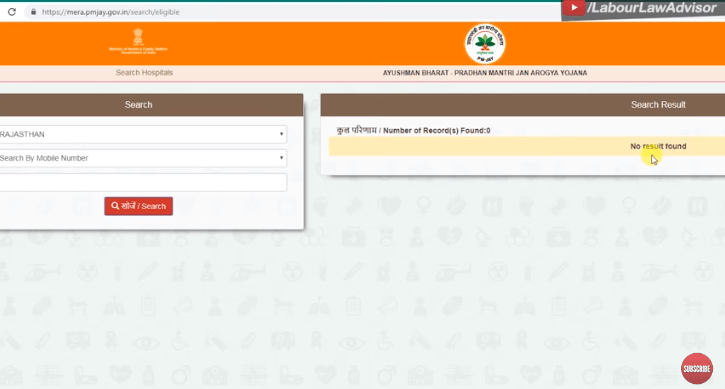 On the other hand, if the search result shows your details/your family member details, then it means that you are eligible for the program.
To avail the services under the Ayushman Bharat Scheme Yojana program, you need to make a Golden Card. This can be done either at hospitals registered under the government or at Common Service Centres (CSC). So next we shall learn how to find your nearest located CSC.
Which hospitals are empanelled for this scheme?
Both public and private hospitals will come under this scheme, added for the patients who have Ayushman Bharat Yojana eligibility. For now, there are very few hospitals that are eligible for the scheme, but with time there will be more health institutions that will commence their service for this purpose.
The government is engaging more hospitals to support this noble cause. Along with that, some incentives are in the offer to such wellness centres so that they provide their service for the scheme.
Hospitals taking credibility for maintaining international standards in providing quality service from NABH or the National Accreditation Board for Hospitals and Health Care will receive a fee which is 10-15% more than the base rate if they successfully comply against the scheme.
Furthermore, it seems, the scheme is notably powerful and the Government needs to contribute a sum of Rs 12,000 crore as a part of the capital investment.

However, the expenses will be in a ratio of 60:40. So, 60% will be taken care of by the Central Government while the rest will be from the State Government. Similarly, for some North-Eastern states, we know that the Central Government will be taking care of 90% of the expenses and the remainder will be done by the respective State Governments for the ones who have Ayushman Bharat Yojana eligibility.
How To Find A Common Service Centre (CSC):
Visit the website Apna CSC online.
From the 3 drop-down lists given select your STATE, DISTRICT and BLOCK.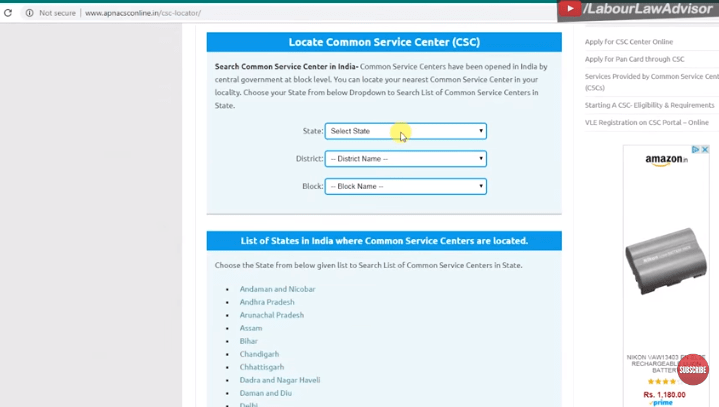 This will now display a list of all the CSCs located at your block, along with their contact details.
To locate your nearest CSC, type CTRL+F from your keyboard. A small window shall open on the top right corner of your page. You need to type in your location and the nearest CSC from the list shall get highlighted.
Another method to know your nearest CSC is to download the app Jan Dhan Darshak from the Google play store and follow the steps given there.
How To Get A Golden Card Under The Ayushman Bharat Yojana Scheme:
To create a Golden Card you need to visit your nearest CSC along with your Aadhar card, ration card, mobile number and your RSBY number if you have one. Each family member needs to make their own individual Golden Card since one Golden Card is not valid for more than one member. You also need to submit a nominal fee of Rs 30 for each individual Golden Card that you make. Furthermore, your Golden Card will have a QR code on top. Which needs to be scanned each time that you avail the Ayushman Bharat Yojana medical service.
To know more about this article, watch our corresponding videos below:
Please note that you do not need to register yourself for the Ayushman Bharat Yojana scheme through any additional process. Since it is done automatically by the government depending on your social strata. So please avoid responding to any SMS or WhatsApp messages that you may receive, asking you to enrol yourself for the scheme, as these are all fake.
Know about more social security schemes of government in following youtube playlist or check out our other blogs related to government schemes. Such as the Pradhan Mantri Rojgar Protsahan Yojana and the Atal Pension Yojana.

Join the LLA telegram group for frequent updates and documents. Download the telegram group and search 'Labour Law Advisor' or follow the link – t.me/JoinLLA
It's FREE!