Amidst the Covid-19 pandemic, which has led to many job losses and business shut downs, the government brought about a new sigh of relief with the Atmanirbhar Bharat Rozgar Yojana. This article details the minutiae of this new scheme.
What is the Atmanirbhar Bharat Rozgar Yojana?
Atmanirbhar Bharat Rozgar Yojana was launched on 12th November 2020 by Finance Minister, Nirmala Sitharaman. It is an employment generation scheme, offering provident fund subsidies to employers for hiring new workers and those who lost their job during the ongoing Covid-19 pandemic. Under this scheme, the government will provide subsidy for 2 years. It expects to overall cover 65% of workers in the formal sector of the employment force.
Purpose of Atmanirbhar Bharat Rozgar Yojana?
This new scheme is set to incentivize creation of new job opportunities in the Covid-19 pandemic scenario where several people lost their livelihood. As a part of the ongoing recovery phase, to also help the economy bounce back, the Central Government of India will provide subsidy for two years to new eligible employees who are hired on or after 1st October 2020. The scheme will be operational until 30th June 2021.
What are the benefits under Atmanirbhar Bharat Rozgar Yojana?
Under the Atmanirbhar Bharat Rozgar Yojana,
For establishments with less than 1000 employees – the government will pay 12% employee's share as well as 12% employer's share of PF. This will cover about 95% of all establishments in India.
For establishments with more than 1000 employees – the government will pay only 12% employer's share of PF.
The Central Government will give subsidy for 2 years for new eligible employment between October 2020 to June 2021.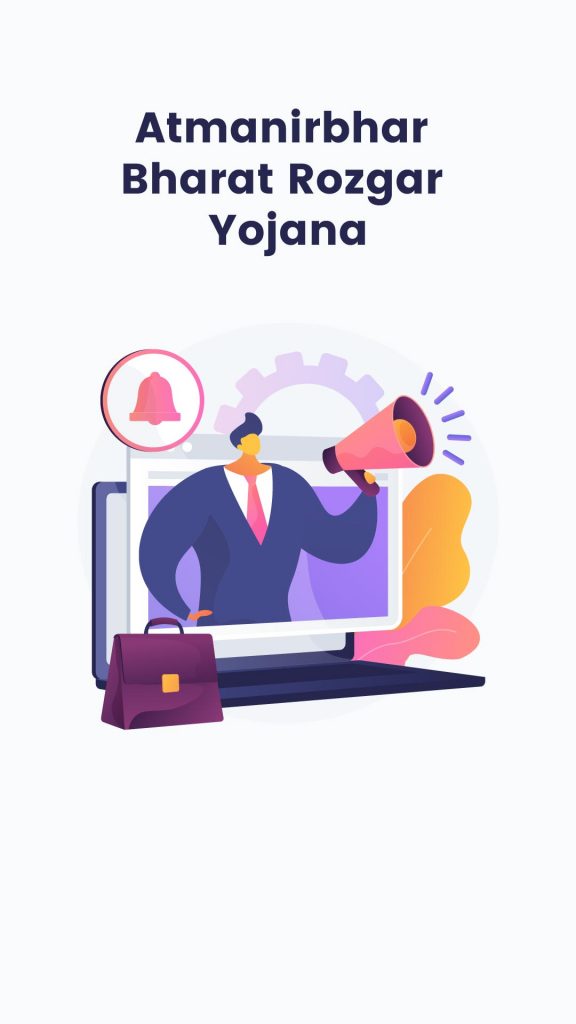 Who will benefit under ABR yojana?
This benefit will go to new employees who are joining employment in EPFO registered establishments with monthly wages of less than Rs 15,000 during the valid period of the scheme.
Additionally, old PF members who were earning less than Rs 15,000 per month and lost their job between 1st March 2020 and 30th September 2020 due to Covid-19 pandemic, who have now been reemployed on or after 10th October 2020, will also be eligible for this scheme.
The subsidy report will get credited upfront in Aadhaar-seeded EPFO account (UAN) of eligible new employees.
Who is eligible for the scheme?
Eligibility criteria for establishments for this scheme are as follows:
Establishments who are already registered with EPFO, if they add new employees compared to reference base of employees as in September 2020 as under

Minimum of two new employees if reference base is 50 employees or less
Minimum of five new employees if reference base is more than 50 employees

Establishments registering with EPFO after commencement of the scheme will get subsidy for all its new employees.
Similarity to PMRPY
The employment generation scheme is somewhat similar to the Pradhan Mantri Rojgar Protsahan Yojana (PMRPY) which was launched in 2016 and was in effect till 31st March 2019 for companies to take benefit.
Through the PMRPY, the Central Government paid the employer's share of worker's PF contribution for three years.
The most important criterion of the PMRPY scheme was that establishments would get support only if they hired new workers who were not a part of EPFO scheme in the past. Compared to that, ABR scheme gives benefits to reemployed PF members as well.
Total benefit of Rs 8300 crore was given to 1,52,899 establishments covering 1,21,69,690 beneficiaries under PMRPY scheme.
Learn more about Atmanirbhar Bharat Rozgar Yojana in the video below.
Join the LLA telegram group for frequent updates and documents.
Download the telegram group and search 'Labour Law Advisor' or follow the link – t.me/JoinLLA
It's FREE!