The stock market seems a very practical and lucrative space for the normal people to invest their money in. When income is limited and property or other asset purchase is not a viable option, then buying shares is one of the few sources for wealth creation. Many people jump into the stock market craze without realizing how to navigate this world correctly and end up making mistakes which can lead to monetary loss. Thus, this article outlines some basic mistakes by beginner investors to avoid in the stock market which will help your money to grow rather than fall.
Should you always ignore high value shares and buy affordable units instead?
As a beginner in the stock market, people tend to ignore high value shares and go for more affordable ones instead. But this thinking is incorrect. People might ignore high value share thinking that it has already reached its peak in terms of value and it cannot go any further. So now it will only go down from here. Secondly, people find it more convincing to buy multiple shares of lower value rather than a single share of high value.
But one must understand that you are not making money on the number of shares you buy. Rather you make money on the percentage growth of shares. No matter the number of shares you own, the growth percentage will remain the same for both multiple shares and a single one. Hence, when buying shares look at the possibility of growth percentage and not the number of units.
Also, there is no guarantee that the lower value share will grow more in the future. Since growth of the share depends on the company's performance. So buying a lower value share with the thought that it has more scope for growth rather than a share which has already reached an all-time high is not a valid reason. Moreover, question why a share is valued so low before buying it, as is it not a good thing that the share value is low. It means that the management is doing something wrong there. This is the first mistake made by beginner investors.
Reliance is a bigger company but it's share price is low. Whereas MRF is a smaller company but has a very high share price?
Another one of the mistakes by beginner investors is that they fail to understand that the price of a share depends on the percentage of the company's stake behind it. In this case, Reliance has broken down their share value worth Rs 1000 into many smaller parts to make each share attainable for the common man. But when you bring all those smaller parts together, the value of Reliance as a company is high. On the other hand, MRF has kept their share numbers low since it doesn't care about making shares attainable for every person. As the share units are less, the amount per share is high. But when you bring all shares together, the total value is less than the value of Reliance as a company.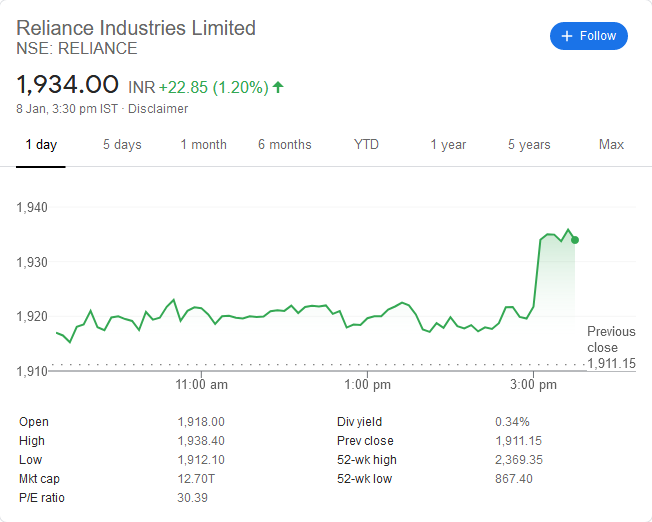 For some companies, it is important to make their shares easily accessible to people of different economic backgrounds, which is why they split their shares to make per share value low. For example, the per share value of Berkshire Hathaway Inc. which is a Class A share is close to Rs 2 crores. Reliance Industries Limited is as big a company as Berkshire Hathaway, but since they want more and more people to have a share of their company and split their bonuses among their shareholders, hence their per share value has been kept low. If they didn't do that, Reliance too would have per share value of close to Rs 2 crores.
Undermining stock advisors because they do not commit to multi-bagger returns
People may fail to listen to fund managers who promise a return of 15-20% on stocks and look at the returns of big companies with 60-100% annual returns thinking they can achieve the same on their own. In this case, people often see the past history of stocks and think they can get those returns. But it is usually a portfolio of stocks out of which one may get a very high return and be a multi-bagger while some may tank. Hence, it doesn't matter how many multi-bagger shares you have in your portfolio. What matters is how many poor performing shares one has. Since ultimately the total portfolio return is going to be the net of the high performing stocks minus low performing stocks. So, it is not much value if one share rises 10x but the other nine shares in your portfolio tank.
The mistake made by beginners investors is that the first priority in investing is to preserve your capital. If you preserve your capital, your index automatically grows. But viewing the graphs of blue chip stocks and buying penny stocks instead thinking that they will perform similarly is not the way to go ahead. This is a high risk step which will lose your capital. While we need to preserve our capital. Rather go for blue chip stocks because they can also give extraordinary returns in due time.
On the other hand, it is also not true when fund managers say that they can give you a high return of 15-20% which is as much as Warren Buffett makes. Since Warren Buffett's holding is worth multi-billions, he can only invest in the most mature companies which give moderate returns. So his returns are moderate but comparing the funds worth few crores being managed by fund managers versus few lakh crores being managed by Warren Buffett is not one and the same.
Is comparing a graph of one stock with another stock and expecting similar results a good thing?
If we take the example of Ruchi Soya Industries Ltd. share, it grew about 8000% in a couple of months. If seasoned retail investors wanted to buy this share they could not do it, because by the time they got news of the share doing well, it was already getting upper circuits and entry was difficult. But since its peak, the share has continued to fall.
So how this works is that for the first one-two months, some investors continue to buy a particular share and increase its price. Next, they tell other investors to invest in the same, saying that the share will continue to grow and increasing the share price even further. When new investors check the share graph, they can actually see the graph growing higher since the initial investors had been increasing its price for the last two months. Hence, the new investors go ahead and purchase it, what they don't realize is that the initial investors have been dumping their shares of the company on them.
For the next few months, the share price continues to fall, and only the initial retail investors who had purchased them and increased the share price have now gotten a profit on it while the others are left sitting with penny stocks. This is generally true for new and unknown company shares. Thus, it is not advisable to look at a particular stock graph and compare it with another before investing, especially if you are comparing a penny stock against a blue chip stock. It is also not advisable to listen to "insider news" of stocks growing and then purchasing them because it most certainly is going to be a case of share dumping wherein you will be left with penny stock in lower circuits. A common mistake made by beginner investors.
My money has doubled from share A, so let's sell it now because it will only go down from here.
A common mistake made by beginner investors is that they often feel that if a particular share has done well and doubled their cost in a year then they should sell it off, as it will only go down from here. When buying shares, 40-50% of the time you may pick a wrong one which does not give great returns. Thus, it is important to figure out which of the shares are not growing at all and sell them off at the minimum profit to recover your loss. On the other hand, hold on to the shares that are multiplying their price since they have the potential to become multi-bagger stocks and yield big results. If the company itself is not dependable then it is fine to sell the shares but do not sell with the thinking that it has already made 100% profit and won't grow further.
Selling half of the shares to recover the cost.
Another case which happens is that if a particular share price has doubled pretty soon then mistakes made by beginner investors is to sell off half of them to recover the cost. Again, the reason for selling shares should not be that you have made enough profit. Rather it must be that the company is not stable and their financial future does not look secure. If the company has a good reputation and is projected to do well then by all means you should stay with their stocks and let the price keep growing. That is how you get a multi-bagger stock.
It is important to have patience with the stock market. Treat it as a long-term investment of 10-15 years and only then will you be able to get 10x to 100x returns. Since shares will only increase that much when the company business will increase that much and it takes 10-20 years for a company to grow and become a big corporation. That is not possible over a couple of years.
Should you make stock buying decisions based on the news and incoming data?
Often you may get news of a stock going to do well based on industry sources and the news, and you think of buying it since there is most probably going to be a rise on that stock price. But most often than not you end up buying the stock right at its peak and after buying it the price continues to fall. This is because similar to you, a hundred other investors also have the same news. So thinking that you are the only one with this insider news is a common mistake made by beginner investors and buying stocks on the basis of news is wrong.
Stocks should be bought on the basis of your interpretation of the data. Rather than focus on the numbers, focus on the company history and their future prospects. Even companies themselves are focussing on gathering more and more data and strengthening the core, rather than going after profits. Hence, you as an investor should also not look at the company only in terms of their profits.
Look at a company on the basis of their management analysis, vision and business analysis. Be more forward-looking rather than backward. One advice is never to remove your investment from the stock market. If you feel the market is going to crash then don't put in new money but don't pull out the already invested money as well. Since there is the possibility that your hunch may be wrong and the stock market may not fall at all. Secondly, once the money is retracted from the stock market and transferred to your bank account, then it is a waste.
How much should I invest and decide that amount is enough?
The amount of investment should be such that it makes a difference to your net worth. Especially when you are young and can take the risk, it is advisable to put a major portion of your savings into equity investment. If you can afford to take loans which are double the value of your net worth then you can afford to make equity investments which are a significant portion of your net worth. But never take a loan for stock market investment, as that would be highly risky and undesirable and a big mistake by any beginner investors.
Watch the video below for our chat with Mr. Pranjal Kamra.
Interested in stock market? Learn more in Smart Stock Tips Series.
Join the LLA telegram group for frequent updates and documents.
Download the telegram group and search 'Labour Law Advisor' or follow the link – t.me/JoinLLA
It's FREE!